In anticipation of the upcoming season of Lucifer (due to premiere on Netflix hopefully any day now), I naturally binge-watched all four seasons. It has been over a year since we last saw our favorite devil, his at times naked behind and the rest of the sexy cast. With all the increased talk as of late about the show and its fifth and sixth seasons, I can only assume/hope that its grand premiere is on the horizon. Last season left me with my jaw open and I still cringe with at the finale of Chloe Decker (Lauren German) finally confessing her true feelings for Lucifer (Tom Ellis) begging him to stay with her, instead of them having the steamiest sex scene ever, Lucifer returned her love by fleeing back to Hell to resume ruling the underworld. I'm not sure how a woman is supposed to recover from that, maybe sleeping with her ex-husband? As a secondary plot Amenadiel (D.B. Woodside) and Dr. Linda Martin (Rachel Harris) get their baby back and decide to raise the half-angel/half-mortal in Los Angeles, that cannot possibly go unnoticed or accepted for long.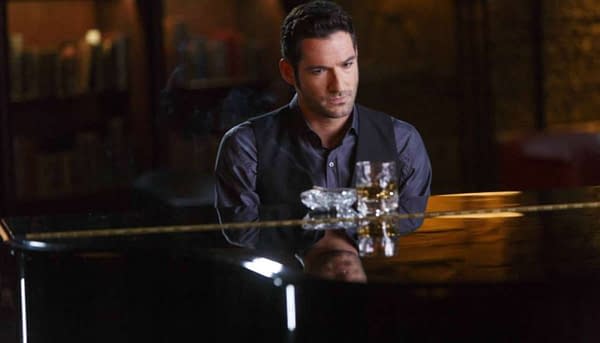 So what can we expect of season five, most likely not as much as we might have given that there will be a season six to wrap things up. Dennis Haysbert has been cast as God so that will be interesting. With his favorite son being Amenadiel how will the tug of war over his father's love play out between the brothers? We know that Amenadiel visits Lucy in hell with a matter of grave importance which will most likely bring Lucifer walking back through the doors of LUX and nonchalantly into LAPD as if nothing happened and his departure was just no big deal. I can't wait for the first moment of reunion between him and Chloe, like an eager school kid making eye contact with a boy across the lunchroom and not knowing how to process all the emotion, she proceeds to shoot him.
Why does God aka "dear old dad" make his presence known? Lucifer has been in therapy for quite some time trying to work out his daddy issues, unsuccessfully. The son kicked out of heaven plagued to spend eternity ruler of the wicked, will Lucifer walk right up to him and ask why? or cave in the utmost pathetic manner and spend extended time on Dr. Martin's couch? Or maybe he will just plead his case to get someone else to rule hell. Maziken's (Lesley-Ann Brandt) not a bad option for that, although she has gone a little soft over the season having more humanistic tendencies take over and becoming a quasi godmother to Linda's baby boy (which yes is a smidge weird since she slept with the baby's father – but hey, its LA).
So if God comes to earth, and Lucifer leaves hell for an emergency, who/what is in danger? The only answer I can think of is all of humanity, but who is posing the threat since the ruler returned to hell to keep the demons in check. Did he sacrifice his relationship with Chloe and definitely the best sex she would ever have for nothing? I'd like to see more raunchy, more naked, and more kick-ass from Maziken, not sure why, but when that woman fights it gives me hot flashes. I hope this season the characters all exude strength and the show continues with a cocktail of hope and psychopathology as its undertone. Chloe and Lucifer must finally get naked for real and not in a wet dream kind of way. What I'm trying to say is bring back my guilty pleasure.
Enjoyed this article? Share it!