Marvel's Cloak and Dagger: Olivia Holt and Aubrey Joseph on the Series
Freeform has released a pair of featurettes for Marvel's Cloak and Dagger, which has a two-hour premiere tonight. The series stars Olivia Holt as Tandy Bowen and Aubrey Joseph as Tyrone Johnson as the pair of heroes based on the dark and the light. The 10-episode series takes place in New Orleans, and unlike their first appearance in the comics, this will focus deeper on their origin and spend more time with their family lives.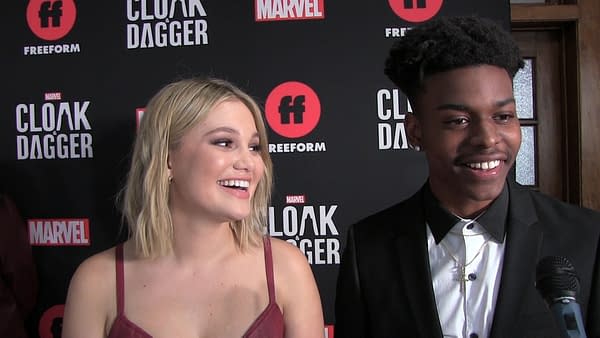 The first of two featurettes on the video focuses on the origin story and how Tandy and Ty meet each other during an accident at the age of eight, but then are separated only to find each other again eight years later. Joseph and Holt are joined by executive producer and showrunner Joe Pokaski in talking about how these are two damaged souls who find each other. While they both gain superpowers, they save each other. And once they reconnect they realize that they can't live without each other. Holt says that the show is very character driven and that while fans will come for the action, they'll want to stay for who these kids are.
Marvel's Cloak and Dagger's two-hour premiere is tonight at 8 p.m. ET on Freeform.