If you haven't already dived into the second season of Marvel's Jessica Jones which was released at midnight on March 8th, or if you're a few episodes in and don't quite remember some details of season one, the video below might help out.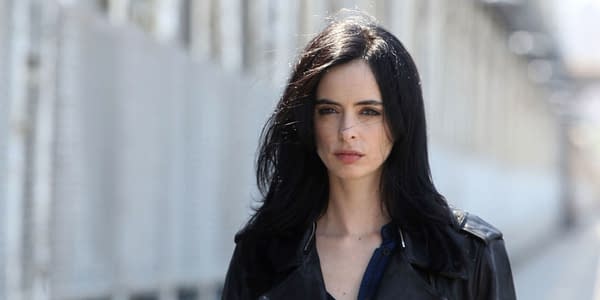 Marvel's Jessica Jones was the second series out from the Marvel / Netflix deal that would also include Daredevil, Luke Cage, Iron Fist, and The Defenders. She was the newest character in the group, having been created by Brian Michael Bendis and Michael Gaydos in 2001. Casting the character was crucial as she had to pull of being a former superhero suffering form PTSD, who spends way too much time drinking while she tries to rebuild her life as a private detective. The choice of Krysten Ritter (Don't Tust the B___ in Apartment 23) may have seen odd at the time with her coming off of a sitcom, but the move proved to be brilliant as Ritter portrays Jones as a classic noir hero, damaged by life and often just trying to push back on a life that is trying to collapse in on her.
To get you up to speed for the show's return, the latest Marvel 101 focuses on Jessica Jones, her origin and how she fits into the MCU.
Marvel's Jessica Jones stars Krysten Ritter, Rachael Taylor, Eka Darville, J.R. Ramirez, Carrie-Anne Moss, Janet McTeer and David Tennant. The second season will premiere on Netflix on March 8th.
Enjoyed this article? Share it!