Marvel Terminates Helstrom Showrunner Paul Zbyszewski's Overall Deal
The ripple effects from television productions across the globe being shuttered over the growing health crisis are starting to be felt in a big way behind the scenes. Reports circulated Tuesday morning that Marvel had terminated the overall deals with television showrunners Steve Lightfoot (The Punisher) and Paul Zbyszewski (Helstrom). While Marvel declined to comment at the time of reporting, the move to "force majeure" their deals is expected to be the beginning of a wave of such announcements across the industry as studios, networks, and streamers look to reduce their losses caused by the shutdown. In a contract, a force majeure clause generally gives the studio the opportunity to make broader decisions (like terminating contracts, reducing budgets, canceling projects, etc.) in light of an unforeseeable occurrence (like the current pandemic).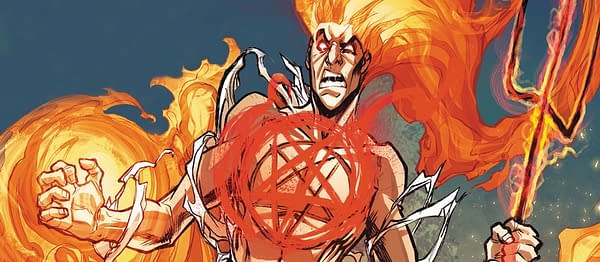 While Lightfoot's time with Marvel was relatively brief, Zbyszewski's run dates back to the beginnings of ABC's Marvel's Agents of S.H.I.E.L.D., the comic book company's first-ever live-action, original scripted series. Currently, Zbyszewski serves as showrunner on Marvel's upcoming Hulu live-action drama series Helstrom. Zbyszewski is expected to complete post-production work on the Tom Austen-starrer from ABC Signature Studios and Marvel, which was able to wrap physical production before the health crisis hit. Developed by former Marvel TV head Jeph Loeb, Helstrom, and adult animated series M.O.D.O.K. and Hit Monkey are the only remaining new projects from Loeb to survive the merging of Marvel's television team into the Kevin Feige-run, all-encompassing Marvel Studios.
Earlier this year, Hulu Senior Vice President of Originals Craig Erwich revealed that he screened the first four episodes of Helstrom and he liked what he saw, especially the horror aspects of Helstrom: "I'm really excited about it. And it's definitely different corner of the Marvel Universe in terms of its horror." For Erwich, there was another aspect of the series that stood out: "It's a really unique take on a horror show that has a very unique family situation at the center of it." The series stars Austen (Grantchester, The Royals) as Daimon Helstrom, Sydney Lemmon (Fear of The Walking Dead) as Ana Helstrom, Elizabeth Marvel (Homeland, The Meyerowitz Stories) as Victoria Helstrom, Robert Wisdom (Ballers, Watchmen) as Caretaker, June Carryl (Mindhunter, Dead Women Walking) as Dr. Louise Hastings, Ariana Guerra (Raising Dion, Insatiable) as Gabriella Rosetti, Alain Uy (The Passage, Paper Tigers) as Chris Yen, Daniel Cudmore (X-Men and Twilight franchises) as Keith Spivey, and David Meunier (Justified) as Finn Miller.