M*A*S*H's David Ogden Stiers Dies at the Age of 75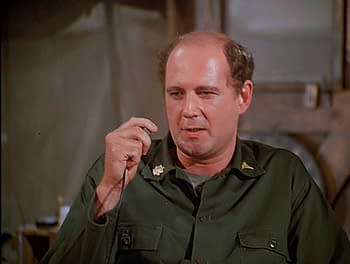 For most, he will be remembered as Major Charles Emerson Winchester III from M*A*S*H while to others he will be Cogsworth from Disney's Beauty and the Beast. But the list of memorable roles for actor David Ogden Stiers was a long one, and it is with sadness we write that the 75-year-old actor died yesterday from bladder cancer. The news was announced by his agent, Mitchell Stubbs.
Stiers was born in Peoria, Illinois but moved to Eugene, Oregon where he went to high school, going on to the University of Oregon for college before heading to San Francisco to become and actor. He would start with roles on television with the Mary Tyler Moore Show, Charlie's Angels and Kojak. He was also hired as the narrator in George Lucas's first film, THX-1138. His acting career also took him to film, like playing the father in Better Off Dead and doing voice work for Beauty and the Beast, Pocahontas, The Hunchback of Notre Dame and Lilo & Stitch. He would also appear in other television series like Two Guys, a Girl and a Pizza Place, Murder She Wrote, and The Dead Zone.
But his biggest role would be on M*A*S*H starting in 1977. The series began in 1972, spinning off of the hit movie with Donald Sutherland and Eliot Gould. The character of Frank Burns was the foil for Hawkeye Pierce and Trapper John McIntyre. In the film it was played by Robert Duvall, but on television the role went to Larry Linville who played the character for 121 episodes. When Linville left, the writers did what they had been doing for a while, replacing the slightly two-dimensional characters from the film with deeper, more complex replacements.
Winchester wasn't just a foil to play opposite of the talented Alan Alda and Mike Ferrell; he was a skilled surgeon, intelligent and refined. He was pompous and arrogant but never a liability at his job. In his 131 episodes, the character of Winchester had his human moments; you could respect him. And Stiers played the role with ease. The series that ended in 1983 never missed a step, improving with each season as the stories and characters became more refined, and Stiers was a major reason for that. He was nominated for two Emmy awards for the role in 1981 and 1982.
The musical aspect of the Winchester character came naturally to Stiers because of his own background in music. He was the resident conductor of the Newport Symphony and guest conducted more than 70 orchestras around the world. He continued acting and voice work until the end, giving voice to the character of Mr. Maellard on Regular Show and doing a few roles in 2017.