SYFY renewed competition series Face Off for a 13th season back in January, but it seems like an uncertain future after that. The 13th season is set to air on June 5th on the cable channel, along with returning host McKenzie Westmore, who has been with the series since day one.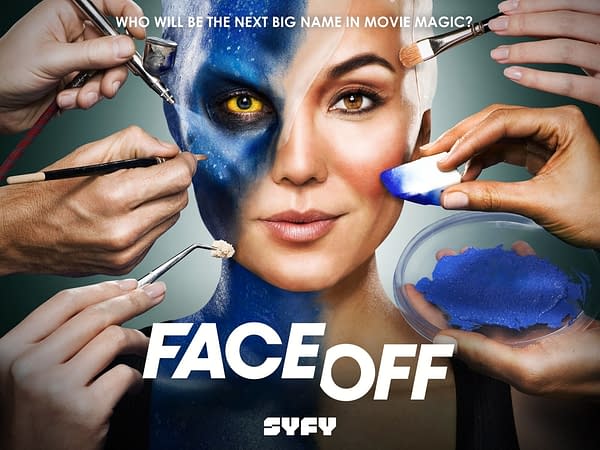 Her family ties to the world of cinema makeup are vast and generational, the Westmore family having been involved in Hollywood since 1917. She's said in a series of tweets posted late Friday night that her family has come together during the show's time on the air, and she's not ready for it to end.
MissionControl Media, who produce the series, announced the official release date of the 13th season.
McKenzie then posted on her instagram this post, stating that the season will be the last.
Fan reception was quick. MissionControl urged fans to send any/all feedback to SyFy directly.
Please feel free to share your comments to Syfy at feedback@syfy.com

— MissionControlMedia (@MissionControlM) May 2, 2018
And tonight, McKenzie took to her twitter to post several moving comments about what the show has meant to her and her family:
I can't thank all Face Off fans enough for your ongoing love & support! Face Off was more than a job for me. I discovered who I was after 9 years of playing a character, I found myself, my calling. I developed a relationship with my dad that didn't exist…

— McKenzie Westmore (@mckenziewestmor) May 5, 2018
Before Face Off. The show brought my family tighter together. It was a show I could not only watch with my son but also teach him monsters don't exist, that mommy and grandpa make them or as Patrick put it "he'd be out of a job if he could find them in the…

— McKenzie Westmore (@mckenziewestmor) May 5, 2018
Forest". That brings me to one of the biggest reasons face Off is so special to me. I met the love of my life. Patrick has changed me into a better woman, mother, sister, daughter & friend all because we met on this show. Helped me find my voice in life…

— McKenzie Westmore (@mckenziewestmor) May 5, 2018
I developed the greatest family I could imagine with this show!! From Dwight, Michael, Derek our EP's to Peter our director, Dom & Darshan on my glam squad, dusty, Gaines in our crew and soo many others that I will forever call my sisters & brothers…

— McKenzie Westmore (@mckenziewestmor) May 5, 2018
I'd love to see this show go on in some capacity and I know what's meant to be will be but by God I will never give up without a fight especially when I read all that have been inspired by Face Off! My love to you all! With head bowed, Thank You! ❤🙏🏼

— McKenzie Westmore (@mckenziewestmor) May 5, 2018
She also shared this petition, urging fans to help bring back Face Off on SYFY.
Enjoyed this article? Share it!