"Mr. Robot" Season 4 "404 Not Found" Brings Holiday Confessions [SPOILER REVIEW]
Seasons greetings, Mr. Robot fans!
At least, I'm assuming you're fans, otherwise this is going to be kind of awkward.
This week's episode was full of surprises, suspense, and seasonal spirit. Well, and seasonal spirits too. But not in the spooky halloween ghost kind of way – more in the "drunk Santa" way. But I digress.
There are spoilers because let's face it – you've seen this episode and for whatever reason decided to find out what I think about the episode, yeah? So! There are spoilers because I'm guessing you've seen this already and know that Tyrell Wellick gets shot.
What? You've seen it already and I warned you about spoilers!
But let's backtrack a bit.
It's Christmas eve in Robot-land (aka New York) and there are feelings about it, but not from Elliot.
I'm kind of lowkey digging the whole Tyrell-Elliot relationship here (no, not that kind of relationship – save that for your slash fiction) in that one has everything together and finally realizes that the other doesn't care…like, at all. Yes, Elliot has bigger fish to fry than worrying about how the world perceives him.
Darlene finally breaking and spilling her insecurities and fears all over the drunk Santa (not literally) is the most human I think I've ever seen her act – maybe this is just because it hits so close to home, but she's really just breaking open to a complete stranger about her life. All the insecurities and fears are bleeding through the cracks, and I really love seeing that. I love seeing that our favorite characters are human and do dumb things and can't deal with exactly how insane their lives have gotten.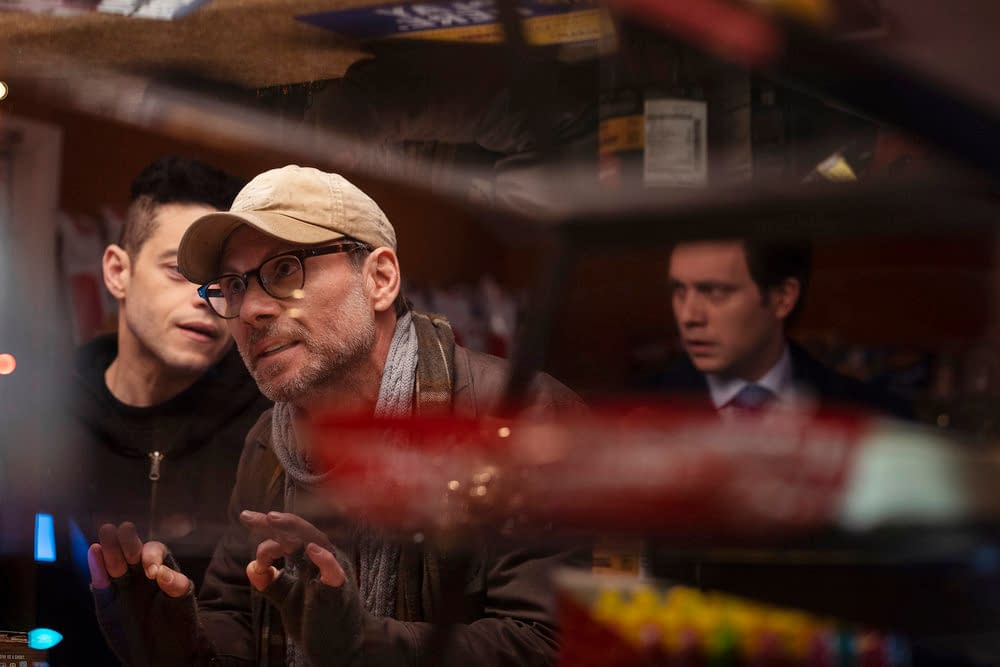 Speaking of insane, let's chat about Tyrell. Again, I love their heart to heart and seeing the dynamic between Elliot, Tyrell, and Mr. Robot lost in the woods (even though it does remind me of my 5th grade orienteering trip at camp, but that's neither here nor there, even though the memory of a handful of children getting hopelessly lost in the backwoods and trying to find the road is seared into my brain). I love knowing that everyone sees everything Mr. Robot does as coming from Elliot, and it's just beautifully illustrated here.
Also, RIP Tyrell. That is all.
Tune in to the final season of Mr. Robot next Sunday on USA Network to see who they kill off next!