"Mr. Robot" Season 4: Let Leon Be Your Guide to All Things "Five/Nine" [VIDEO RECAP]
Your boy Leon – remember Leon? Elliot's jail protector / friend and all around sassy fantastic dude? Well, he's back and ready to give you a recap of Elliot's journey so far, just in time for the return of USA Network's Mr. Robot on September 29 for the show's fourth and final season.
In case you haven't already figured it out, this article and video are basically nothing but spoilers for the series so far, so this is your official warning. So yeah… spoilers!
Leon recaps the series' main storylines with clips and voice-over commentary (much like the ones by Luis gives in Ant-Man… though not quite as humorous).
"The human condition is a straight up tragedy, cuz." Leon starts. This is exactly the case, especially in Elliot's world.
So Elliot was mastermind behind a massive wealth redistribution hack dubbed "Five/Nine": 400 billion dollars of debt completely erased – with the help of his supporting cast, of course.
Since "Five/Nine," things have been a "high-stakes f**k show, even by my standards," according to Leon. Long story short, Elliot got really freaked that he kind of sent society into a modern great depression and tried to not make things worse… and in the process, kind of managed to make things worse.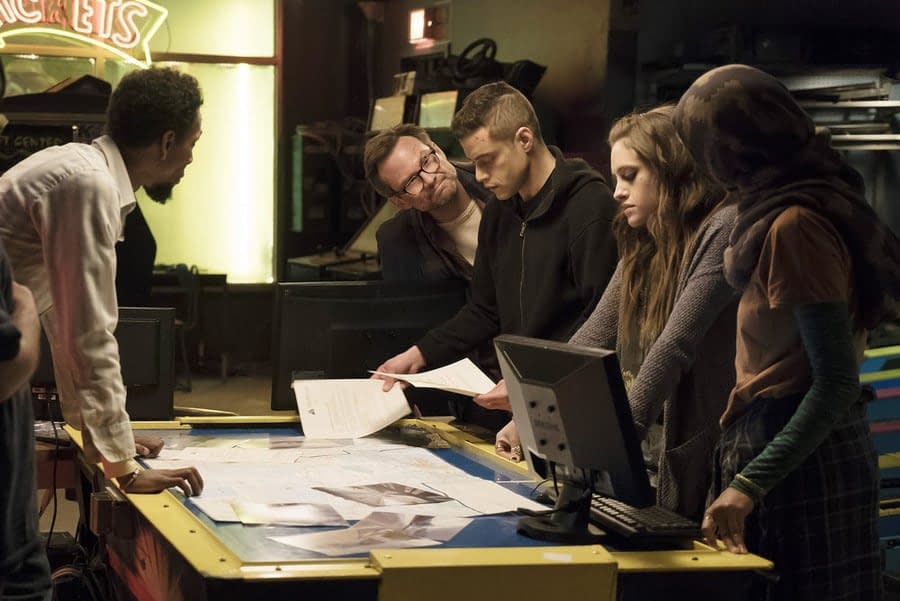 I mean, Chinese hackers got involved and government conspiracies and inside men … things did not end well for Elliott.
This past season, he tried to stop The Dark Army (aforementioned Chinese hackers) from blowing up a ton of buildings full of people…and completely failed. I mean… did save one building, so… half win? Well, more like a 1-in-71 win, which is the number of buildings that did actually blow up. *slow clap* No good deed, right buddy?
Anyhow, the season did end on an uptick, when he opens an email from the very murdered Trenton (RIP) with instructions on a backdoor and a way to undo the whole "Five/Nine" hack. This is exactly what Elliot needed!
Oh – and this video gives me full faith in the series ending – they take shots at the St. Elsewhere finale and mention that whatever's coming up next better not be anything like that. I have faith it will be worlds better than that… let's just call it a "Christmas miracle"…

Here's a look at the first teaser for the upcoming final season of Mr. Robot, where Elliot has some tough questions to face… with an almost It's a Wonderful Life/A Christmas Carol-like vibe to the scene:
MR. ROBOT follows Elliot Alderson (Rami Malek), a cyber-security engineer who, along with Mr. Robot (Christian Slater) and fsociety, starts a revolution to change the world. Season 4 will pick up where the third season finale left off, delving into the pros and cons of Elliot hitting "send" on the email that could reverse 5/9.
Joining Malek and Slater, are Carly Chaikin, Portia Doubleday, Martin Wallström, Grace Gummer, Michael Cristofer, and BD Wong. Mr. Robot stems from writer, director and executive producer Sam Esmail, as well as Anonymous Content executive producers Steve Golin and Chad Hamilton.