Mystery Science Theater 3000 Returns for Riff-Along Quarantine Special
In these uncertain times, many among the entertainment industry are coming up with innovative ways to entertain their audiences through nostalgia. The cast of The Nanny reunited for a social distancing table read of their pilot episode. Will Smith took to Instagram to reunite the cast of The Fresh Prince of Bel-Air. Joel Hodgson is bringing back the crew from Mystery Science Theater 3000 for a social distancing live Riff-Along special. He spoke with The A.V. Club about the return. "I was feeling the heat off the screen," he said. The idea came from their live tour where the film the characters provide commentary played over a Zoom video conference. On the right were from the top were Tom Servo, Cambot, and Crow T. Robot.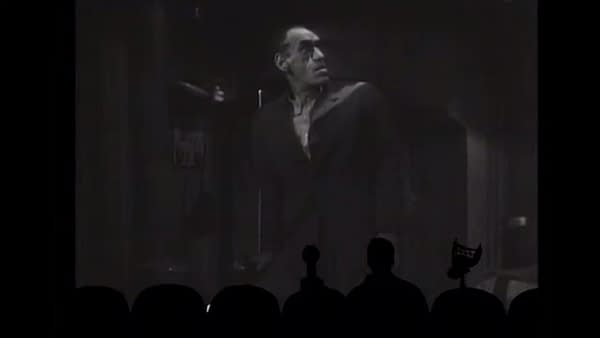 MST3K originally premiered on KTMA-TV in 1988. The premise involved the host Hodgson interacting with the three robots and other human characters periodically before the feature is displayed for their commentary. The films selected are among the worst Hollywood has to offer. The success of the show paved way for 11 seasons with runs on Comedy Central and SyFy ending in 1999. A twelfth season came courtesy of Netflix in 2017. The series endured numerous cast changes over the years. For the special scheduled for the Riff-Along is the touring cast revisiting MST3K's first season episode "Moon Zero Two." Instead of just ripping on the film, the cast will also poke fun at the episode's production from the presentation to the jokes. The special will also include the short Circus Day.
"We tend to ignore the first season because we got so much better the next season. We had a bunch of shows under our belts, so we just improved so much," Hodgson said. Emily Marsh, Conor McGiffin, and Nate Begle will reprise their roles as Emily Crenshaw, Tom Servo, and Crow T. Robot, respectively. Yvonne Freese will play Mega-Synthia and GPC. The MST3K Live Riff-Along comes to multiple platforms on Pluto TV, Stirr, Xumo, Redbox, Vizio, YouTube, Twitch, and Facebook airing on May 3.