Netflix, Hulu Pull Community Episode Over Blackface Concerns
Growing national attention, conversation, and debate over systemic racism and unequal representation in the media have resulted in a number of shows (Little Britain, 30 Rock, Scrubs, and The Office, for example) either choosing to have potentially racially insensitive (usually involving the use of blackface) episodes pulled or having the work done for them by the studio or service. We can now add Dan Harmon's (Rick and Morty) Community to that list, with reports that Netflix and Hulu are pulling an episode of the popular series over the use of blackface.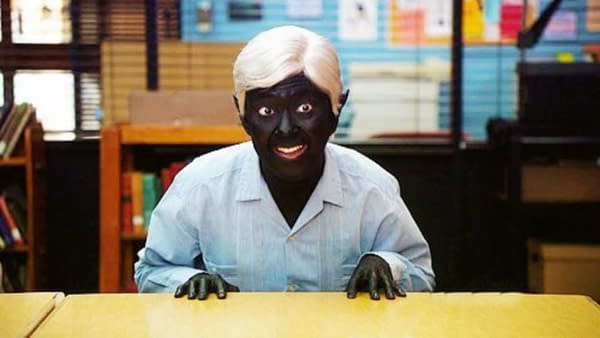 In the second season episode "Advanced Dungeons & Dragons," Ken Jeong's Ben Chan takes part in a Dungeon & Dragons campaign while wearing black make-up and a white wig. Yvette Nicole Brown's Shirley calls out Chang's visual "hate crime," but Chang defends himself by saying that he's portraying "a dark elf or a drow." Chang's Brutalitops the Magician would continue along with the campaign, eventually getting killed and thus eliminated. In a statement from Sony Pictures Television in support of Netflix and Hulu's decision, the production studio wrote, "We support the decision to remove the episode." Created by Harmon, Community aired from 2009 to 2015 on NBC and Yahoo! Screen, the series starred Joel McHale, Gillian Jacobs, Danny Pudi, Yvette Nicole Brown, Alison Brie, Donald Glover, Ken Jeong, Chevy Chase, and Jim Rash. Recently, the cast reunited for a charity virtual table read, joined by The Mandalorian star Pedro Pascal.
The news comes the same week that the animation field is having to confront the matter of representation in the voice acting field. Kristen Bell (Central Park), Jenny Slate (Big Mouth), and Mike Henry (Family Guy) all stepped down from their respective roles so that those characters could be voiced by a Black voice actor. Earlier today, the producers of FOX's The Simpsons released a statement pledging that white actors will no longer voice non-white characters.