'New Amsterdam' Season 1, Episode 14 "The Foresaken" Review: Max's Magic Has Its Limits [SPOILERS]
Emotions have been running high in the last few episodes of NBC's New Amsterdam. Changes abound in the hospital and doctors' personal lives. Max's (Ryan Eggold) chemo treatment takes a backseat as attention shifts to his colleagues and the many challenges they face in "The Foresaken." He always happy and eager to help, but in the end, there's only so much he can do.
Talk Therapy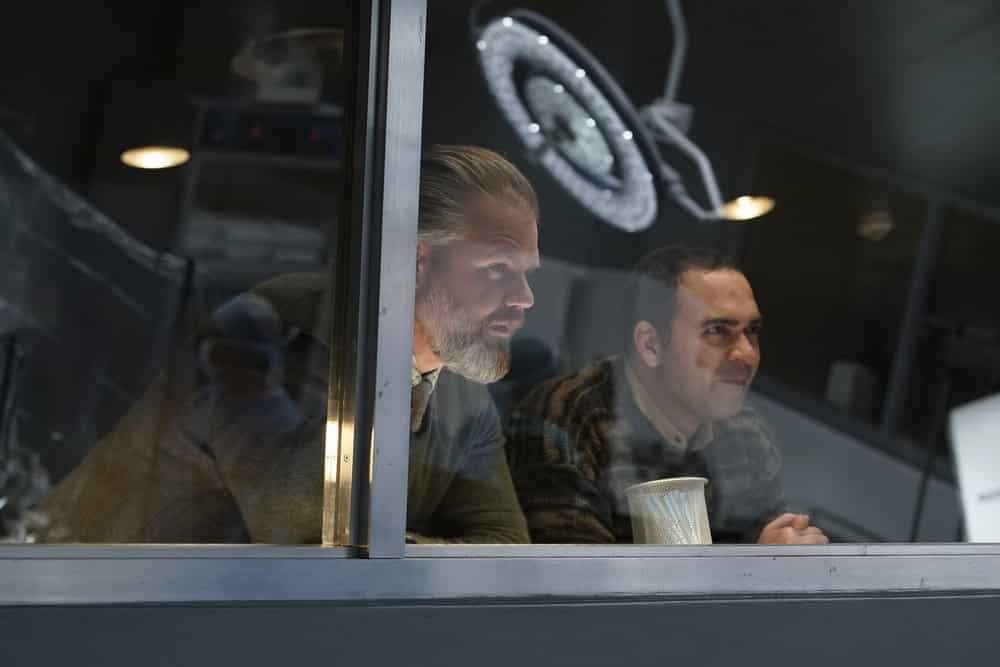 Dr. Bloom (Janet Montgomery) faced her addiction and family baggage. Now she's spending four weeks in rehab (FYI the actress is on maternity leave) and her replacement, Dr. Candelario (Nana Mensah), runs a calmly efficient ship. She gives her doctors ten minutes to diagnose or discharge a patient. That's a lot of pressure!
We've come to respect and appreciate Dr. Kapoor's (Anupam Kher) thorough approach. He takes his time listening to patients, so he can learn facts they wouldn't think of sharing on their own. It is heartwarming to see his colleagues turn their ten minutes over to him, so that he can get the job done in his unique way. After a lengthy conversation, he puts all the pieces of the puzzle together and diagnoses his patient with Lyme disease.
Kapoor thanks Candelario for acknowledging the effectiveness of his methods. He agrees with her calm efficiency theory, but doesn't believe medicine should be rushed. His accurate diagnosis and supportive colleagues proved the validity of his argument. This is the first time other doctors really took notice of his seemingly relaxed approach to diagnostics.
After crying on Iggy's (Tyler Labine) shoulder at the end of the last episode, Kapoor really needed a win. He's still making some mistakes with his son, but he means well. The poor guy just needs a little help in the sensitivity department. He takes the time to listen to his patients, he should do the same with his friends and family.
A Mother's Touch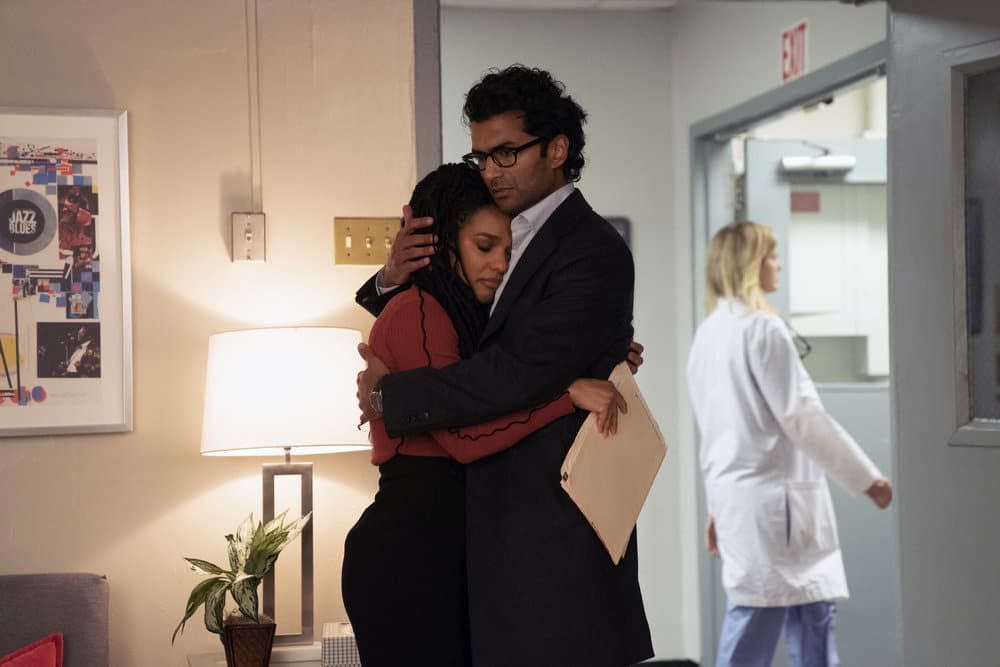 Dr. Sharpe (Freema Agyeman) embraces spontaneity and goes a little overboard on the PDA with her new beau, Dr. Panthaki (Sendhil Ramamurthy). Breaking out of her comfort zone literally leads her down a different path, which crosses with an ailing infant in need.
When an addict releases custody of her Baby Doe under the Safe Haven Act, Sharpe steps up with her maternal instincts. Born with an addiction to opioids, this little girl needs extra TLC. Sharpe quickly falls in love with her patient. She names the baby Zurah, meaning "brightness," and wants to adopt her. This all feels destined to be. I was sure the episode would end with Sharpe getting the baby she's been longing for, but there's a twist.
Zurah's father didn't know she existed until a few hours ago. He vows to do right by her and Sharpe's left heartbroken by the unfulfilled promise of motherhood. In the spirit of spontaneity, she springs the subject of children onto Panthaki. Yes, it is too sooner in their relationship, but her biological clock ticks faster than the norm.
Panthaki is relieved she brought the subject up because he loves kids, in fact, he has two of them. He wanted to be sure of their relationship before mentioning them to her. Awww! Perhaps Sharpe is destined to become an instant mama after all.
Belonging
Mustafa Al-Batat's (Ethan Hova) storyline broke my heart. The Iraqi vet did not deserve to feel like an outcast. Viewed as a traitor in Iraq and as a terrorist in America, his despair pushed him to the brink of taking his own life. Luckily, he survives the fall and comes to learn that he has a supportive and loving family – a unit of appreciative brothers and sisters – who has his back.
Kudos to New Amsterdam writers for making a statement with tact, grace and heart. In times of brash judgements and ignorance, it is important to remember that the United States is a beacon of hope to the world. People come here for justice and safety. Someone who fought for this country should not feel like a foreigner in it. The way Mustafa was treated by everyone he encountered outside of his unit, well, it is just un-American.
Battling the Board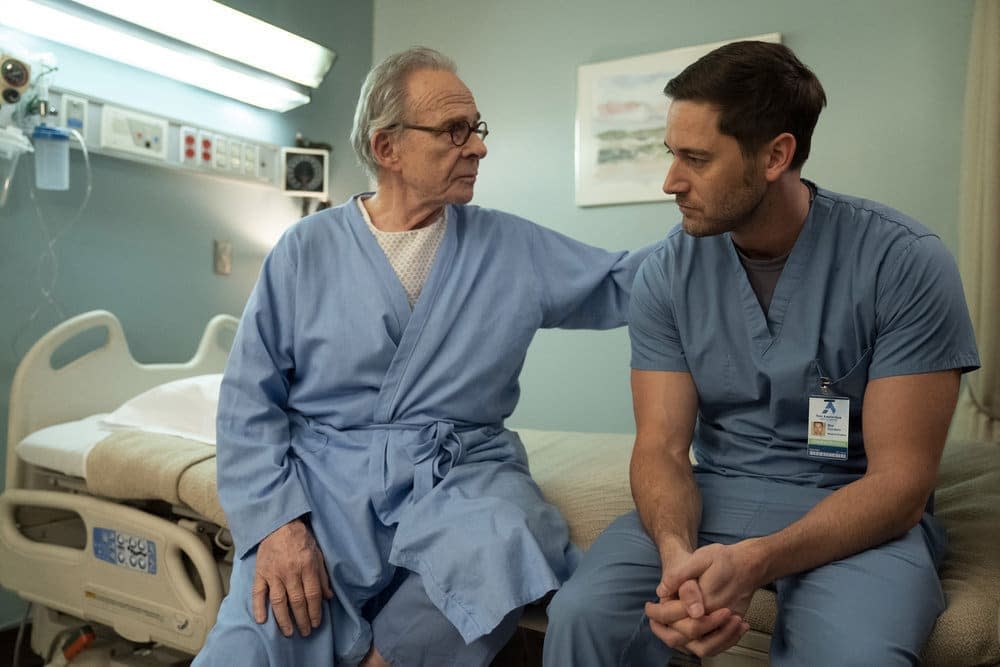 Max is put in a tough spot. Dean Fulton (Ron Rifkin) needs his help communicating with the board. He's been supportive of Max's methods and doesn't want the board to prioritize finances over patient care. He arranges a meeting between Max and a very vocal board member (Debra Monk).
Turns out the board is happy with Max but plan to vote Dean out. Ouch! Max comes up with a clever solution – or so he thinks. He stages a fake heart attack, hoping the board with have sympathy for Dean. He even delivers an impassioned speech about his boss. Unfortunately, it doesn't work. The board still votes him out! That is just cold.
The board claims to love Max's changes. He's making more money and putting patients first. Still, we can't help but fear what changes they have in store for New Amsterdam once Dean is removed as Max's supportive and protective buffer.
The "L" Word
Reynolds (Jocko Sims) bites his tongue instead of letting those three words unexpectedly slip out in a casual encounter with his girlfriend, Evie (Margot Bingham). Iggy over-hears and offers his professional and friendly opinion. He says "I love you" to his husband 27 times a day. The sentiment should be shared before it is too late.
Instead of taking Evie out on a special dinner to spill the beans, he realizes that love comes in various forms. He hasn't been there for Bloom when she's needed a friend the most. He tells Evie he loves her and that she makes him a better person. He needs to be there for their mutual friend. The episode ends with Reynolds visiting Bloom in rehab.
I love how Iggy is always around to offer much needed words of wisdom…or comfort. He's one of my favorite characters on the show. In the next episode, we'll see more of his family again. Max also struggles with his treatment and considers planning for an unpredictable future.
New Amsterdam returns with the final episodes of the season on Tuesday, March 5 at 10 p.m. EST on NBC.