NOS4A2 Showrunner Jami O'Brien Posts Apology, Praises Jahkara Smith
Earlier this week, NOS4A2 actress Jahkara Smith (Maggie) took to Twitter to call out AMC for their delayed response in supporting the Black community, the global protests taking place in honor of the late Gregory Floyd, and the Black Lives Matter movement. Smith has a lifetime of activism, more often than not exercising the "active" part of her activism. In this case, taking a graphic shot to the head from a rubber bullet during a protest, with Smith rightfully taking offense at the network's lack of support for her even after she posted about the incident.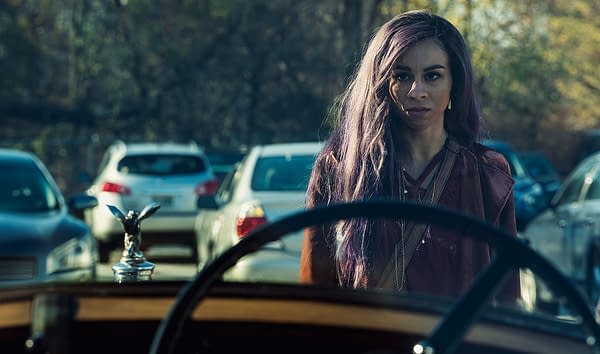 On Tuesday, NOS4A2 series creator/showrunner Jami O'Brien took to Twitter to speak on behalf of the producers and creative team to issue an apology to Smith. Over the following series of tweets, O'Brien agreed with Smith that the company was slow in issuing a response while also acknowledging that she and the show could've said and done more. The response goes on to thank Smith for her dedication to important social issues and for her fearless in holding other accountable and truth to power, before reaffirming the show's commitment to "Black actors, writers, artists, members of our cast and crew, and the Black community in condemning racism and white supremacy."
NOS4A2's second season picks up eight years after the events of season one. Vic McQueen (Ashleigh Cummings) remains more determined than ever to destroy Charlie Manx (Zachary Quinto). Charlie, having faced his own mortality, emerges desperate for revenge against Vic. This time, he sets his sights on the person who means most to Vic – her eight-year-old son Wayne. The race for Wayne's soul sends Vic and Charlie on a high-speed collision course, forcing both to confront the mistakes of their pasts in order to secure a hold on Wayne's future.

NOS4A2 season 2, episode 1 "Bad Mother": Eight years on, Vic McQueen receives shocking news about Charlie Manx. Maggie consults her tiles at great risk. Bing hunts down the Wraith but hits a roadblock. Millie Manx discovers a new aspect of Christmasland. Written by Jami O'Brien
Based on best-selling author Joe Hill's novel, and executive produced by series creator/showrunner Jami O'Brien (Fear the Walking Dead) and Hill, NOS4A2 stars Quinto, Cummings, Smith, Olafur Darri Olafsson, Ebon Moss-Bachrach, Virginia Kull, Jonathan Langdon, Ashley Romans, Jason David, and Mattea Conforti. Produced by AMC Studios in association with Tornante Television, NOS4A2 is executive produced by Hill, O'Brien, and Tornante Television's Lauren Corrao.