Our Worst Cooks in America Teams Were Crushing Donut Holes: Review
This week on one of the raunchiest episodes of Food Network's Worst Cooks in America to date, the recruits participated in a sausage party. With phallic symbols running rampant, Alex Guarnaschelli and Anne Burrell were knee-deep in dirty stuffing, delectable donuts, and sexual innuendos (they also probably desperately needed a drink). The A-Team duo enjoyed mocking the recruits and having them pledge their way into the skill drill challenge. With donuts swinging from strings and Team Blue and Team Red lapping them up with their tongues "Boardwalk Bites" deserved to have an R rating. It literally resembled a wicked game show where the prize might be silk sheets and a nightcap.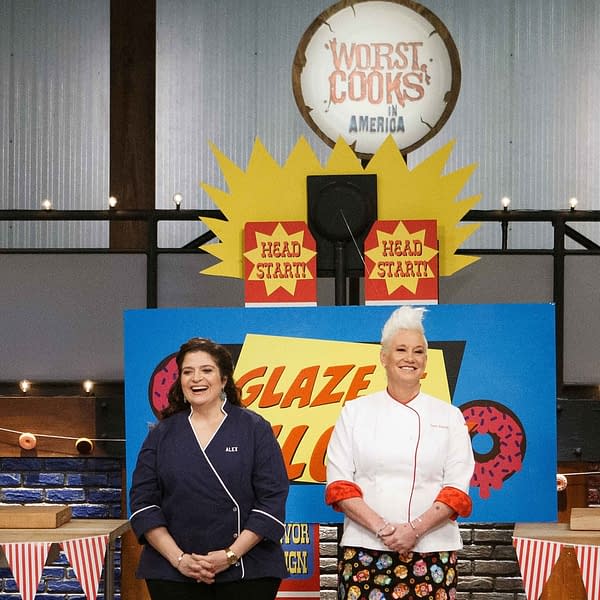 During the game challenge, recruits played "Glaze of Glory" as they tested their flavor pallets in some bizarre-looking goggles. Team Red proved their tongue action is the more effective while Team Blue did a lot of trash talking. Identifying flavor after flavor while they might not be up to par in an apron they sure as hell know how to manipulate their pallets. Some recruits definitely have nightmares starring Burrell as she continued to haunt them after she left the arena. Left to their own discretion to create donuts, both teams acted like kids in a lunchroom with a food fight around the corner. Luckily no one was set on fire and most of the food actually made it on the plate.
Skill Drill Challenge: Donuts
Burrell had the recruits drooling as she created "Peanut Butter and Jelly Donuts"
Guarnaschelli cooked up "Boston Cream with Cocoa Nibs"
Seemingly finding a donut hole was the hardest part
Left on their own with no supervision the recruits tried to support and guide each other, while also constantly looking over their shoulders as if Burrell and Guarnaschelli would pop out of nowhere.
There was nervous singing and paranoia
Making pastry cream itself was the equivalent of making a 5-course meal with recruits forgetting all of the steps and ingredients
In a blind tasting test, unfortunately, not all of the donuts were edible
Some donuts lacked any filling at all, while others were raw
There were eccentric odd filled donuts and although one particular dish was sexy it tasted clumpy and weird.
Main Dish Challenge: Sausages from Scratch
Burrell taught recruits to make Pork Fennel Sausage with Broccoli Rabe and Provolone
Guarnaschelli created Pork and Fennel Sausage with Honey Mustard and Cabbage Slaw
Bring out the possessed grinder… WTF???
Anne demoralizes the recruits, micromanaged and had sweat dripping down their back
Alex plays good cop making the rounds and showing cautious support to her team
Sausages ran away, stuffing them was an issue, yet everyone was very impressed by the length and width of their sausages.
The Team Red produced dishes which were messy but taste good
The Team Blue overdid it on décor and suffered from bland flavor
In the end… Burrell grants the win to Zack and ushers Evin out the door. I felt like sending him home was his salvation, another week of this and he looked like he was on the verge of a nervous breakdown. Guarnaschelli shows pride in Arie but says goodbye to Louisa. As much as the woman talked nonstop, she was a pleasure to watch and very charismatic.
Another great week of Worst Cooks the recruits as is typical by this point in the competition are showing great improvement and it becomes sad to watch any of them go home. Burrell appears to want Guarnaschelli out of her kitchen and there is definitely some cattiness going on, yet surprisingly not coming from Alex. I hate to say it but Guarnaschelli is a great teacher and has surprised me with her continued support for the blue team. She lights up when she tastes their food and although she makes some cutthroat commentary it's evident that praise instead of criticism is her MO. Next week's episode has the recruits thrown straight into a game when they play "The Bite is Right" let's see if it can keep us on our toes.