Outlander EP Ronald D. Moore on Star Wars Series That Might've Been
Let's start this off by recognizing that both the Star Wars franchise and Ronald D. Moore have both done quite well for themselves respectively when it comes to their time on television. "The House That Lucas Built" (and "The Mouse" now owns) has had a strong run of animated series over the years, followed by the huge success of live-action Star Wars spinoff series The Mandalorian. Disney+ also has three other Star Wars universe series in production: Ewan McGregor's Obi-Wan Kenobi series, Diego Luna's as Cassian Andor/ Rogue One prequel series, and Russian Doll co-creator Leslye Headland's upcoming female-led series. Meanwhile, Moore's worked on three "Star Trek" series (The Next Generation, Deep Space Nine, Voyager) as well as Battlestar Galactica (and its upcoming Peacock reboot), Outlander, and more.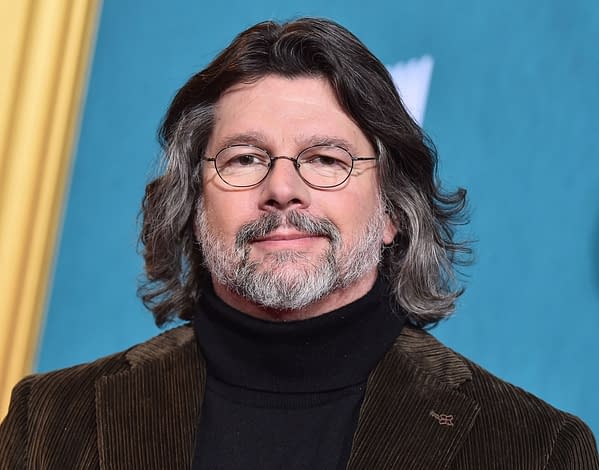 But we can't help playing a round of "What Might've Been"; in this case, that time in 2004 when George Lucas was looking to develop a live-action Star Wars spinoff series entitled Star Wars: Underworld. Moore was part of the writing team gathered to work on the project, but this writers' room had a different "mission statement". One that was in line with Lucas' desire to have the entire series' scripts ready upfront before anything was shot, as he revealed during an interview with Collider:
"I was one of several, there was a bunch of international writers they assembled… we would gather up at Skywalker Ranch once every six to eight weeks, something like that. And we would break stories together, and right after we'd go off and write some drafts and bring 'em back, and George and we would sit down and critique them, and then do another draft and break more stories… It was great! It was a ball, it was a lot of fun. It didn't happen ultimately, we wrote I'd say somewhere in the 40-something, 48 scripts, something like that… the theory was George wanted to write all the scripts and get 'em all done and then he was gonna go off and figure out how to produce them, because he wanted to do a lot of cutting edge technological stuff with CG and virtual sets and so on. And so he had a whole new thing he wanted to accomplish. And what happened was, you know, we wrote the scripts and then George said 'OK, this is enough for now, and then I'll get back to you. I want to look into all the production things.' And then time went by and like a year or something after that is when he sold Lucasfilm to Disney."
From the way Moore describes it, Lucas was concerned first-and-foremost about the story. To that end, he charged the writers to go as big and bold with their storytelling that they wanted. Lucas clearly had a vision of what he wanted the project to be, and he was more than willing to mix things up to make it happen:
"It was an extraordinary undertaking for someone to do. I don't know anyone else that would really take that on… At the time, George just said 'write them as big as you want, and we'll figure it out later.' So we really had no [budget] constraints. We were all experienced television and feature writers, so we all kind of knew what was theoretically possible on a production budget. But we just went, 'For this pass, OK let's just take him at his word just to make it crazy and big' and there was lots of action, lots of sets, and huge set pieces. Just much bigger than what you would normally do in a television show."
The series was expected to be set between the time period of the end of the prequels and the events of Star Wars: A New Hope. Lucas was looking for the series to have a "film noir" vibe to it and for all of the stories to connect via an overarching storyline that never came to be: "Yeah, I think it was pretty much one big storyline. It was one long tale with episodic things that would happen. You know, there would be certain events [that] would happen in this episode or this episode, so it was sort of an episodic quality to some of it. But it was telling a larger narrative, in terms of the story of those particular characters in that setting."