Peanuts, Frog and Toad, Eva the Owlet & More: Apple TV+ Kids Lineup
Frog and Toad makes its way to Apple TV+'s Spring 2023 kids & family programming lineup, along with Peanuts, Eva the Owlet, and more.
---
Apple TV+ announced the stellar spring lineup of all-new original series, specials, and returning fan favorites for kids and families. The new series will kick off on Friday, March 31, with the charming animated series Eva the Owlet, inspired by the bestselling book series from Scholastic. The highly-anticipated new series Jane, from Emmy Award winner J.J. Johnson, Sinking Ship Entertainment, and the Jane Goodall Institute, launches April 14, and Frog and Toad, based on Arnold Lobel's beloved characters of over five decades, launches April 28. Viewers can look forward to all-new seasons of fan-favorite series Pinecone & Pony on February 3; Pretzel and the Puppies, featuring the voice talents of Emmy nominee Mark Duplass and Nasim Pedrad, on February 24; animated series Harriet the Spy, starring SAG Award nominee Beanie Feldstein and Emmy Award winner Jane Lynch, on May 5; and Peabody and Daytime Emmy Award-winning series Stillwater on May 19. The Sago Mini Friends Earth Day special will launch on April 14. Additionally, even more classic Peanuts titles, including A Charlie Brown Valentine, will be made available to fans, many for the first time in decades.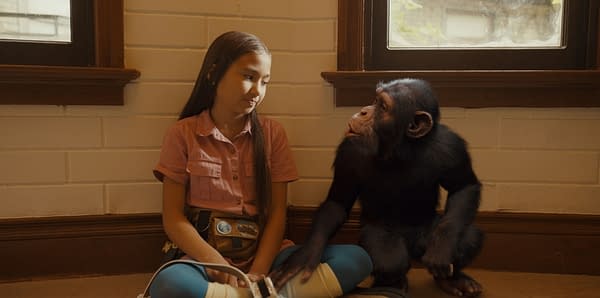 Apple TV+ Spring 2023 Lineup :
Pinecone & Pony – Season Two – Premieres Friday, February 3, 2023: an eight-episode animated comedy for kids and families about a young warrior-in-training, Pinecone, and her best friend Pony, whose adventures together teach them how to be brave in the face of adversity, to speak truth to power, and what it truly means to be a hero.
Peanuts Classics Special A Charlie Brown Valentine – Premieres Thursday, February 9, 2023: From Mendelson/Melendez Productions and Peanuts Worldwide, watch as warm and fuzzy feelings fill the air and an inspired Snoopy writes poems about Valentine's Day. Charlie Brown tries to impress the Little Red-Haired Girl. Sally and Lucy hope to get cards from their crushes. Peppermint Patty asks, "Chuck" to the dance.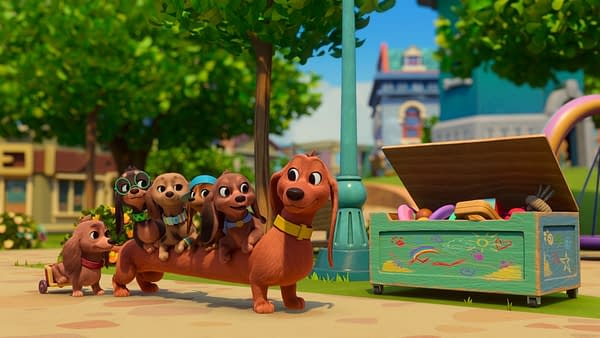 Pretzel and the Puppies – Season Two – Premieres Friday, February 24, 2023: Meet Pretzel, the world's longest dachshund and a playful, supportive dad to five frisky puppies. Together with his wife, Greta, they encourage their pups to get their paws up to solve problems and "make their bark" on the world.
Stillwater – New Shorts – Premiere Wednesday, March 15, 2023: Prior to the launch of the enchanting new season of "Stillwater," based on the award-winning and bestselling Scholastic book Zen Shorts by Jon J Muth, Apple TV+ will premiere three all-new shorts on the platform and made available for non-subscribers on Scholastic's YouTube. Just in time for International Panda Day, follow Jasper the cat in "Jasper's Journey" on a mindful journey through Stillwater's garden, join Stillwater in "Making Waves" as he makes new patterns in his Zen garden and watch Karl join Stillwater in "Breathing" to learn how breathing can help make him feel better when he has angry feelings.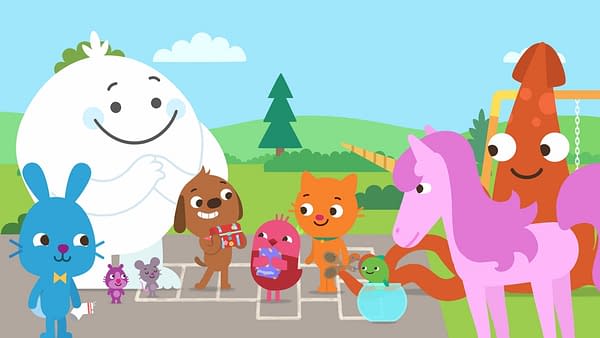 Sago Mini Friends Earth Day Special – New Special – Premieres Friday, April 14, 2023: In "Treasure It," an old lunch box finds new life when Harvey transforms it into a treasure box full of unique items for his friends. An adorable nod to gratitude, featuring Harvey, the floppy-eared dog, and his best friends, Jinja the cat, Jack the rabbit, and Robin the bird. Along with a unique cast of residents as colorful as their own whimsical world, the four friends play, explore, imagine and celebrate daily in their joyful town of Sagoville.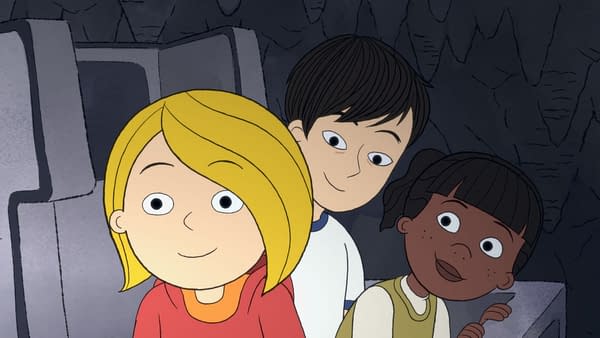 Harriet the Spy – Season Two – Premieres Friday, May 5, 2023: Tune in for season two, based on the iconic children's novel chronicling the coming-of-age adventures of the irrepressible Harriet M. Welsch! Set in 1960s New York when the original book was published, the series follows the outspoken and perpetually curious 11-year-old Harriet M. Welsch. More than anything, Harriet wants to be a writer, and in order to be a good writer, she'll need to know everything. And to know everything means she'll need to spy … on everyone! This season, follow Harriet as she navigates letting go, growing up, and celebrating the gift of today.
Stillwater – Season Three – Premieres Friday, May 19, 2023: The series centers on siblings Karl, Addy, and Michael, who encounter everyday challenges — big and small — which sometimes feel insurmountable. Fortunately for these three, they have Stillwater, a wise panda, as their next-door neighbor. Through his example, stories, and gentle humor, Stillwater gives the children a deeper understanding of their feelings as well as tools that help them face their own day-to-day challenges.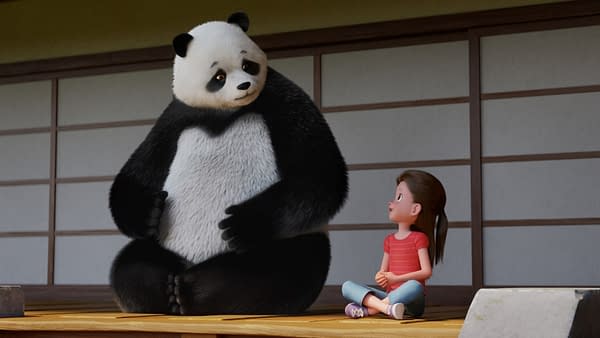 New Kids & Family Original Series & Specials:
Eva the Owlet – New Series – Premieres Friday, March 31, 2023: The new animated kids and family series is based on the New York Times bestselling Scholastic book series "Owl Diaries" by award-winning author Rebecca Elliott. "Eva the Owlet" stars Eva, a creative, cheeky owlet who lives next door to her best friend, Lucy, in the woodland world of Treetopington. With big ideas and an even bigger personality, Eva goes on high-flying adventures, expressing herself in her journal along the way!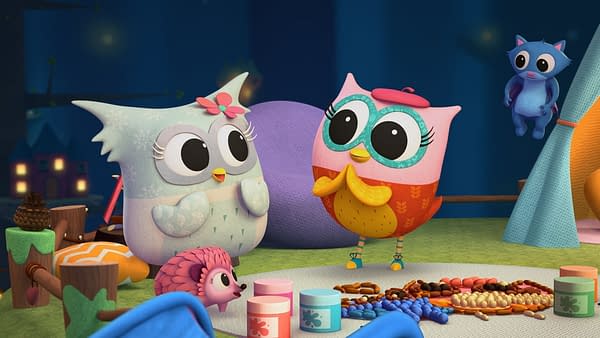 Jane – New Series – Premieres Friday, April 14, 2023: a new 10-episode mission-driven series for kids and families inspired by the work of Dr. Jane Goodall. Ava Louise Murchison (Reacher) stars as Jane Garcia, a nine-year-old budding environmentalist on a quest to save endangered animals. Using her powerful imagination, Jane takes her best friends David, played by Mason Blomberg (Shameless), and Greybeard the chimpanzee, on epic adventures to help protect wild animals all around the world.
Frog and Toad – New Series – Premieres Friday, April 28, 2023: Frog is a frog. Toad is a toad. They have a lot in common… but they are also very different. Frog and Toad are best friends who know that the true secret to friendship is not only enjoying the things you have in common but embracing the things that make you different. Our differences are what makes us special, and Frog and Toad celebrate them in what makes them unique.
Peanuts Anthology III – New to Apple TV+ – May 5, 2023: Fans of the beloved Peanuts gang will have more classics available to watch from Mendelson/Melendez Productions and Peanuts Worldwide in the Peanuts Classics collection, including "It's an Adventure, Charlie Brown," "It's Spring Training, Charlie Brown," Emmy Award winner "Life is a Circus, Charlie Brown," "Lucy Must Be Traded, Charlie Brown," Emmy Award nominated "Play it Again, Charlie Brown," Emmy Award nominated "Snoopy's Getting Married, Charlie Brown" and Emmy Award winner "You're a Good Sport, Charlie Brown."