The voice of legendary wrestling announcer Jim Ross may be associated with some of the most memorable moments in WWE history, but Ross no longer works for WWE, instead calling the action on the show many wrestling fans find to be superior, AEW Dynamite. So if you don't mind, could you please stop tagging Ross with all your WWE content?
Ross took to Twitter recently to lash out a fan who was tagging him in an excessive number of tweets about WWE, which Ross found annoying. "Please stop tagging me in all this wwe content," Ross tweeted. "Thanks." Bah gawd, that fan has been broken in half by Ross's tweet!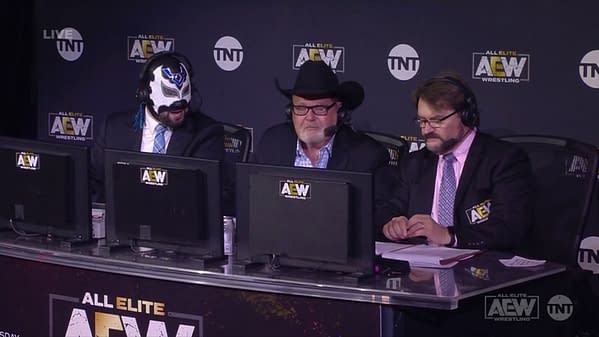 It's unclear what annoyed Ross so much about the tweet. A quick glance at the fan's Twitter profile doesn't show a massive number of tweets in general, much less ones tagging Ross, so we have to assume that Ross wasn't annoyed at that particular fan, but at being tagged in tweets about WWE content in general. And that makes sense, considering how Ross was treated by the company.
In addition to being included in numerous humiliating angles over the years for no reason other than Vince McMahon's personal gratification, Jim Ross was pushed out of the company when he was still in his prime so that WWE could replace him with, of all people, Michael Cole, a move that has sucked the personality out of WWE's commentary to this day. Though Ross returned several times through the years, when given the opportunity to join AEW and be featured every week on their announce team, Ross jumped at the chance, and it's been good for both Ross and AEW.
"Tony Khan saved my life, I believe that," Ross said of landing the gig with AEW last year. "Because I like getting up now and going somewhere. Every Tuesday morning I'm up at 4 or 5 o'clock at the latest to catch a plane, first flight out, boom I'm going to the city to have our production meeting on Tuesday night and then our show on Wednesday. So I got a direction now and a destination."
Listening to Jim Ross and Tony Schiavone call AEW Dynamite each week alongside Excalibur is an absolute pleasure. You can tell both legends are enjoying it, and that gives the show itself a warm and personal feel that makes it easier to connect with. In AEW, Jim Ross has found a career resurgence, so the next time you're thinking about tagging him on Twitter, tag him with some AEW content instead.
Enjoyed this article? Share it!