"Rick and Morty" Season 4 "Edge of Tomorty: Rick Die Rickpeat" Welcome Back, Again! And Again! And Again! And… [SPOILER REVIEW]
Fans of Adult Swim's Rick and Morty have been counting down the months and days until Dan Harmon and Justin Roiland's animated mayhem returned to their screens once more (with five episode airing in 2019, beginning Sunday, November 10, at 11:30 p.m).
Well, that wait is now officially over with season premiere "Edge of Tomorty: Rick Die Rickpeat" – but was all of our waiting worth it? MAJOR SPOILERS ahead…
Short answer? Yes.
Long Answer? Yeeeeeeeeeeeesssssssssssssss.
I'm going to touch upon some aspects of the story when I list my takeaways in a few minutes, but let me just talk about why this episode worked so well for me. After two years, I'm sure there might have been at least some temptation on Harmon and Roiland's part to come roaring back with portal guns blazin'. Roll out the greatest hits, throw out some choice lines to market, and make everyone feel "warm and fuzzy" about the show's return.
And guess what? They gave into that temptation – and then made it into something uniquely Rick and Morty.
Did we get some return favorites? Absolutely (hello, Meeseeks and Revolio "Gearhead" Clockberg, Jr.!). Did we get some versions of Rick and Morty that were destined for a vinyl future? Definitely. But all of it was done in contexts that not only made sense, but also helped us welcome back the show in a way that didn't become a "nostalgia trip".
It also clarified and established some interesting "ground rules" within the family, offering the "other shoe drop" from last season's ender. Rick no longer has an "open door policy" when it comes to scooping up Morty for an adventure – but it's not Jerry or Beth he has to ask for permission. It's Morty, which evens the dynamic between the two just a little – at least for as long as it lasts.
Jerry has a bit more confidence when dealing with Rick, bolstered by being back home and back with Beth. Let me clear, I'm not a Jerry fan – well, I am a fan of how much of a jerk the character is. That said? For him to be a decent foil for Rick (more for comedic purposes), he can't be that much of a loser: Jerry's better to laugh at when he tastes an occasional victory – before he finds a way to piss it all away.
So welcome back, Rick and Morty – it felt like you never left while still feeling new.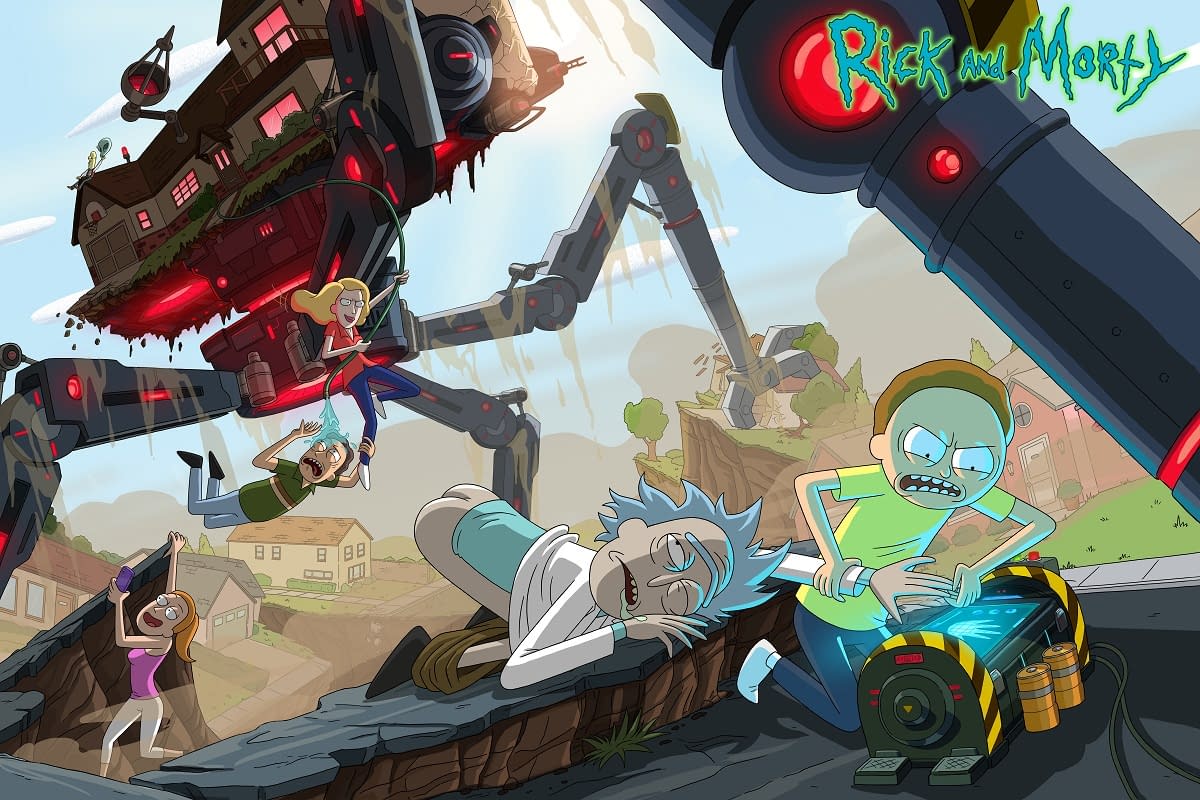 As for our tale of death crystals, clone bodies, and whether to live for the now or live for the future (which might've been "tough love"-directed at some of the show's fanbase), here are some of our choice takeaways:
● If this is how the animation is going to look all season, then count me in on that alone. It still looks Rick and Morty, yet there's a smoothness to some of the action scenes that was missing in the past.
● When you have some time (or like us, you can't sleep), take a look at those opening death crystal scenes – especially Rick's. Might be some interesting things to see in there…
● Two "Rick" Observations: (1) I was a big fan of Rick's almost proud, matter-of-fact response to Morty when Morty asked why they were any different from those looking to steal the crystals: "We're Rick and Morty"; and (2) I'm slightly concerned about how Rick's "defaults" always end up having his clone body in some kind of "Nazi homage" dimension.
● In defense of Morty's high school bully, at least he appears to be well-spoken – because "fait accompli" isn't a word that gets thrown around a lot. He does lose points with the whole "self-induced-concussion-via-locker" move, however.
● It would appear that Hologram Ricks are mad as Hell – and they're not going to take it anymore!
● We're not the only ones who thought Death Crystal Morty gave us a glimpse of what Evil Morty's potential is, are we? Because Morty came across like a cross between Teen Titans' Raven and Jason Bourne – in a good way.
● "RICK AND MORTY" GAVE ME THE FEELS ALERT: That part with the judge, and Peru, and the "little sparrow" actually reminded us we had a heart. What made it even more meaningful? There wasn't a joke to undercut it – it was allowed to just be before we moved on to the next scene/joke.
● We've had three seasons worth of "Rick deaths", but that Rick head exploding with wasps? Total confession? Actually made my stomach turn a bit – especially the open-face aftermath. Quite impressive.
● The addition of Summer in the background was a nice change to the season opener's ending – nothing like mutual in-the-moment disgust with her to bond our boys together in one of the most unhealthiest ways possible.

From the Upfronts earlier in the summer, there was the announcement of season 4 with an accompanying video (see below), and red carpet interviews with Harmon and Roiland that teased (jokingly?) a Rick and Morty future with Daniel Radcliffe and Kanye West in it. In late June, Adult Swim announced a second addition of its two-day festival in Los Angeles – which will be of particular interest to fans (more below).
But now? Things are getting serious: it's the season 4 trailer!
https://www.youtube.com/watch?v=Rw6BrzB1drs
Buckle in for disappointment because there's no way these episodes will be good enough for how long you waited. But maybe they will be? It's season four! It's sexy and smooth. Buckle in! Did I already say that? Definitely stay buckled in.

Rick and Morty is the Emmy-award-winning half-hour animated hit comedy series on Adult Swim that follows a sociopathic genius scientist who drags his inherently timid grandson on insanely dangerous adventures across the universe. Rick Sanchez is living with his daughter Beth's family and constantly bringing her, his son-in-law Jerry, granddaughter Summer, and grandson Morty into intergalactic escapades.

Rick and Morty stars Justin Roiland (Adventure Time), Sarah Chalke (Scrubs), Chris Parnell (Saturday Night Live), and Spencer Grammer (Greek). The series is created by Dan Harmon (Community) and Roiland, who also serve as executive producers.

In October, fans learned the titles of this season's opener as well as the following four episodes via an Adult Swim reveal video.
Fair warning: Harmon and Roiland's Rick/Morty "Pun Fu" is strong this season… let the speculation begin!
"Edge of Tomorty: Rick Die Rickpeat"

"The Old Man and the Seat"

"One Crew Over the Crewcoo's Morty"

"Claw and Hoarder: Special Ricktim's Morty"

"Rattlestar Ricklactica"
To coincide with the show's Comic-Con International: San Diego (SDCC) appearance during the summer's ultimate "geekfest" (and only days after two images from the upcoming season were released and the creators discussed the new season), Rick and Morty fans were given their first look at the upcoming 10-episode season – and it involves apps, matching jumpsuits, what looks like a bad start-up, and a ton of slapping around: