Riverdale Season 3 Episode 7 Recap: "The Man in Black"
Riverdale was more of an anthology series last night, as each character in the Fab Four had their own 15 minute mini-episode within an episode. After last week's big emotional episode with Archie and Veronica "breaking up" and Betty being committed, this week sees our heroes try to pick up the pieces as the mysteries surrounding G&G pull them in different directions. Once agin however, it seems it all points to one person. Who is the Man in Black?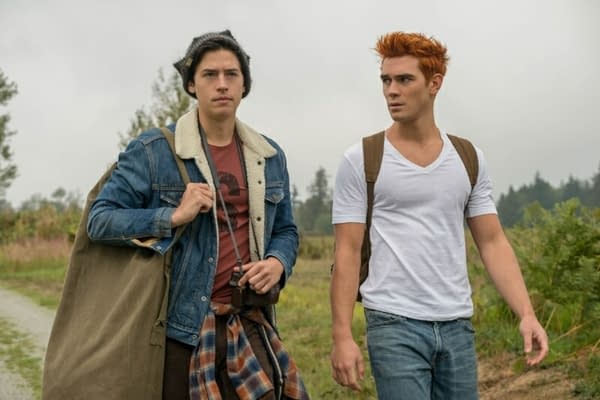 Archie and Jughead are the first to find out, as we pick up with them still running away from Riverdale. They happen upon a farm, which for some reason really excites Archie. Dragging Jughead kicking and screaming, Archie makes friends with Laurie Lake (guest star Riley Keough), who allows them to sleep in the barn in exchange for manual labor. They tell her their names are Cal and Biff, which is hilarious. In that instant I said out loud "I bet we cut right to a scene with Arch shirtlessly moving hay bales, with no sign of the infected shiv wound on his abs". Guess what? I was right. He seems content to stay here forever because Archie, and Jughead goes to town to take pictures before they leave.
Of course, the town is overrun with G&G and Fizzle Rocks (still a better name than Jingle Jangle, which sadly was also name checked in this episode), and the farm it turns out is a drug house. After making out with Laurie over eggs, Archie spurns her because of his undying love for Veronica. She takes it well, and kills him with a cast iron skillet. Just kidding: it only knocks him out. Because Archie. Turns out, the drug house is run by the Man in Black, Hiram Lodge. Wow, that reveal was fast. Jug finds a tied up Archie and frees him, and Arch decides to take out Hiram with a pair of gardening sheers. Since thats stupid, Jughead argues with him and ultimately convinces him to live to fight another day as they flee the farm and head to Toledo to meet Jughead's mom. Good for Jughead. Archie is invincible, but he isn't. He wouldn't have survived the bullets bouncing of Archies chest as he takes out Hiram and his goons single-handedly.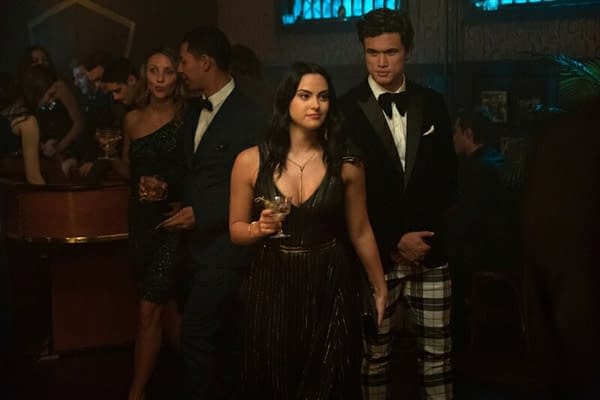 Next up was Veronica, who decides to run a casino night in Le Bonne Nuit after talking to Reggie about how their Riverdale speakeasy is "breaking even" as it sits empty. Veronica is down, as she now lives there after packing up and leaving Pembroke once and for all. Archie dumped her, and Pop's is making no money. After speaking to Elio, they agree that he will bring high rollers to the casino night in exchange for 25% of the profits. Don't tell anyone else though, so Hiram doesn't find out.
In the next scene, Hiram finds out and warns her that Elio is not to be trusted, and since Hiram is the one saying it, she of course doesn't believe it. Wouldn't you know it though-he is cheating! What follows is one of the weirdest high-stakes hands of blackjack ever put on film, as for some reason Elio falls for the old "here is the deed to my bar, one hand, winner take all" trick. Veronica of course hits 21 and wins, with no repercussions at all since "the house always wins", a phrase uttered an astounding number of times in 15 minutes. Turns out, Veronica knew he was cheating all along, after Hiram steps in again and tells her to hire a specific dealer who will help her get over on Elio. I bet he ends up dead next week. For now, we end with Pop reminding Veronica not to sell her soul to these people, right before letting her know Manetta, who was arrested last week, has been found with no head or hands. Good thing Archie was cleared before that huh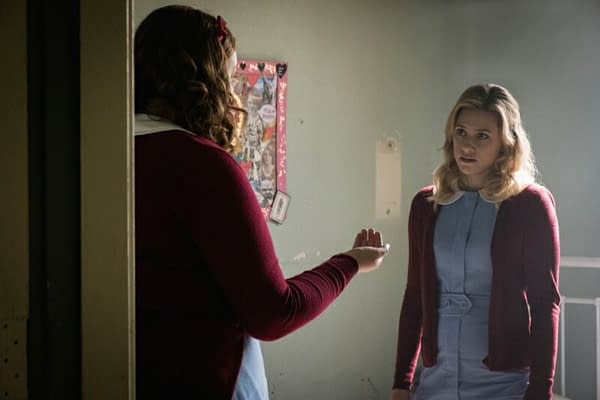 We end with Betty in Sisters of Mercy, where her mother banished her to last week. She is getting an inkblot test, which is clearly three images: a dead body, the Black Hood, and the Gargoyle King, but she lies blatantly saying they are toys, and butterfly, and a jungle gym. That will show em! The staff is giving Fizzle Rocks (sigh) to the kids here, and Betty throws hers in the trash in her room before her new roommate Ethel walks in! She in succeeding in every way in this asylum and you know what? Good for her. Turns out she is the Gargoyle King's right hand woman now, and Betty can't meet him since she is not worthy.
After seeing the GK's chamber, Betty decides she needs to get in the infirmary to check medical records for why they are giving hard drugs to kids. This is also after seeing Claudius Blossom and Hiram Lodge meeting with the nuns, and Hiram is again referred to as the Man in Black. Really its a charcoal coat, but semantics. She starts a fight with Ethel over her kiss with Jughead and fakes a seizure to get into the infirmary (why did she have to fight with Ethel…), and discovers in her own file that her morning doses of drugs have been increased by one "HL". Seeing enough, she tries to flee using the tunnel escape that Veronica used to help Cheryl escape last season. Problem though: it has been bricked off. New Riverdale badass Ethel and the rest of the Sisters arrive and force Betty to take her Fizzle Rocks. They throw her into GK's chamber, and before you know it, Betty is drugged and back to the inkblot test. this time, without hesitation, her answers come swiftly: dead body, Black Hood, Gargoyle King, who is now standing menacingly behind Sister Woodhouse.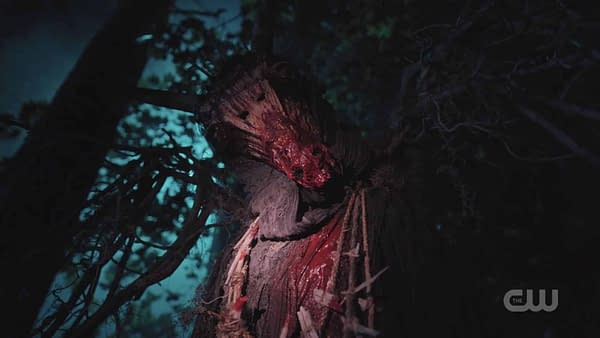 This was a meaty episode of Riverdale. More moving the pieces around the board, but they will all be moving towards Hiram Lodge before all is said and done. I still do not think he is the Gargoyle King, but I am starting to wonder if the show may deal with him on a more permanent basis before the season ends. Could this show survive without a big baddie like Hiram pulling all the strings and always being responsible for everything always? We may just find out.