"Riverdale" Season 4 "Chapter Fifty-Eight: In Memoriam" – We Said Goodbye To a Dear Old Friend [SPOILER REVIEW]
Before The CW's Riverdale begins ramping up shock values to "11," there is the passing of a show family member that needs to be honored and memorialized. Fourth season premiere "Chapter Fifty-Eight: In Memoriam" featured a special tribute to the late Luke Perry, bidding farewell to beloved character Fred Andrews. Perry's longtime friend and former costar Shannen Doherty (Beverly Hills 90210) guest-starred in a special role in the episode, and Molly Ringwald returned as Archie's (KJ Apa) mother, Mary Andrews.
Before we look at the episode, a quick MAJOR SPOILERS warning buffer…
"Riverdale" season 4, episode 1 "Chapter Fifty-Eight: In Memoriam": A FAREWELL TO FRED ANDREWS – As the residence of Riverdale prepare for its upcoming Independence Day parade, Archie (KJ Apa) receives a phone call that will change the rest of his life forever. Lili Reinhart, Camila Mendes, Cole Sprouse, Madelaine Petsch, Marisol Nichols, Madchen Amick, Mark Consuelos, Skeet Ulrich, Casey Cott, Charles Melton and Vanessa Morgan also star. Gabriel Correa directed the episode written by Roberto Aguirre-Sacasa.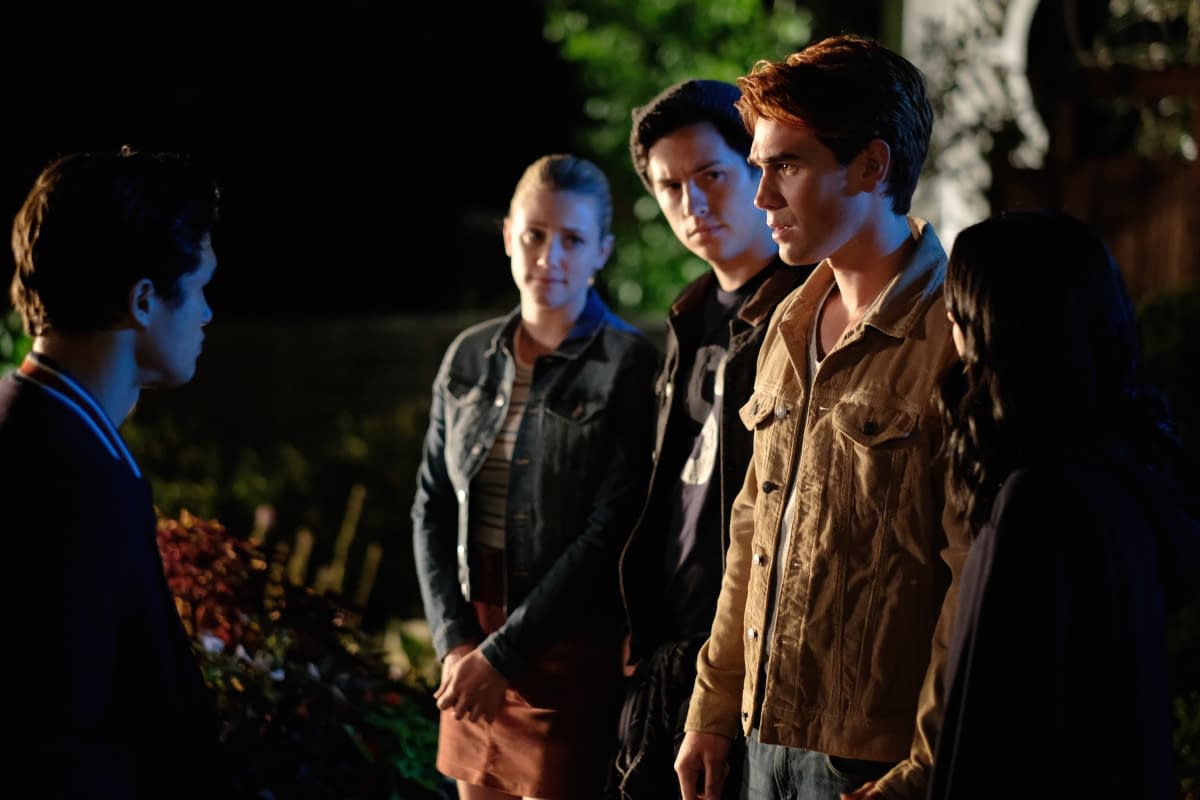 According to Jughead, everything is quiet on the homefront as the city focuses all of its efforts on the July 4th celebrations.
Things have been so quiet, Jughead was able to get some real writing done – which Betty loves.
Archie and Veronica are celebrating of course together.
Meanwhile, Cheryl reads the paper to her dead (?) twin brother Jason – then freaks over the town's parade. Yeah, we don't know either, but I'm guessing at least one of those is going to be explained this episode.
Only two minutes in and we get our first season 4 shot of shirtless Archie – with tool in hand (get your mind out of the gutters…).
But sadly, not everything can stay this bright and cheery for our four friends forever.
Cheryl vows to ruin the parade, just as her life was ruined by the death of her brother on that day years ago.
But even worse, Archie gets some awful news: his dad Fred Andrews (Perry) was the victim of a hit-and-run when he pulled over to help someone on the side of the road and was struck.
Perry passed away in the spring; while the cast has had time to deal and process the loss on a personal level, the way Fred Andrews' "death" was handled was a fitting and touching tribute to both the actor and his Riverdale character.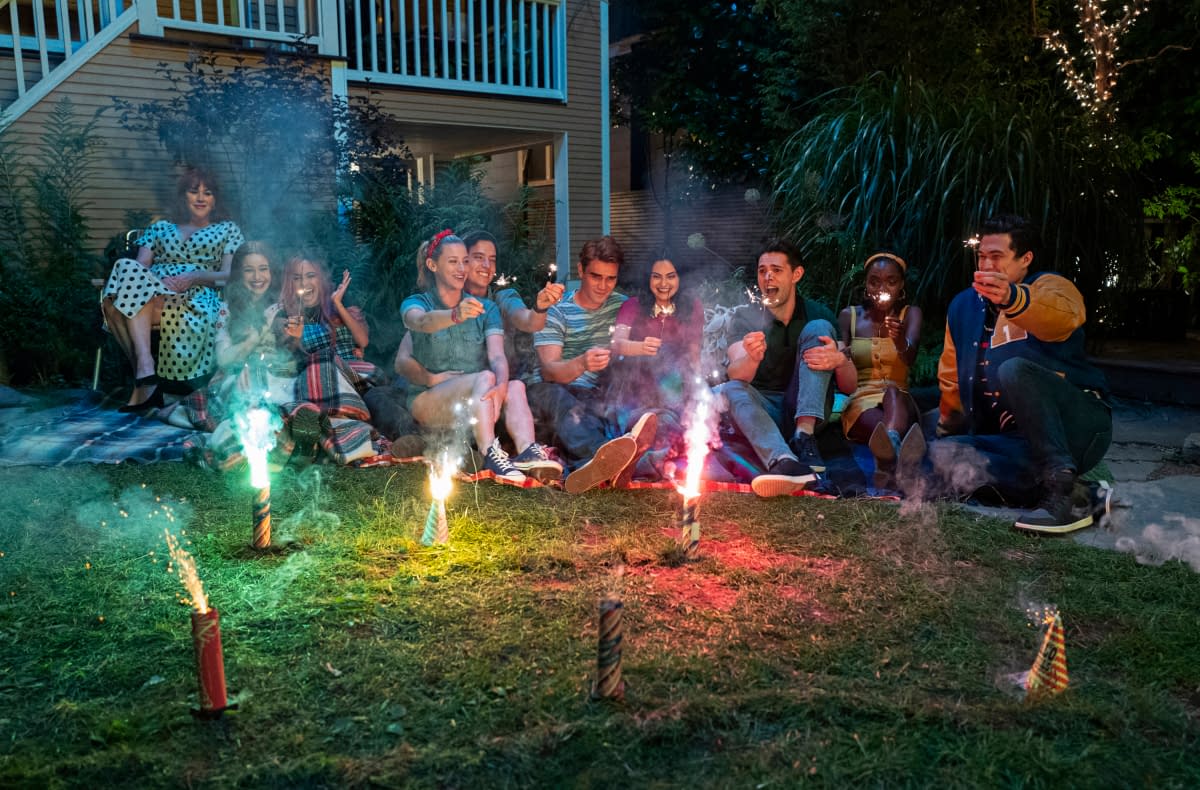 There's an incredibly sweet and moving scene with the cast sitting around reliving memories of times Fred Andrews was there for them – with the underlying emotion of the times when Perry was there for them. It's a great way for the show and the actors to say goodbye to such a pivotal cast member.
Missed opportunity here – Greendale has a funeral home and odd things are known to happen there frequently (according to the Chilling Adventures of Sabrina). Maybe this isn't the right time for a crossover, but they are in the same universe so it could happen!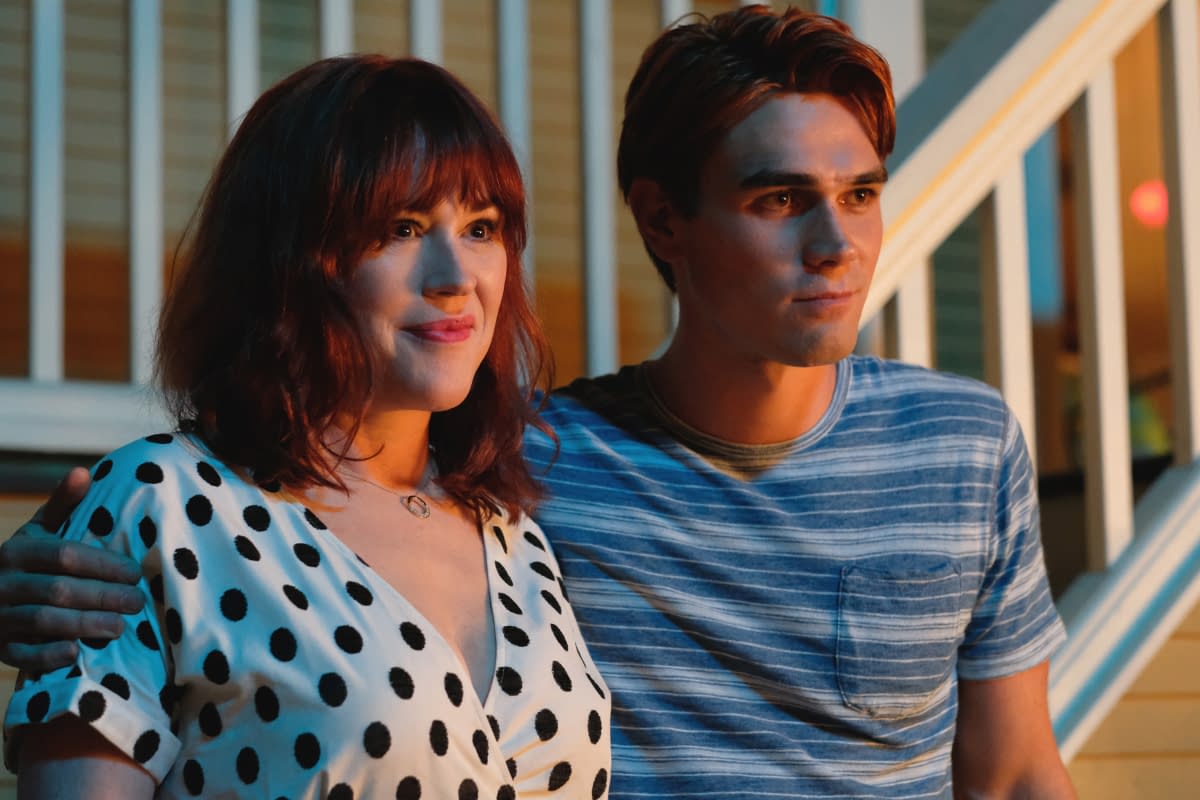 Cheryl and Toni go over to comfort Archie's mom while Archie, Jughead, Betty, and Veronica go to pick up Fred and his truck and his body.
While they're picking up his truck from the side of the road, they meet the woman he stopped to help – he pushed her out of the way as the car was coming. Fred Andrews died how he lived: a good man… a hero.
Of course, the Archie who craves vigilante justice and taking the law into his own hands finds the driver of the car who hit his dad. Plot twist: it was actually his son driving – his unlicensed teenage son. I'm assuming he's about 14 or 15, by the looks of it. Archie is completely thrown for a loop.
Poor "Archiekins" is off the deep end, and understandably so; he's completely second-guessing every action and word he ever said to his father. Yes they fought, but did he really know he loved him, despite that?
No Fourth of July parade, but it turned into a different kind of parade: one to honor and celebrate the life of Fred Andrews.
As Archie drives the hearse through the middle of town, he sees and realizes exactly how much he meant to everybody – and at the funeral, we hear just how much he meant to Archie.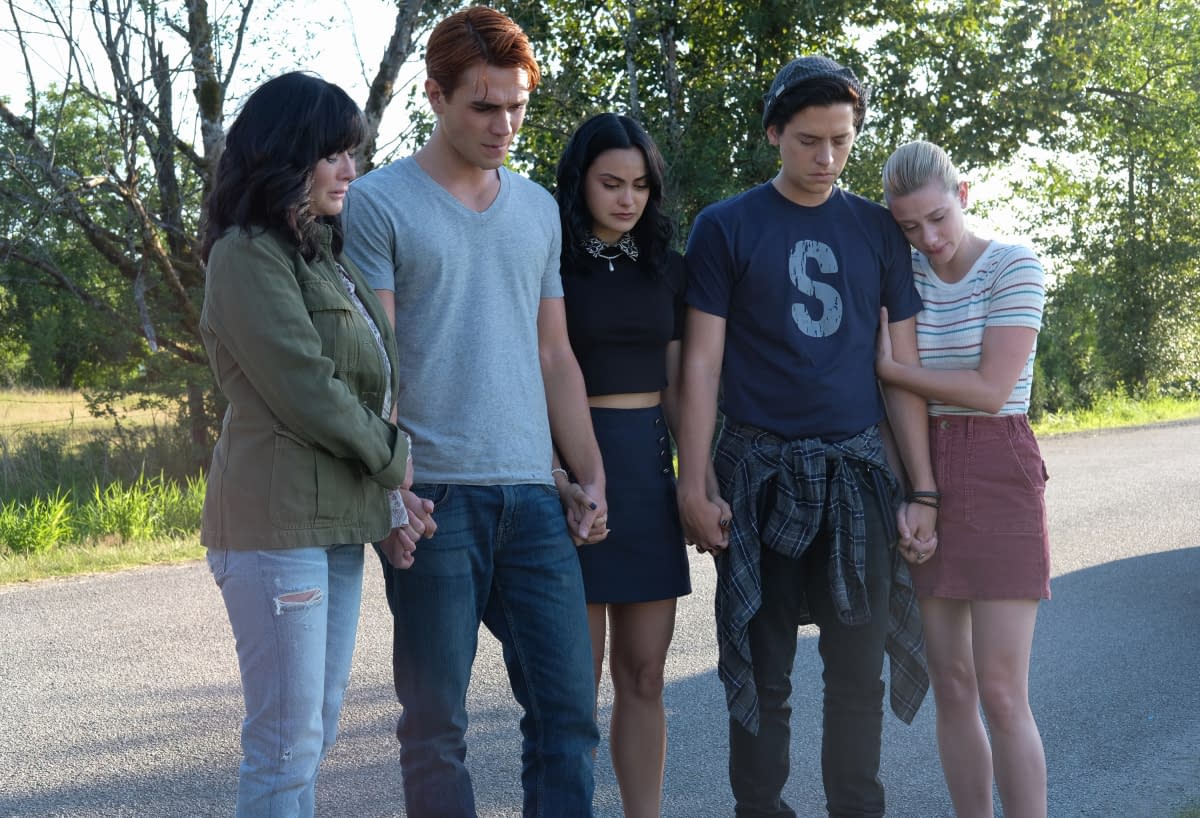 Veronica learns that her father paid for his funeral, while Betty visits her dad's grave – now covered in graffiti, payback for his time as The Black Hood.
Both Hermione and Hiram Lodge are in jail (Hermione for attempting to kill Hiram; Hiram for illegal business activities); and Jughead is probably still reeling from having his mother turn out to be a drug queenpin and up and leave the family…again.
Needless to say, I'm sure this will not be a pleasant season for our high school heroes and their relationships with their parents.
Overall: a touching tribute. Not much story, but that's not what this was about – and yet there were still a few surprises.
I can't wait to see what Riverdale comes up with next week! Maybe more shirtless Archie wielding tools? Who knows!