Roadkill: Hugh Laurie Plays Corrupt Politician in Upcoming BBC Drama
Hugh Laurie (House, Avenue 5) plays a corrupt politician fighting for his life and freedom in a new BBC political thriller Roadkill. The 4-part miniseries is written by David Hare, one of the UK's top political playwrights and screenwriters. The Forge, which produced National Treasure, is the production company behind it. PBS Masterpiece is also a co-producer.
Laurie plays Peter Laurence, a self-made, charismatic politician whose life and career are being picked apart by his enemies. Laurence remains cool through it all, displaying no guilt or remorse let alone shame as he walks a tightrope teetering between triumph and disaster. Followers of British politics will not have a hard time guessing who inspired the character. There's one particularly ebullient chancer at the top of British politics right now who seems to get away with everything with nary a scratch, no matter how badly he botches things or what awful statement he makes in public to the press. This is probably Hare's commentary on that type of politician who has taken over the British political landscape.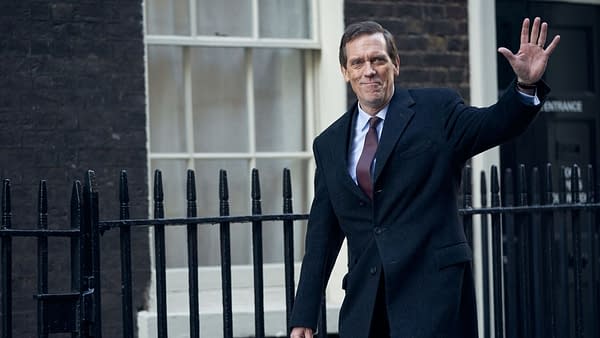 Hare previously wrote The Worricker Trilogy (now streaming on Amazon Prime) and Collateral (now on Netflix). Both featured Hare's customary wit and nuanced look at complex political situations. The Worricker Trilogy starred British national treasure Bily Nighy as Johnny Worricker as a dapper and wily old school spy tangling with a corrupt Prime Minister played by Ralph Fiennes. It's the exact opposite of James Bond and updated the spy genre in ways that feel much truer and more interesting than the usual Bond thrillers.
Helen McCrory from Peaky Blinders plays the British prime minister in the series, which also stars Borgen's Sidse Babett Knudsen and Dublin Murders' Sarah Greene. Filming actually took place in London last year, long before the Quarantine, so the miniseries is complete and, barring some more postproduction work, ready to go.
Roadkill is directed by Michael Keillor, whose credits include the hit BBC cop series Line of Duty. Hare serves as Executive Producer along with George Faber and Mark Pybus for The Forge, Lucy Richer for the BBC, Michael Keillor, and Rebecca Eaton for Masterpiece. Andy Litvin, who previously produced The Trial, produces and All3Media International is the distributor. The series will be broadcast on PBS in the US. The premiere date will be announced at a later date.