STARZ hit series Outlander gave fans their long awaited relief last night in the reunion of Jamie (Sam Heughan) and Claire (Caitriona Balfe). The couple had been separated for a few years (220 give or take but who's counting?) and the third season promised to reunite the pair. Many fans of the show were somewhat unhappy about the decision to withhold the reunion scene until halfway through the season. Maybe it's not the instant gratification modern audiences are accustomed to, but the satisfaction of lingering desires of that magnitude being fulfilled was ultimately worth it.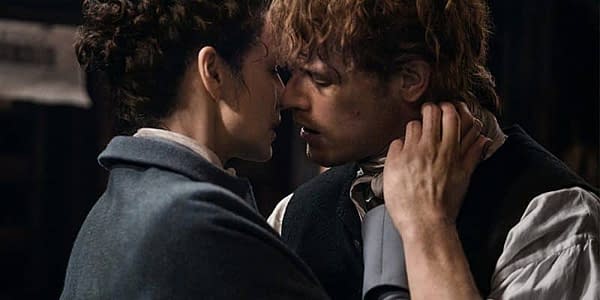 In a recent interview with IndieWire, showrunner Ronald D. Moore spoke about the various decisions that went into timing the 'print shop scene', and how this season is pacing compared to the Outlander series 3rd book "Voyager" source material. If you have NOT watched Outlander s3e6 episode "A. Malcolm", you may not want to read further as there will be spoilers discussed. When speaking specifically on the choice to wait til halfway through season 3 for the big Outlander reunion, Ron responded:
"I was firm on that. I was like, 'I want them to want it. I'm happy that they're going a little crazy. Let's make them earn it, getting them back together.'

I knew it was going to be an ongoing saga and a traveling show. You knew that the characters were going to change over a long stretch of time and that you were going to have an opportunity to play different stages of evolution in their characters, which is an exciting prospect.

It felt like there was no scenario where we were just gonna skip over it [the 20 years Jamie and Claire spend living separate lives] or just do it in little flashbacks. It's too big of a change in who these people are, to not really show what they went through. I felt like, 'Well, I want to see some of that story.

We quickly decided on the basic structure because the book just sort of pointed it out to us. Jamie's story in [the book 'Voyager'] is episodic. He's at Culloden, then he's in the cave, then he's in the prison, then he's at Helwater, and then he goes to Edinburgh. That's five episodes. Once you put those cards up on the board, it was like, well it seems they're gonna get together after five. All right. Let's construct a parallel Claire line to go along with that. Because unless you were gonna pull one of those entire chapters out of Jamie's life, it was always gonna be five episodes. Once we did that, we just never really changed it.

At the beginning, that's all [the time travel aspect] very theoretical. All you really care about at the beginning is just getting Season 1 done. You're like, 'Oh I hope we have the problems of whatever Season 3 and 4 are gonna be.' 'Oh this will be kind of cool if it goes.' And, 'Oh, once we get to that stage of their relationship, it will be interesting what we do with those 20 years. I was kind of looking forward to it. It was an interesting challenge because it wasn't something I had seen done on another TV show. That alone made me interested.

It was fun to do. It gave you a lot of new backstory to play around with and ways of deepening the characters. But to really take your two main leads and age them 20 years and play that over the course of multiple episodes, it was just new. It was like, 'Oh, I don't know how we're gonna do that. I don't know how it's going to be,' but I was looking forward to getting to try it.

The big thing was we said, 'Let's clear out the rest of the plot.' Let's not get involved in the smuggling story, really. We can start setting up some elements and suggesting things that are gonna happen, but let's just clear out the story and take the time to just have the characters get to know each other again. That was the key thing.

I think each season we've kind of approached it, said, 'All right. Let's look at this next book. Does it make sense to do this as one season? When we started working on Season 3, there was a lot of talk internally about, 'Well, this is such a big book. Maybe we're gonna split this one up into two.' But then we started putting the cards up on the board and the way it felt sequentially, we kind of went, 'No. Actually, this will work in one season.' It was kind of a surprise, but when you really boiled down the plot story and what was really happening, and how it would all fall together, it was clearly still one season. And Season 4 feels the same way.

Every year you have to reevaluate. I could see situations where we split a book or we combine them or whatever. But we won't really know that till you're with the writers together and you start putting it up on the board and looking at it, feeling the rhythm of is this too much or is it plenty or is it not enough? I haven't done the next book. You just never quite know."
Season 3 of Outlander is airing on STARZ on Sunday nights, and 4 is currently in production.
Enjoyed this article? Share it!