"Royal Rumble": Alexa Bliss Entered Women's Rumble First – But Who Was the Last One Standing? [SPOILER]
The Goddess — Alexa Bliss — entered tonight's WWE's Royal Rumble Women's Rumble at number one. But who would be following her? The charismatic NXT bad ass, Bianca Belair.
Both women ooze confidence, and were ready to square off. Belair looked particularly great, even after coming off a match during last nights NXT Takeover. But Bliss isn't afraid of a fight, but Belair was giving her one hell of a fight. The next women to enter the match was Might Molly, who quickly tried to eliminate both Bliss and Belair. After Molly came Nikki Cross — the former tag team mate alongside Bliss. The two divided and conquered, but this is the Royal Rumble. It's every woman for herself. Will their friendship stand the Royal Rumble?
Joining the four was Lana — who was wearing a stunning Captain Marvel inspired costume. Lana's history in the Royal Rumble hasn't always been great. Will she make it into the ring this year? Good news, she did. Following Lana was Mercedes Martinez, whom the crowd didn't have much of a reaction too. But Mercedes clearly came in for a fight, putting her sights on Lana. Liv Morgan followed, who immediately eliminated Lana. Who, in return, dragged Lana off of the top rope — eliminating her. I guess revenge is an angry blonde?
Next to enter the ring was Mandy, who quickly set her sights on Cross, attempting to eliminate her. Candice LeRae followed, who joined in the fight. During Mandy's entrance Belair managed to eliminate Molly, followed by Bliss throwing Mandy out of the right. However, Mandy was caught by her biggest fan — Otis.
Sonya Deville came in next, causing her and Mandy to team up to go against LeRae. Action tends to slow down when someone isn't entering the ring, but Mandy and Deville did eliminate Mercedes. Kairi Sane was number 11, bringing her mind games to both Bliss and Cross. Mia Yim joined the rumble next, going after Cross as soon as she entered. Belair, Bliss, and Cross soon got into a three was scuffle, with Belair knocking Cross out of the ring. After throwing Cross out, Belair was successful in getting Deville, Mandy, and LeRae eliminated. Next in for action was my favorite, Dana Brooke.
Bliss got her licks in finally, eliminating Sane. Tamina entered the ring at number 14, going after everyone. Belair and Tamina had a great face off, with Belair throwing Tamina out of the ring extremely quickly. Dakota Kai came in at number 15 — while Yim was eliminated by Bliss. Props to both Belair and Bliss, who have been in for this long.
Chelsea Green came in next, eliminated Kai, and then was eliminated by Bliss. Following that Belair speared Brook off of the ropes, leaving Belair and Bliss in the ring alone again. The two grappled on the ropes, hanging on for dear life. But in the end, Belair eliminated Bliss. Who would go against her next?
Charlotte Flair.
Who was quickly upstaged by the returning Naomi, one of the most electrifying wrestlers in WWE. Naomi and Flair set their sights on each other, and then joined up to take on the unstoppable Belair. Beth Phoenix came in at 19, ready to fight everyone in the ring. It's also been 10 years since Phoenix entered the men's Royal Rumble at number 2!
Toni Storm joined in at number 20. During this time, Flair took out Belair, which honestly shocked me. Kelly Kelly came in at 21, with Sarah Logan following at 22 — and was then eliminated by Flair, who then took out Kelly. At number 23 Natalya Hart came out. This veteran is no stranger to a good rumble, who came to the aide of Phoenix — who appeared to be bleeding from the head.
This has certainly been the bloodiest Women's Royal Rumble I've seen.
Xia Li came into the rumble for the second time in a row. Following at 25 was Zelina Vega, cosplaying as Shredder. Shotzi Blackheart came in at 26, while Naomi was nearly eliminated. But thanks to her quick feet she was still in, hanging on to the audience guardrail. Naomi has a history of fancy footwork for staying in the rumble. Carmella joined in at 27, moonwalking her wat into the rumble. Tegan Nox joined in, rocking a beautiful Iron Man (or Captain Marvel?) inspired costume.
I won't comment on Santina.
Moving on, Shayna Baszler came in last, and took absolutely no prisoners. She eliminated Li, Nox, Vega, and Blackheart all within seconds of entering the ring. Following that, Naomi made it back into the ring, as Baszler took out Carmella, Storm..and then Naomi. Pheonix and Natalya teamed up to go against Baszler. Their teamup quickly ended though, as Phoenix then eliminated Natalya. Flair then reentered the ring, but Bazsler will honestly fight a nest of angry hornets so what does she care. Baszler then eliminated Phoenix, but was quickly defeated by Flair.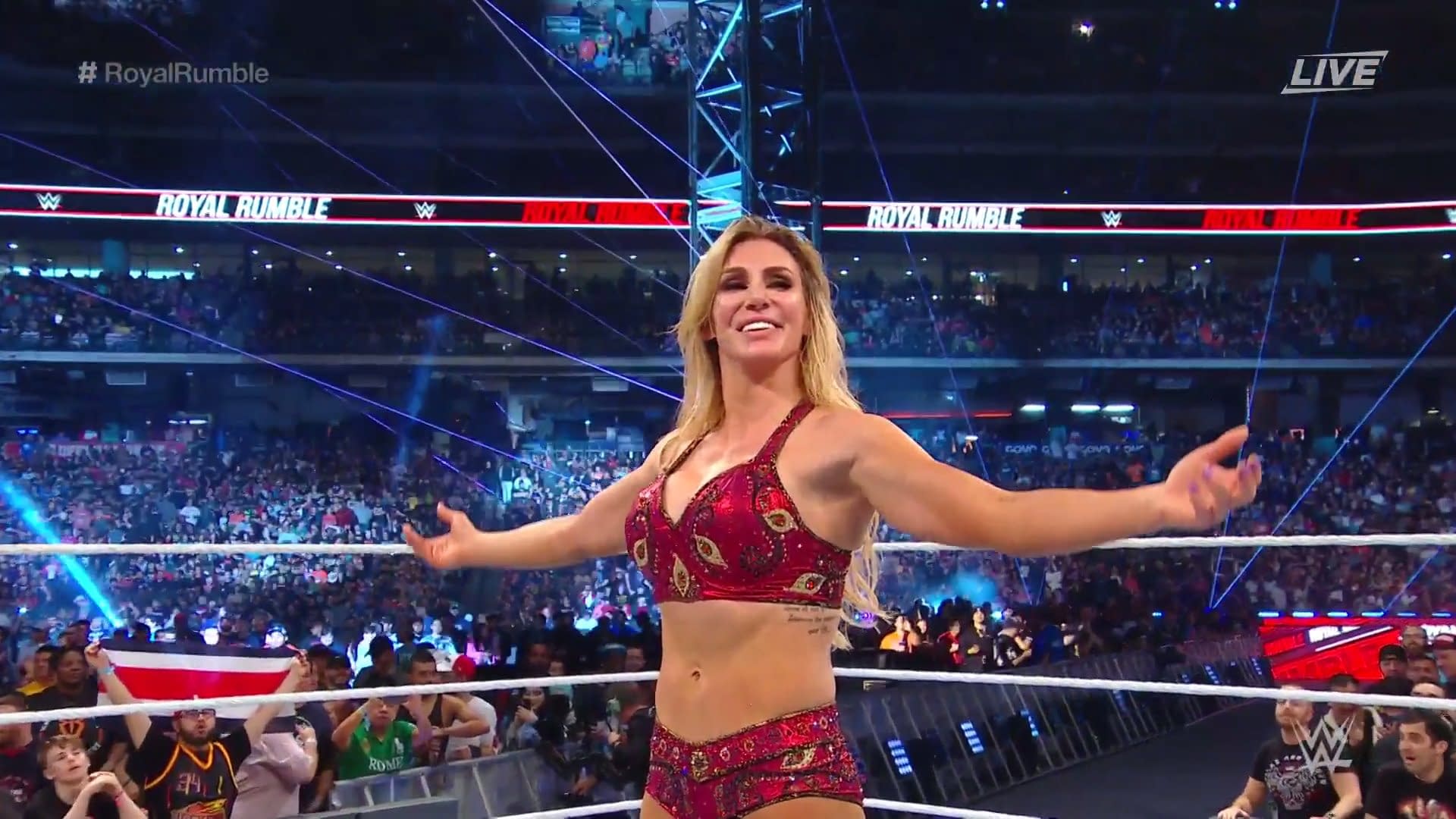 In the end Flair won the Women's Royal Rumble. If we're lucky we'll see a lot of story lines out of this.