Saturday Night Live Post-Prod Editors Set April 1st Show Strike Date
Unless an agreement can be reached, NBC's Saturday Night Live post-production editors will be going on strike ahead of the April 1st show.
---
When you're a show like NBC's Saturday Night Live that's been around for nearly a half-century, there isn't a whole lot left that you can still count as a "first." That might change on April 1 if the late-night sketch-comedy series' post-production editors go on strike, which is what's being eyed based on an exclusive report from Variety this morning. If that happens, then that will be the first time that SNL was hit with a show-specific strike. Toward the end of January, the union representing post-production workers (approximately 20 part-time film editors, editors, assistant editors & media managers responsible for pre-taped segments) authorized a strike with the hope of accelerating contract negotiations with NBCUniversal's labor team. The move came a little more than three months after the group unionized with the IATSE-affiliated Motion Picture Editors Guild (in October 2022). According to sources, there have been additional bargaining sessions since the strike authorization vote, but sticking points still remain unresolved (with health benefits, fair/equitable industry pay & collective bargaining issues still in play).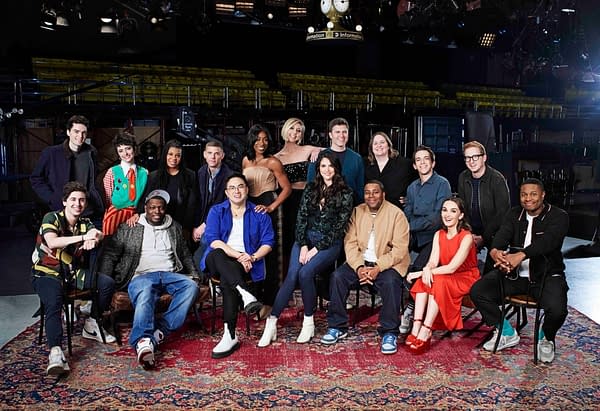 If an agreement isn't reached by the stated deadline, the post-production team members have made it clear that they will stop work in an effort to impact that weekend's show to have their concerns addressed. On the NBC side, sources speaking with Variety say that there is a commitment to have an agreement wrapped up by the end of the month and that negotiations were ongoing. Alan Heim, ACE, president of the Motion Picture Editors Guild, said, "Strikes are not funny, and it's also not funny that NBCU is driving us to take this step to guarantee fair pay and benefits for our members. The fact is that these workers play a key role in making 'SNL' the comedy institution that it is, and they deserve the same standards as other workers on the show have. That is why we are thankful for all the outpouring of support they have received from other crafts and cast members on the show. This support is helping to ensure that management will eventually do the right thing."