This week Spike is giving viewers a double-shot of the Shannara Chronicles, airing the fifth and sixth episodes of season two back-to-back. Lots have been happening and some of the new characters are playing important roles while the returning characters like Allanon (Manu Bennett), Wil (Austin Butler) and Eretria (Ivana Baquero) prepare for the return of the Warlock Lord and the upcoming battle with the Crimson.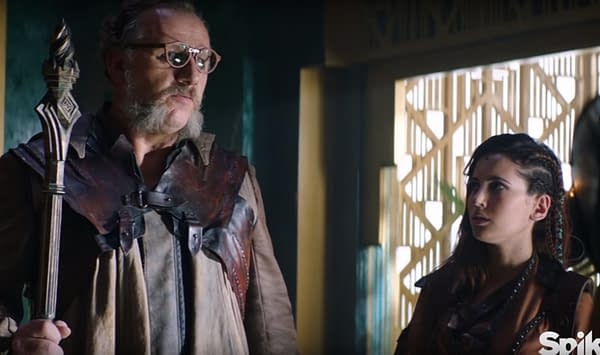 In the scene below from episode 205, Paranor, Queen Tamlin (Caroline Chikezie) has visitors. She is telling Eretria that Lyria (Vanessa Morgan) has bargained for her safety as long as she lives up to her side of the deal. We see the return of Cogline (Andy Grainger) and find out that Eretria had just been attacked by assassins. Cogline confronts the Queen about what happened to her husband, the King, and a deal she has made with the Warlock Lord. In exchange for the safety of her people and kingdom, the Warlock Lord killed her husband and would get to drink from Heaven's Well, the source of magic in the Four Lands. He was destroyed before he could, but with the Warlock Lord returning, he will expect Tamlin to honor her bargain still.
The Shannara Chronicles is airing two episodes this week starting Wednesday at 9 PM on Spike.
Enjoyed this article? Share it!