Marvel has released a new scene clip for the upcoming sixth episode of Marvel's Agents of SHIELD season five. The scene shows Leo Fitz (Iain De Caestecker) talking with Enoch (Joel Stoffer) and establishes that Fitz is now Boshtok, a notorious Marauder. Fitz doesn't want to play games, he just wants to find the others and shoot their way out, which Enoch explains would only have a 2% chance of working. The conversation is interrupted when Fitz sees Jemma Simmons (Elizabeth Henstridge) and Enoch explains that he has to introduce him as part of Marauder protocol. For a guy whose just supposed to be watching, Enoch has gotten fully involved.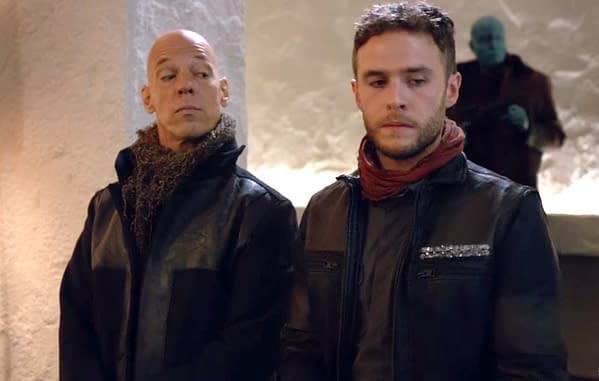 This episode is directed by Clark Gregg, normally busy being Phil Coulson, but this week he's in the director's chair as well. Previously Gregg has directed two films, Choke and Trust Me, as well as a short film called A Breakfast Nook. This is his first time directing for television. A lot of actors have made the jump to directing and started with the show they're on. Tom Cavanagh has begin directing episodes of The Flash, but started on his previous series Ed, and Ben McKenzie made his directorial debut on an episode of Gotham last year. Chad Lowe joined Supergirl this season both as recurring character Thomas Coville and as a director.
Marvel's Agents of SHIELD airs Fridays at 9 p.m. ET on ABC.
Enjoyed this article? Share it!