Agents of SHIELD Season 5, Episode 8 Recap: The Last Day
This article contains spoilers for the Marvel's Agents of SHIELD season five episode 'The Last Day'.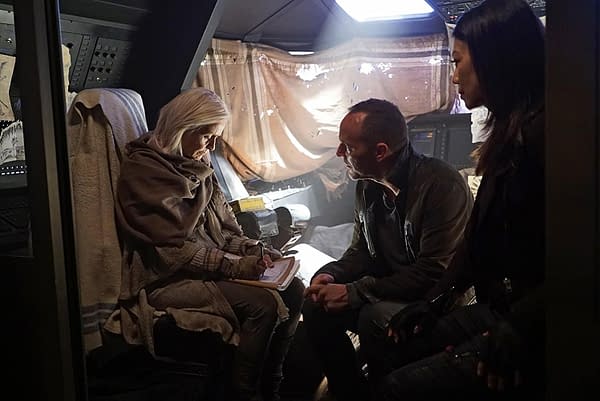 Last night's episode of Marvel's Agents of SHIELD felt kind of like an episode of Doctor Who with all the talk of time travel and people being together in different parts of their lives. The fact the team is in a post-apocalyptic society helped the image.
Most of the team, Coulson (Clark Gregg), Daisy (Chloe Bennet), Simmons (Elizabeth Henstridge) and Fitz (Iain De Caestecker) — along with Deke (Jeff Ward) — make it down to the surface and to the Zephyr. May (Ming-Na Wen) is waiting there with an elderly Robin (Willow Hale), Enoch (Joel Stoffer), and the True Believers, led by Sam Voss (Michael McGrady). The episode flashes back and forth between time, showing a younger Robin (Ava Kolker) being raised by May and driving Fitz crazy with talks of time machines and Simmons's death. It's in the flashbacks that we learn that they've tried to change the future before, over and over, and it never works. But was that just Fitz's frustration talking, or have they been looping through time, trying to fix things over and over again?
Coulson tries talking with Robin, and the most she says to him is that he's the one that can pull all the pieces together. That makes it seem like she means a puzzle, but it might be more literal than that — later, he discovers a piece of the monolith that brought them to the future in Sam's stuff. They need to find all of the pieces of the monolith to get home again. Deke is upset in seeing that Sam has the piece, because his father wouldn't give it up, telling Deke that his father is dead.
Sam and the True Believers turn on the team in an attempt to kill the de-powered Daisy before she can go back in time and destroy the world. It's a surprisingly solid plan when you come to think about it. But Daisy was an agent before she got her powers and is able to fight off Sam and the others, with Coulson soon jumping in. Since that seems to be failing, Sam improvises and stabs Robin, trying to keep her from telling them how to get home. But as she lays dying, we are shown that Robin started calling May "Mom" after a while, and she then tells of how the team can get home… involving Flint.
While all this is happening, on the Lighthouse Flint (Coy Stewart), Mac (Henry Simmons), and YoYo (Natalia Cordova-Buckley) head down to the roach-infested third level where Fitz had hidden a bunch of weapons. But Kasius (Dominic Rains) release the roaches against the rest of humanity and sends Sinara (Florence Faivre) down to the surface. With the weapons, Mac and the others make short work of the roaches and join up with the survivors, and the episode ends with Sinara being told to find Daisy, bring her back dead or alive, and kill everyone else. So we have that to look forward to.
An idea popped into my head while watching the episode: maybe Deke is more than just a random human. His father, Owen Shaw, was exiled to the surface for promoting the prophecy of people from the past arriving to save humanity. Where did that rumor come from? We assume it was from Robin's visions, but someone had to know to take her seriously. Someone who knew about Robin's ability and that the agents went to the future. I'm theorizing that maybe Deke is the son of Bobbi Morse (Adrianne Palicki) and Lance Hunter (Nick Blood). His mother was executed for being a threat… too smart… and it would make sense that they would use a different name once being disavowed by SHIELD. And it would explain why he'd hang on to the piece of the monolith all that time. Just a stray thought.
Things are definitely building towards a head, and we'll likely see the wrap-up of the future part of the story over the next two episodes.