Agents of SHIELD Season 5: It's Time to Leave the Lighthouse
It took until the seventh episode of Marvel's Agents of SHIELD season 5 to get the full team back together, but now that it's finally happened, of course someone is trying to kill them.
In a clip from tonight's episode, Together Or Not At All, We see Coulson (Clark Gregg), Mac (Henry Simmons), Y0-Yo (Natalia Cordova-Buckley), Daisy (Chloe Bennet), Simmons (Elizabeth Henstridge), Fitz (Iain De Caestecker) along with Deke (Jeff Ward) and new Inhuman Flint (Coy Stewart) discussing their next move as a group of Kree head their way with murderous intent. Not in the room is May (Ming-Na Wen), but since the escape plan they're coming up with involved using the Troller to get to the surface, she should be along shortly.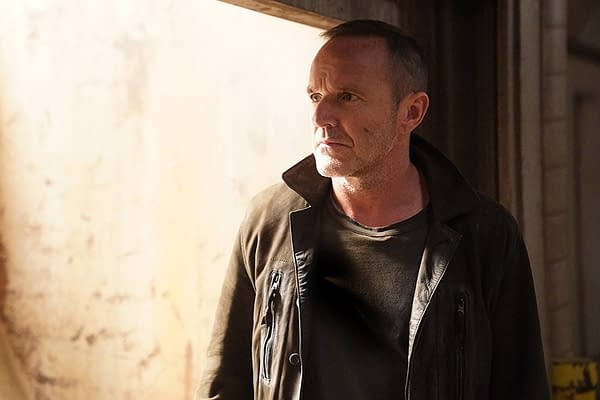 In the clip, the team is arguing on what to do next as Coulson suggests that everything has been guiding them to the surface of the destroyed Earth. Deke objects, but reiterates that he is with them. Flint stops the arguing by moving large rocks to block the door. Once it is barricaded, the Kree can't get in through it, but instead start blowing a hole in the sidewall.
This being the seventh episode, it is likely the show will be doing a sub-season shift soon as it did last year going from Ghost Rider to LMD to the Framework. It may be something as simple as shifting the story from the Lighthouse to the planets surface or more dramatic with the team returning to their own time. Either way, it figures there will be some changes soon.
Marvel's Agents of SHIELD airs tonight at 9 p.m. on ABC.