Sons of Anarchy @ 10: Happy Anniversary, SAMCRO! Long Live Jax! (VIDEO/QUIZ)
Though FX's Mayans M.C. has proven a hit with critics and viewers alike as it continues to tell stories set in the Sons of Anarchy universe, it's still hard to believe that it's been ten years since the world was first introduced to Charlie Hunnam's Jax Teller: dedicated father, son, and member of SAMCRO (Sons of Anarchy Motorcycle Club, Redwood Original). Over the course of seven seasons, fans watched as Jax struggled to find a balance in his life that those closest to him would never, could ever allow him to achieve.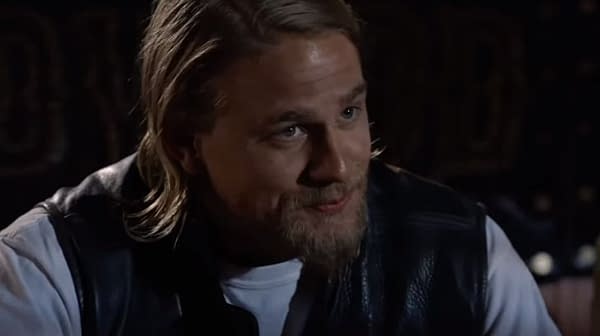 In honor of its tenth anniversary, FX is giving fans another look back at the violent majesty of Kurt Sutter's Sons of Anarchy:
Sons of Anarchy: Single father Jax Teller finds his loyalty to his outlaw motorcycle club tested by his growing unease concerning the group's lawlessness. While the club protects and patrols the town of Charming, Calif., keeping drug dealers away, its activities also include a thriving — and lucrative — illegal arms business.

In honor of the series' special occasion…it's quiz time! So you think you know Sons of Anarchy, huh?
You don't know Jax!
Or maybe you do – test how well you know the show's leather-clad Holden Caufield by seeing if you can figure out which seasons the following Jax quotes came from – with a bonus point if you can also name the episode number and/or title. The answers are located below, and though this is based on the honor system – no cheating!
1) "I had to make a choice, brother: Kill Clay or save the club."

2) "There will be days when you're forced to make decisions that affect the lives of everyone you love, choices that will change you forever. You reach an age where you realize that being a man isn't about respect or strength, it's about being aware of all the things you touch."

3) "Pull the trigger, man. That's the only way this leather's coming off my back."

4) "Don't call me that.The only reason I am not slicing you open is 'cause I need this cartel deal to happen. And those prick Irishmen won't deal with anyone else."

5) "Everything. When the time comes she needs to tell my sons who I really am. I'm not a good man. I'm a criminal and a killer. I need my sons to grow up hating the thought of me."

6) "It ain't easy being king."

7) "I feel like my life has taken a turn. I'm heading down a road I've never been on before. Nothing is familiar. The signs don't make sense. Do I get off the road, or do I keep riding? The people that I see aren't the people i know. Do I go alone or take others with me? Who do I trust and who do I not? I now understand why being a leader requires isolation. I have to remove myself from those whose lives were affected by my decisions. Those I love as well as those I hate."

8) "I'd never turn on my club, or my family. I'm not my father."

9) "You know what, mom, I kind of have a few things on my plate today, like burying my best friend, so your need to be loved, worshipped, and adored is a little low on my list today."

10) "I've been trying to find some kind of balance, Piney, right thing for my family, my club. Every time I think maybe I'm heading in the right direction. I end up in a place I never even knew could feel this bad. What did I do, man?"
1) Season 5, Episode 3 'Laying Pipe'
2) Season 5, Episode 12 'Darthy'
3) Season 2, Episode 8 'Potlatch'
4) Season 4, Episode 14 'To Be, Act 2'
5) Season 7, Episode 13: 'Papa's Goods'
6) Season 1, Episode 1 'Pilot'
7) Season 6, Episode 1 'Straw'
8) Season 3, Episode 13 'NS'
9) Season 5, Episode 4 'Stolen Huffy'
10) Season 3, Episode 1 'So'