Sore Loser Rob Gronkowski Quits WWE After Losing Title
In the worst display of sportsmanship since pretty much every time the Patriots played football, superstar multisport athlete Rob Gronkowski stormed out of WWE in a huff after losing the 24/7 championship to R-Truth on last night's episode of Monday Night Raw. Since the match aired in the middle of Monday Night Raw, most viewers missed it, having long-since slipped into a coma while watching the show. Luckily, WWE posted a video on YouTube.
In the video, Gronkowski and a friend whose name we don't know and don't care about set out to film a TikTok video on the Gronk's front lawn. Unfortunately for Gronk, R-Truth is on the lawn pretending to be a garden. After some stellar acting by everyone involved, Gronkowski's friend rips off his shirt to reveal a referee uniform underneath and Truth slips in to get the pin and run off with the title.
Following the loss, Gronkowski apparently exercised a clause in his contract to leave WWE so that he can concentrate on joining his friend Tom Brady on the Tampa Bay Buccanneers, according to a report from Wrestling Inc. Many wrestling fans, by which we mean no wrestling fans at all, will be disappointed to learn that this means Gronkowski will not participate in a match at SummerSlam as originally planned.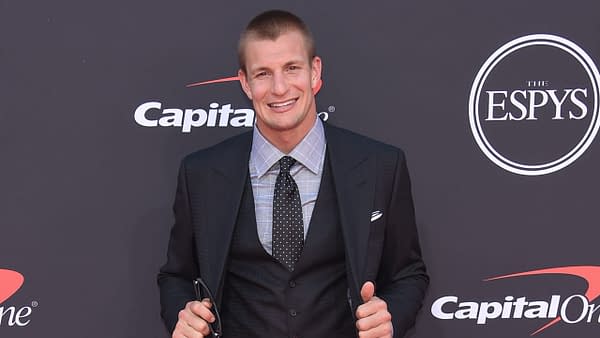 Rob Gronkowski was the longest-reigning WWE 24/7 champion, and as such, WWE will want to protect their investment. Gronkowski reportedly has a non-compete clause so he cannot wrestle for other companies now that he's left WWE. Gronkowski celebrated his epic WWE run by not mentioning the Raw segment at all on social media, avoiding any potential embarrassment at being involved in such silliness. Bleeding Cool congratulates R-Truth on winning his prestigious 24/7 title back because a football star who never wrestled a match doesn't feel like being involved with it any longer.