Buffalo Bills Introduce Their New General Manager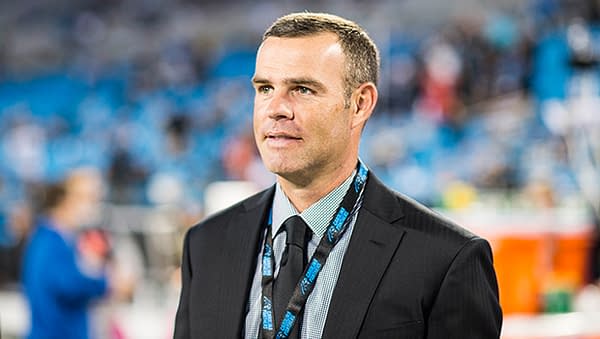 The Buffalo Bills surprised a lot of folks when they fired their General Manager, Doug Whaley, the day after the NFL draft. The draft is a major coordination job between the coaching staff and scouting staff usually headed up by the GM. It still seems strange that Whaley was kept on through the draft when I'm sure the new GM would like to have had some say in the selections.
The Bills went back to the place they got their new head coach to find their new GM. Brandon Beane has spent 19 years with the Carolina Panthers, the last two as assistant general manager. The Bills hired the Panther's defensive coordinator, Sean McDermott, to be their new head coach. Though Bills owner Terry Pegula said Beane will have control over the 53-man roster. The two have a good working relationship and plan on working together on decisions, neither being the "czar" as Beane said in his introductory press conference.
It's going to be very similar to what Sean and I were used to Carolina. I'm going to be over the football side. Sean's going to be over the coaches. But there's not a czar around here. Sean's not a czar. I'm not a czar. Every decision is going to be collaborative, together. I think that's the only way. I've seen it both ways, and the success I've had is when we're both seeing eye to eye. [Co-owner] Kim [Pegula] and Terry, me involved, we're going to do this together. Other people in the building. This is not a one-person approach.
The hiring process included McDermott providing a list of seven or eight potential GM candidates that Pegula when went through.