Cam Newton burst on the scene in 2011 with some amazing numbers. He broke the all-time NFL rookie records for passing and rushing, was the first NFL quarterback to throw for 400+ yards in his first game, breaking Peyton Manning's first game record by 120 yards. He was the first rookie QB to throw for 4,000 yards in a season and ran for 14 touchdowns breaking a single season record held by Steve Grogan. Not surprisingly, he won Rookie of the Year. His career had its ups and downs over the next three seasons that included broken ribs, foot surgery and a car crash. Then in 2015, he put it all together in an MVP winning season taking the Carolina Panthers to a 15-1 record and an appearance in the Super Bowl. In that season he became the first to throw for 30+ touchdowns (35 total) and rush for 10. He also became the first quarterback to have 300 yards passing, 5 touchdowns and 100 yards rushing in the same game.
2016 had some highlights, like becoming the all-time leading quarterback with rushing touchdowns, breaking Steve Young's record of 44 that now sits at 48. He also set the record for number of games with a rushing touchdown for quarterbacks at 32. But he also suffered a concussion early in the season and a partially torn rotator cuff which he played with for a least four games. The season was a regression and Newton had surgery on his shoulder March 30th.
He's now in recovery, and the question of whether he can get back to his 2015 form has been one of the biggest issues of the Panther's off-season. They addressed getting him some new weapons and making him run less by picking up Christian McCaffrey and Curtis Samuel in the draft. They also paid big money to get Matt Kalil, brother of starting center Ryan Kalil, to play left tackle in place of the still in concussion-protocol Michael Oher. But none of this matters unless Newton comes back strong from his surgery, and through OTA's and mini-camps, he had yet to even throw a football…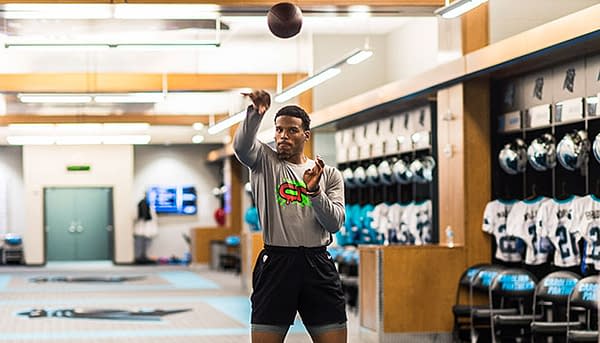 Until today. How big is his recovery to the team? They filmed his first throw, which took place inside the locker room on the defense's side. Newton played a scheduled game of catch with head athletic trainer Ryan Vermillion while multiple cameras recorded. He threw 45 times in 3 sets of 15. None of them went more than the length of 10 lockers. But this is exactly where Carolina wanted him to be when he threw for the first time in six months.
When asked how it felt, Newton said:
"Cool. A lot of anticipation. Obviously, it's still not 100 percent, but seeing the ball come out of my hand in a throwing motion was good. When I say it's not 100 percent, I'm noting the range of motion part. Like if you sleep with your legs hanging off your bed the whole night, you're going to wake up and be super stiff. Or like sitting on your hands, or sitting in an awkward position and finally getting up and moving – that's how I feel."
Newton will continue working with Vermillion, one-on-one, for the next four weeks. If all goes well, he will start throwing to teammates in a month when the Panther's open training camp in Spartanburg, SC.
.@CameronNewton's first throw since shoulder surgery 💪

More info: https://t.co/G1ajRNO3Lo pic.twitter.com/NSUTcB71sI

— Carolina Panthers (@Panthers) June 26, 2017
Source: Panthers.com
Enjoyed this article? Share it!