And another one falls. In the beginning of May I took a look at the 2014 1st round draft class to see which ones had their fifth-year option exercised and those who didn't. At the time 23 of 32 options were picked up, leaving 9 declined. 2 had suffered sever injuries and teams were waiting to see how the player recovered while 3 were just outright cut from the team. That left 4 players without explanation. A week or two back we saw that Calvin Pryor of the New York Jets was traded to the Cleveland Browns, answering that one. That left Kyle Fuller of the Chicago Bears, Marcus Smith of the Philadelphia Eagles and Greg Robinson of the Los Angeles Rams having their options denied for publicly unknown reasons.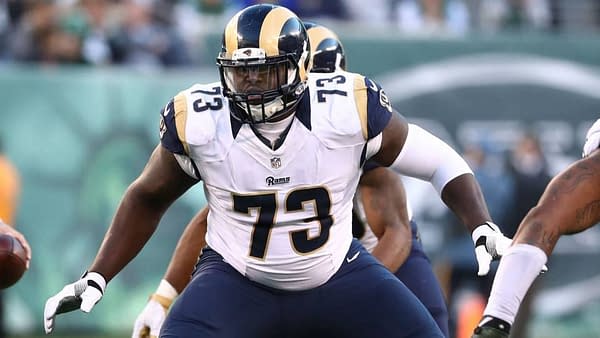 Now we know about Robinson as the 2nd overall pick was traded to the very desperate Detroit Lions for what ESPN's Adam Schefter is reporting to be a sixth round pick in 2018. A sixth round pick for a former 1st round pick tells you a lot. The Rams were done with Robinson. They brought in Andrew Whitworth to play left tackle meaning Robinson have to compete to play the right side. What made the Lions so desperate is a shoulder injury to starting left tackle Taylor Decker. The team originally looked to their current players to find a replacement, but after mini-camp, the team went and trade for Robinson.
But that's not all. They also signed form Buffalo Bills left tackle Cyrus Kouandjio who was cut by the team after a few odd incidents including him being found on the side of the freeway wearing no pants and asking for police officers to shoot him. Kouandjio was the Bills second round pick in 2014 and was recovering from a hip injury when he was released.
Kouandjio and Robinson will compete for the left tackle position against Cornelius Lucas, Tony Hills, Corey Robinson and possibly Joe Dahl who has been practicing at guard. You have to wonder just how things looked at mini-camp if the team went out and signed two players that have been given up on by the teams who drafted them just a few years ago.
Enjoyed this article? Share it!