NFL Draft Preview – NFC East
My favorite weekend of the year is coming up, and it's not because my first day is part of it. The NFL draft kicks off on Thursday night with first round selections, then Friday rounds two and three with four through seven taking place on Saturday. To put it in Comic terms, its like the weekend when the X-Men editors get together and decided which mutants are on the Blue team, which go Gold and which are Red. Making a selection in the draft is not easy. Experts study all the players coming out of college, trying to find their strengths and weaknesses both on and off the field and trying to predict how they'll project as a professional and rank them based on all the other players available. From there a team makes their decision based on those rankings and their particular needs. Just because someone is the best player available doesn't mean they're right for the team choosing at that point. And need can make a team reach on a player not as good as some of the ones available. Need is why quarterbacks are always taken higher than their ranked. So going into the weekend, knowing what your team needs may help you figure out who they'll take. Here are the basic needs for the NFC East: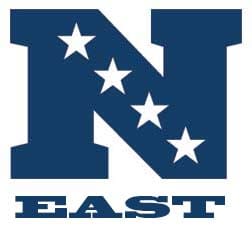 DALLAS COWBOYS – If you asked me a week or so back I would've told you that the Cowboys need to draft a defensive tackle that could stuff the run and put some pressure on opposing quarterbacks and then spend some picks on strengthening a secondary that were regularly beaten during the season. But that has changed since they released wide receiver Dez Bryant. They have a few talent receivers on the roster, but none of them have ever been the top guy on a team. The recently traded for Terrence Williams may be able to fill that role, but there are no guarantees and I think the team will need to spend one of their first three picks on a big target for Dak Prescott.
NEW YORK GIANTS – You would think that the top need for the Giants would be quarterback, and while I think they will pick one up, maybe even in the first round, they also need to get a pass rushing defensive end after the traded away Jason-Pierre Paul to Tampa. They also have to address their wide receiver corps that the majority of spent on time injured reserve last year. They have other places of need too, but the question of Quarterback lingers, wondering just how much does Eli Manning have left in the tank. But they could wait and see what they have in Davis Webb and spend their picks elsewhere… maybe even trading out of the #2 pick for someone who is more desperate for a quarterback.
PHILADELPHIA EAGLES – The Eagles won the Super Bowl with a couple of their best players out and only four players have left via free agency, meaning the team going into the season is a bit better than the one that beat the Patriots. The team can sit back and draft the best player available most of the time with the exception of needing some special teams help. They will probably want to pick up a kick/punt returner and a punter since the only have an ex-rugby player whose never kicked in the NFL before on the roster. Everything else they can draft for depth.
WASHINGTON REDSKINS – With the signing of Alex Smith to play quarterback, the team should focus on defense in the draft with their biggest need being a defensive tackle that can stop the run and force opponents to double team him. Some other free agency exits leave the team a bit shy at cornerback and linebacker. They could use a new middle linebacker that can also lead the defense when on the field. Picking up a runningback in the middle rounds would help take some pressure off of Smith and a young developmental quarterback on day three would be a good investment in the future.