Staged Review: David Tennant, Michael Sheen Reunion Pure Comedy Gold
The British are really leaning in on Lockdown Culture. While the world is in limbo from the pandemic and production in Hollywood is suspended, British Drama has jumped in the deep end and produced new original drama and comedy for television with the actors in lockdown and shooting from their homes. The latest entry in this fascinating new cultural phenomenon is Staged, a BBC One sitcom that reunites Michael Sheen and David Tennant for the first time since the TV adaptation of Neil Gaiman's Good Omens.
And it is a light-hearted treat. Sheen and Tennant play heightened comedy versions of themselves, actors stuck at home during lockdown who have been going stir-crazy since their West End production of Luigi Pirandello's Six Characters In Search of An Author had to shut down before they could even start rehearsing. The director Simon (played by series co-writer and actual director Simon Evans) suggests they rehearse the play via zoom… except he's too terrified of Michael Sheen to bring it up and begs David Tennant to convince him to do it.
Two Actors In Search of… Something, Anything!
The 6-part series comes in 15-minute episodes that are less about story and more about the banter between the characters. Tennant and Sheen's friendship and chemistry are so natural by now that they could have a whole series about the two of them just talking nothing but ridiculous rubbish to each other forever, and some segments of the show feature semi-improvised bits where they do exactly that. The joke of the show is its meta-commentary on actors and the thin line between fiction and reality – Tennant and Sheen's real-life spouses Georgia Tennant and Anna Thulberg play versions of themselves as comic foils. The choice of Six Characters in Search of an Author as the referenced play here is no accident.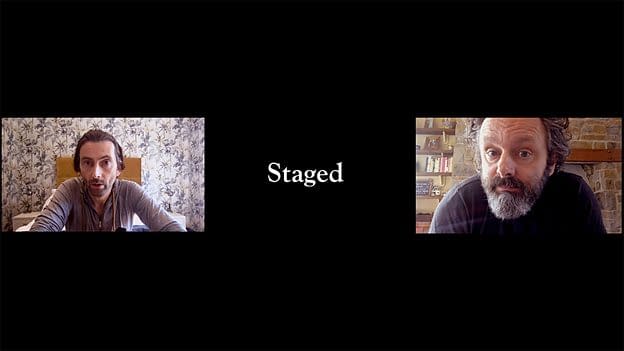 The emphasis on character rather than plot here pays endless dividends. The Tennants are constantly looking for an excuse to hide from their five screaming children (including one toddler). Sheen is indulging in art and alcohol and paranoia to indulge his large, overly-healthy ego. The desperate and duplicitous Simon is trying to hide how much he's hanging by a thread and his life is from falling apart without this play. Both Tennant and Sheen have let themselves go a bit and start bantering and bickering so they don't lose what's left of their minds. The variations and possibilities for comedy mayhem are endless. Who knows if this show will become a classic, but it's certainly the funniest and most successful comedy from the Lockdown.
Staged is on BBC1 and BBC iPlayer, and will eventually show up in the US.