'Star Trek: Discovery' Season 2 Finale, Part 1: "Such Sweet Sorrow" Gets to the Heart Of It [SPOILER REVIEW]
The hidden main character of CBS All Access's Star Trek: Discovery has always been Michael Burnham's (Sonequa Martin-Green) enormous heart. Despite her upbringing and education on Vulcan, and her intense love of logic, Burnham leads with her heart, not her head. In Season 1, her heart got her into trouble and then led her out of it. Throughout the course of Discovery's second season, Michael has learned that she can trust herself and her heart to make the right choice. In this week's first part of the Season 2 Finale, "Such Sweet Sorrow," Burnham's heart finally takes center stage – and this time, it must be strong enough to not only save her, but the known Universe.
Fair warning, a supernova of spoilers below.
Starting almost immediately after the events of last week's episode, "Such Sweet Sorrow" begins with a flashy and technologically impressive evacuation of the Discovery. However, Burnham continues to question whether abandoning the Discovery is the right move. She just can't see how the time crystal fits into anything. Then, in a move that makes me question whether he knows Burnham at all, Captain Pike (Anson Mount) leaves her alone with the time crystal. Of course, the first thing she does is grab it. She has a vision of destruction and death involving Leland (Alan Van Sprang) and several members of the bridge crew.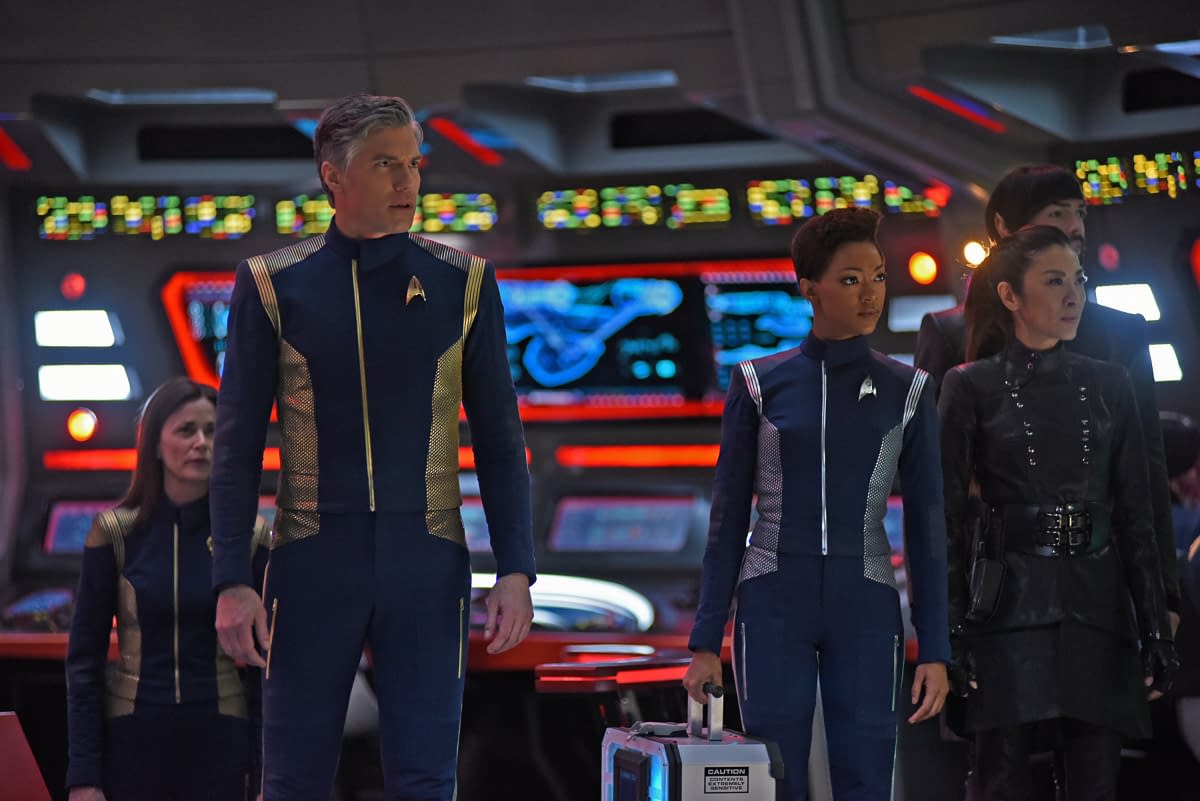 Once the self destruct sequence for the Discovery fails, Burnham can clearly see what she must do. In order to protect the Sphere data, the Discovery must travel to the future. Of course, Burnham is the only person that can wear a Red Angel suit and lead the ship into the wormhole. But come on, even if someone else were an option, Michael would still insist that she be the one to go.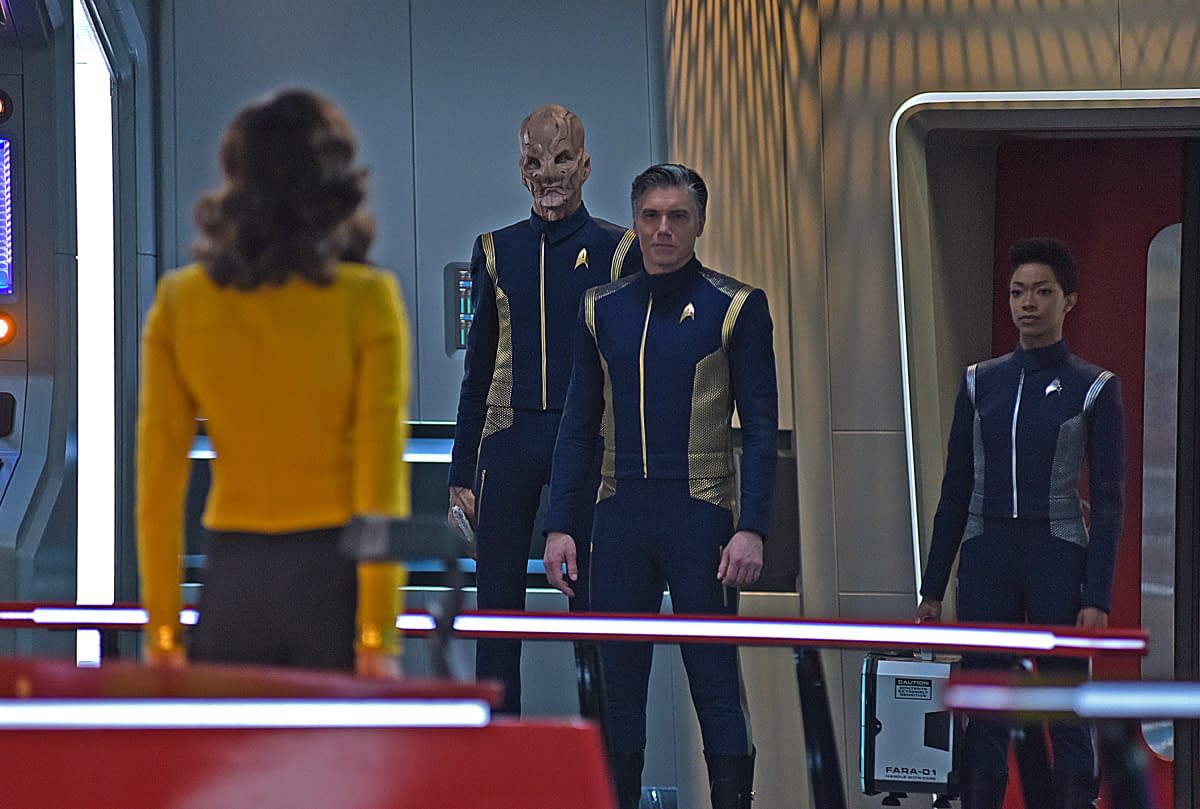 The discussion in Pike's ready room about the Red Signals and Burnham being the other Red Angel was an excellent one. Almost every single person around the table trusted that the plan would succeed because they believed that Future Michael had created the plan. Spock's (Ethan Peck) support for Burnham, and blind faith in her future self's use of the Red Signals was endearing. Pike seems to understand that Burnham touched the crystal and needs to follow through with whatever it told her. Their respect for her was understated but unwavering.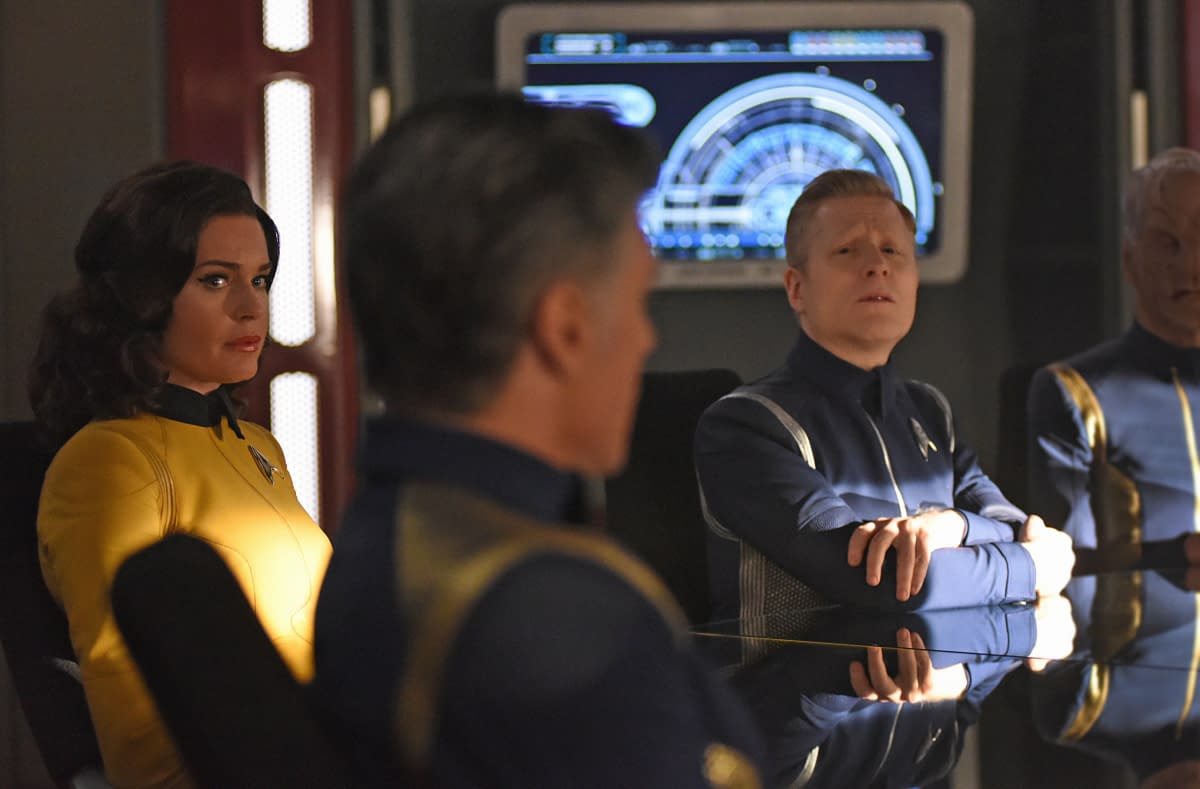 Future Burnham, through the fifth Red Signal, leads the Discovery to Xahia, home of Tilly's Star Trek: Short Treks friend Po (Yadira Guevara-Prip). Queen Po solves their time crystal power problem – and has all of the best lines of the episode. The love fest between Po and Jett Reno (Tig Notaro), my two new favorite characters, was hilarious, intelligent, and beautiful. But Po also breaks the news that there will not be enough power in the time crystal to bring Burnham back after the Discovery travels to the future. Michael's ticket to the future will be one way, setting the stage for a series of heartbreaking and tear-filled goodbyes.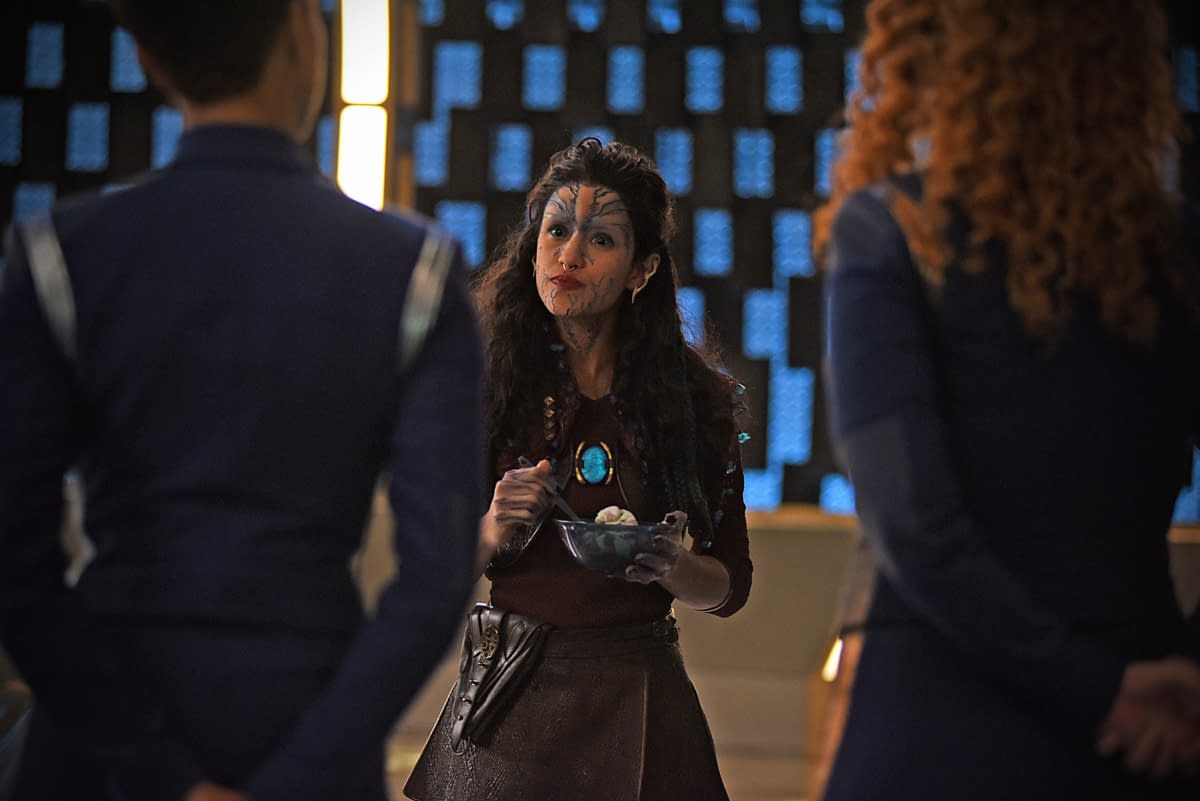 As the Discovery and Enterprise crews prepare for Michael's trip, the woman of the hour is faced with leaving all of the people she has opened her heart to over the course of her life. The crew stands in disbelief. Tyler (Shazad Latif) wears a look of resigned agony as he presses Burnham, Pike, and Stamets (Anthony Rapp) for more details. Georgiou (Michelle Yeoh) handles the news with disbelief, scorn, sarcasm, and mockery – which is actually pretty good for her.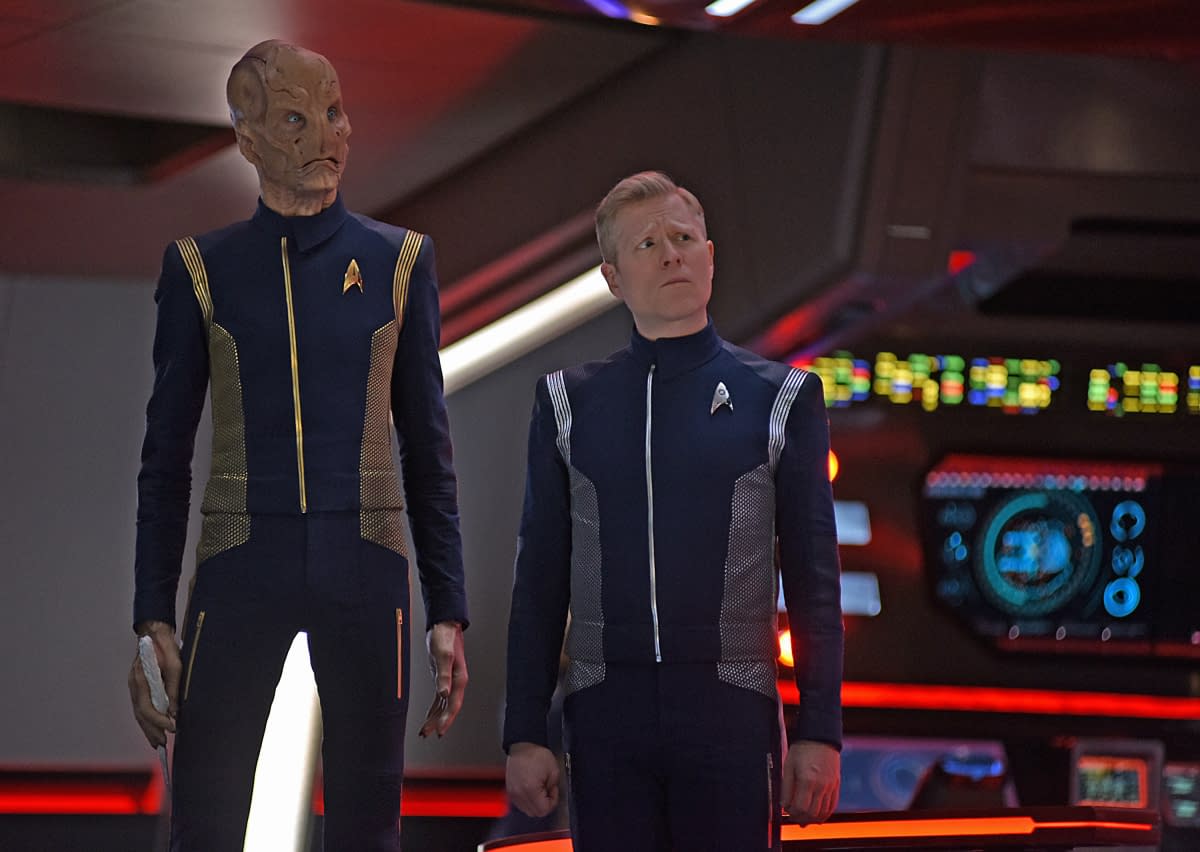 Then Sarek (James Frain) and Amanda (Mia Kirshner) show up. Apparently Sarek saw Burnham's future in his meditation and he and Amanda came to say goodbye. The scene between the three of them was amazingly well-acted. Amanda, always the mom, makes sure that Burnham knows she can say no to the mission. Sarek is proud and as heartbroken as a full blooded Vulcan can be. But it was the natural family interactions between the three that immersed you in the moment and made you believe you were watching a family say goodbye. Burnham's huge capacity for love was on full display, and it became obvious that this human woman somehow became the beating heart of this family.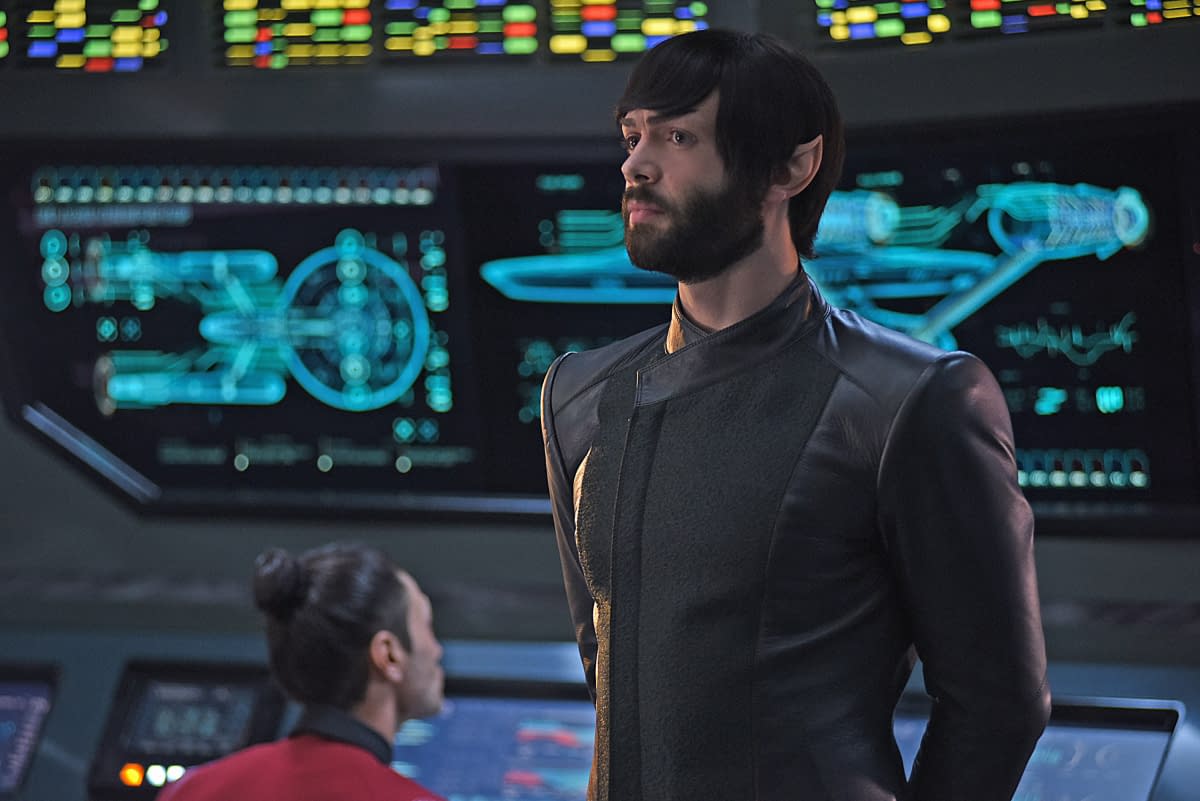 The most rewarding moment of the show, and maybe even the season, was when the Discovery's bridge crew – with Jett Reno and Stamets – show up to demand to accompany Burnham on her mission. They lovingly deny her impassioned speeches and martyr-like objections and tell her she is stuck with them. Burnham's heart, her soul, her love for the Discovery and its crew, has saved every single one of those officers at some point. Now, they are repaying her dedication with their own. It was a touching moment, and the only possible outcome that is true to all of those characters.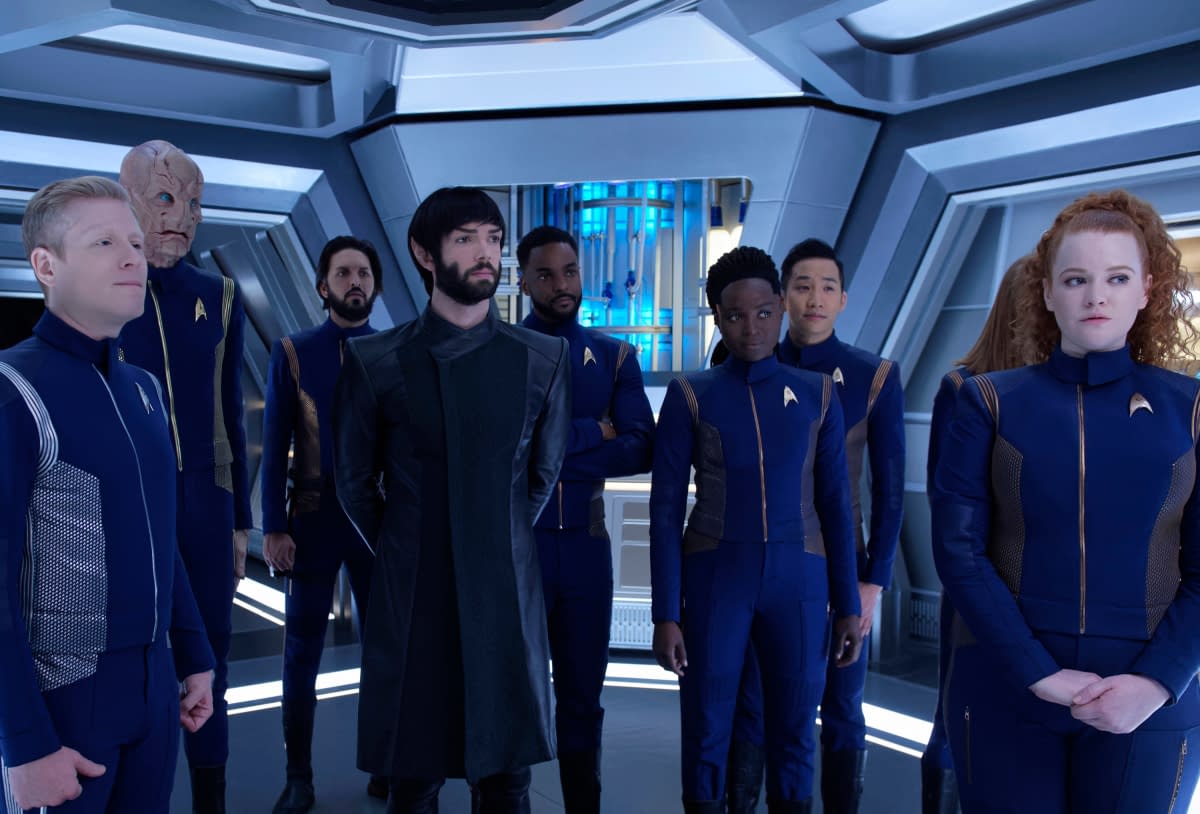 One very important person, however, will not be taking at trip through time and space. Tyler insists he must stay behind and make sure all of the evil is removed from Section 31. The goodbye between Tyler and Burnham is poignant yet fleeting. Much like Romeo and Juliet, the play from which the episode's title is pulled, Burnham and Tyler meant a lot to each other, but were never in the right place at the right time. And while their parting was painful and sob-filled, neither seemed to question their decisions. Burnham's heart is pulling her in another direction, and you can see the resolve in her posture as she wipes her tears and walks away.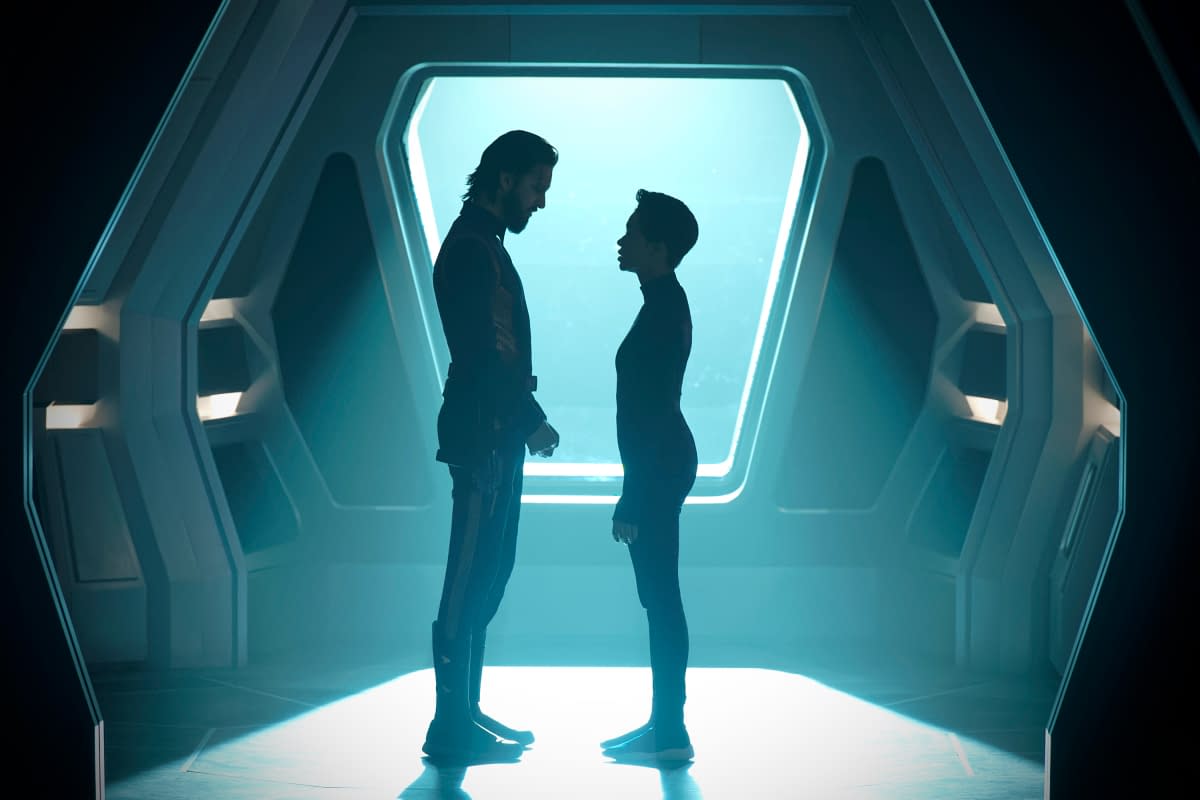 There is one final goodbye, Pike's goodbye to his former ship and crew. His life changed forever on the Discovery, and the ship and crew changed him. The crew stands at attention as the Captain leaves the bridge, not out of courtesy, or duty, but out of respect and love. Before he goes, Pike leaves Burnham and the crew with two gifts: Commander Nhan (Rachael Ancheril), who will be joining them on their mission, and a statement of profound gratitude for being a part of Burnham's journey. Pike says:
"I am very grateful, Commander, to have been here to watch you discover your heart."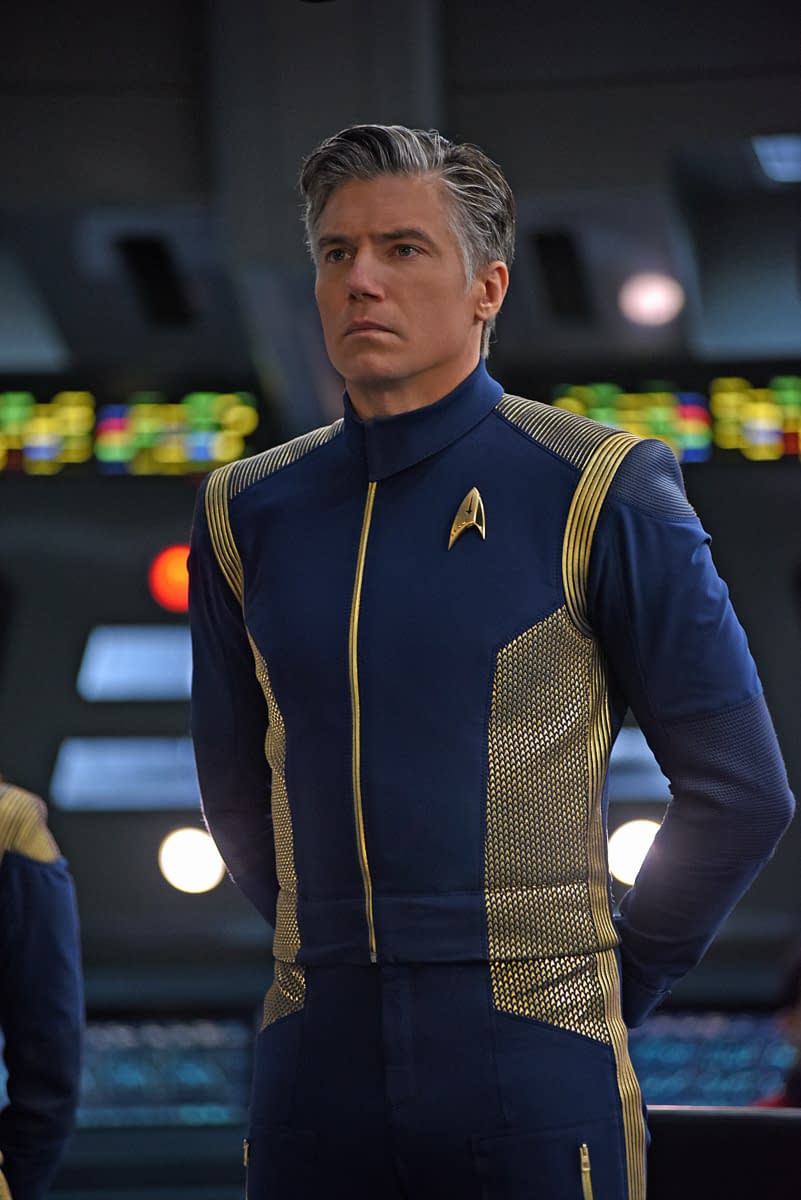 It is a fitting summary of not only Burnham's journey, but the journey of "Such Sweet Sorrow" and the entirety of Season 2 of Star Trek: Discovery.
But wait, there was one little moment at the end we need to talk about. As Georgiou beams Pike back to the Enterprise she tells him "I'm Terran, by the way. From your mirror universe." It is an odd statement, because nothing seemed to prompt it, she just lets it fly. Even odder, Pike's response is "What mirror universe?" and then a wink.
At first, I sort of blew this exchange off as her telling him a secret before he left and him letting her know that he knew all along. However, then I realized that both Jett Reno and Michael Burnham had time crystal visions of the future from their own points of view. The saw from their own eyes in the future. If the same is true for Pike, then the vision he had was of future him meeting the injured mirror universe – or prime universe (!) – version of himself. It would be an interesting way for Pike to escape his fate and for Discovery to stick with canon.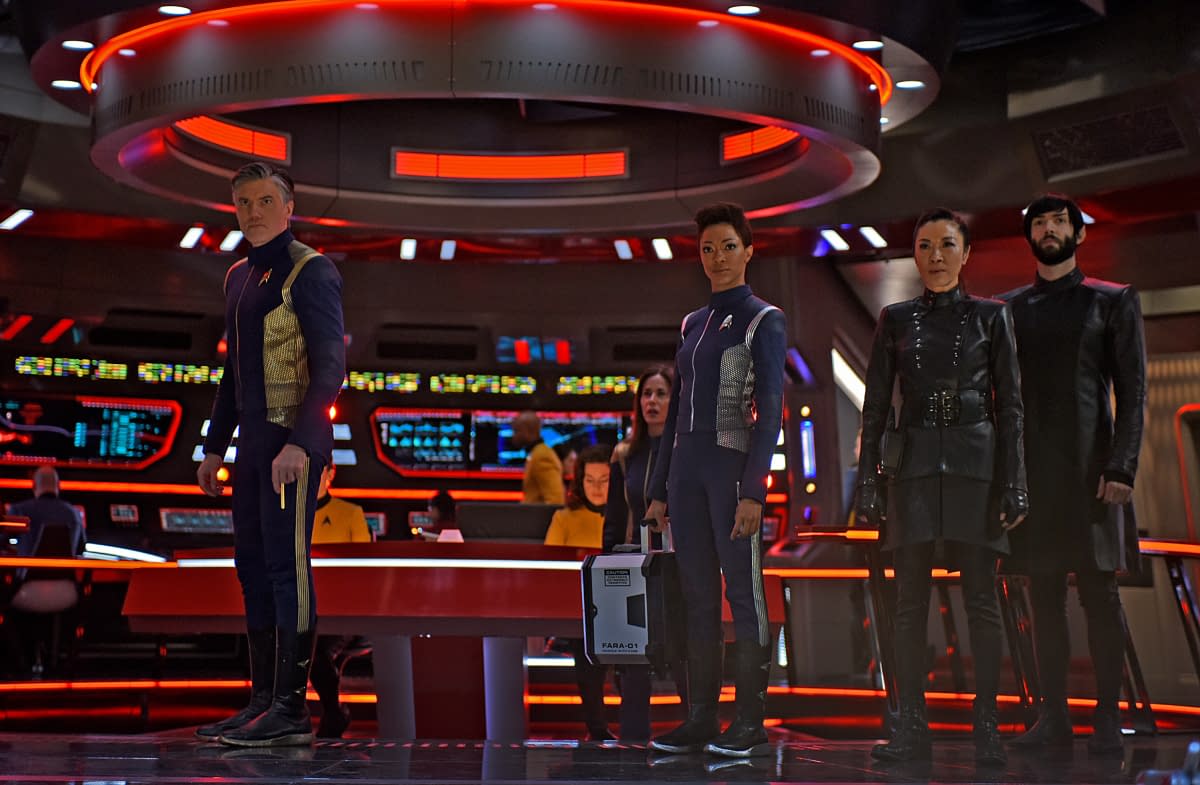 After the first half of Star Trek: Discovery's Season 2 finale, emotions and tears are running hot, and the crew is on a collision course with a future they know nothing about. The big battle with Section 31 hasn't even begun yet, and they are not yet ready to jump. As Saru (Doug Jones) puts so pointedly, the odds are not in their favor. Unlike the crew of the Discovery, there is nothing we can do now but wait, wonder, and take heart. It's time, after all.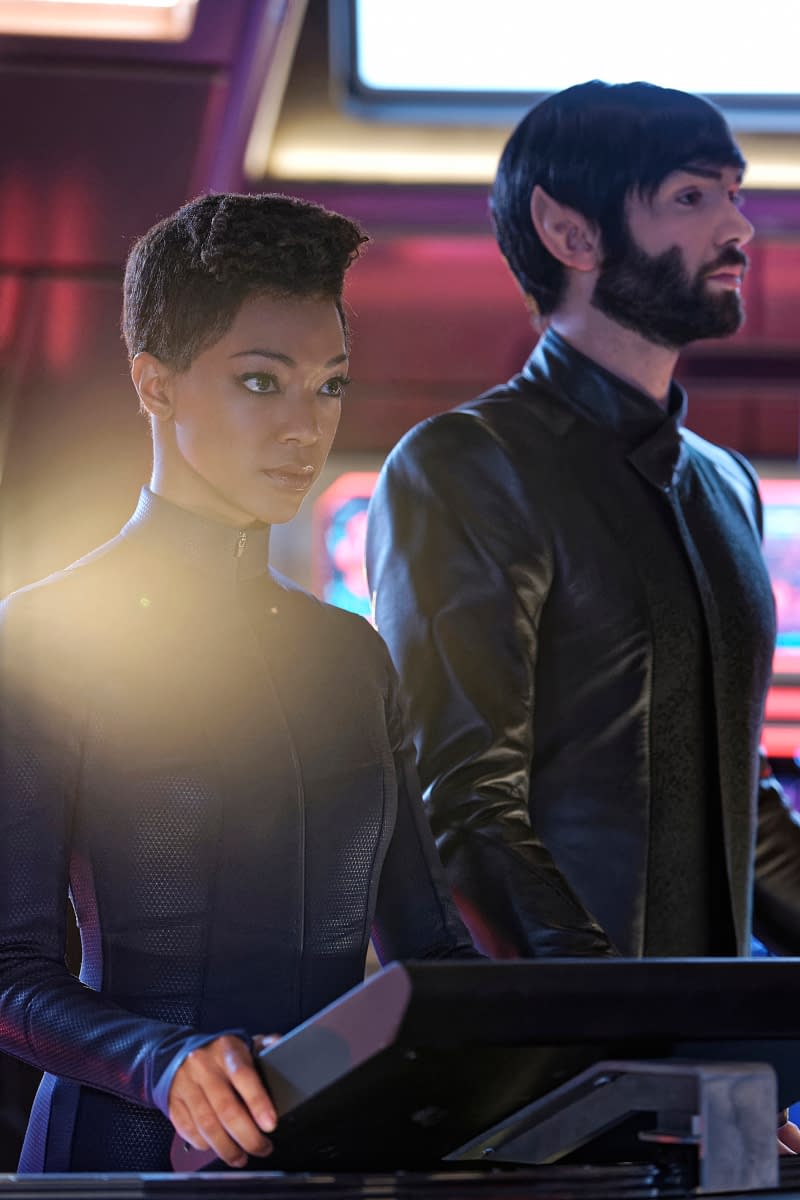 The second half of the Star Trek: Discovery Season 2 Finale will be available Thursday, April 18, at 8:30 p.m. EDT on CBS All Access.
Below are some predictions and remaining questions to ponder while we wait:
● We all know Spock doesn't go to the future. And he needs to get off the ship. I think Spock is inside the un-exploded torpedo lodged in the Enterprise in the time crystal visions.
● The Stamets/Culber (Wilson Cruz) goodbye was a bit weak and anti-climactic. I hope they do something else with that in the final episode.
● Sociopath Georgiou is getting a little old but "I thought there were no bad ideas." "That's a lie" "That's a bad one" was hilarious.
● The "I had a special mom too" moment between Po and Burnham was adorable.
● There should be a new tie-in book called "Queen Po's Words of Wisdom." I would buy it.
● If looks could kill, Amanda would have had Sarek's intestines out on that beach in a blink of a resting bitch face.
● What is it that Tyler needs to do? Is he going to L'Rell (Mary Chieffo)?
● I have a theory about Tyler's hair and things going badly: the more awful and greasy his hair looks, the more dangerous/heartbreaking the situation. Must collect more data on this.
● #PoReno2020
● Those shots of the Enterprise bridge y'all! I just can't even describe it.