"Star Trek: Picard": Patrick Stewart Talks Jean-Luc's Fate [SPOILERS]
The season finale of CBS All Access' Star Trek: Picard dropped some major bombshells in regards to the Star Trek universe. Among them in "Et in Arcadia Ego, Part Two" is the death and resurrection of Jean-Luc Picard (Patrick Stewart). The star spoke recently about how the decision and planning went down during production.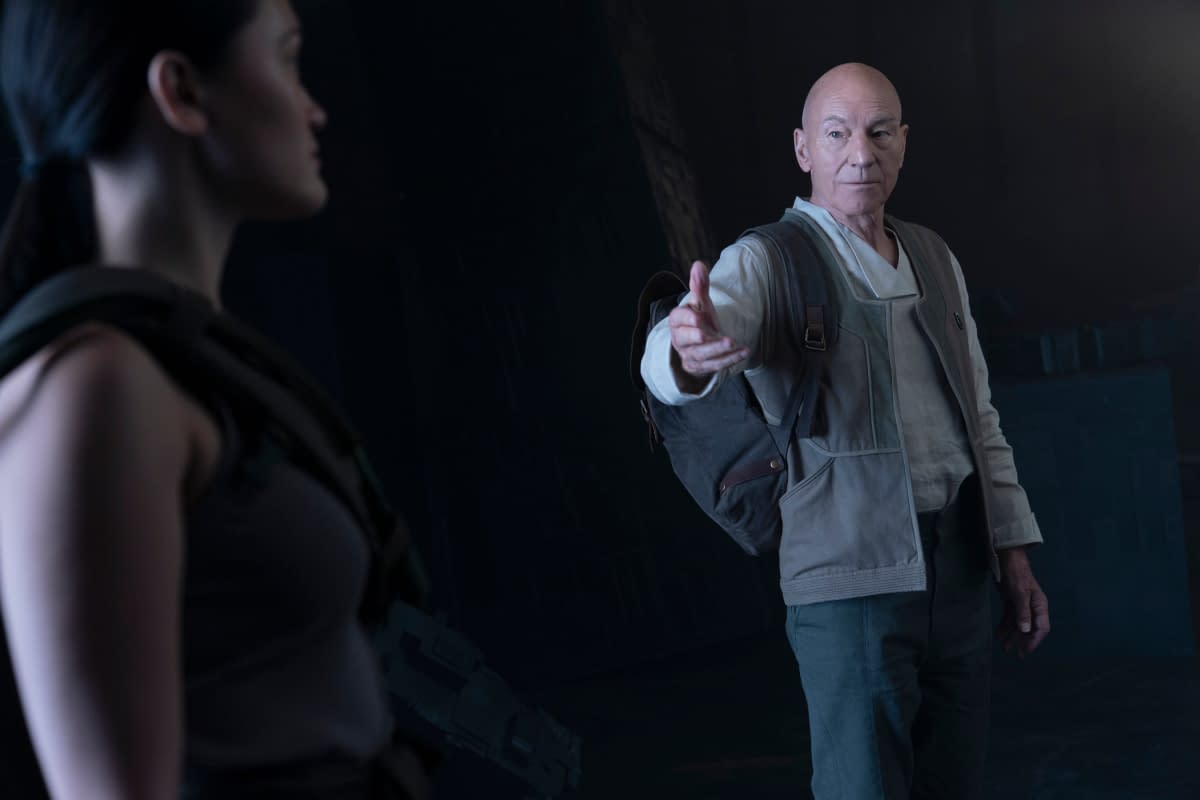 "I only learned of [Picard's death] way into [shooting] the first season. Because that final episode wasn't written yet, and I didn't know it was part of the storyline."
Throughout the season, Picard suffered from a terminal degenerative neurological condition. In the finale, his illness finally caught up to him. The former Starfleet admiral mustered the last of his strength to help protect the synths from Romulan annihilation in La Sirena. As he collapsed, Agnes Jurati (Alison Pill) remained as his side helplessly trying to help him. When Jean-Luc awakes on Coppelius, he learns he died and in a new body with his illness healed. Stewart found out late into shooting his character's fate.
"There was a moment where I thought: 'Oh, lord, am I being killed off? What did I do wrong?'"
Before Jean-Luc wakes up, he's in a simulation with Data (Brent Spiner) talking about the intricacies of life and defining humanity. While Dr. Alton Soong (Spiner) preserved Data's essence and personality, Data requested Picard to let him die to complete his "human" experience.
"I remember the writers worked on that up to the evening before we shot it and I suggested one or two little tweaks to the script. And [the writers] got it so right. I was looking forward to shooting it so very much, because I adore working with Brent. But the content of this scene was so serious and so important to the characters — and the affection and mutual respect — was so clear and so strong."
Stewart and Spiner's final scene together more than makes up for what happened in Star Trek: Nemesis (2002) when the android sacrificed himself to save his captain. Picard lived with survivor's guilt ever since.
"Picard knew that this would probably be the last time that he was ever with [Data] and we — we had to address that. The guilt Picard felt over Data's loss at the beginning of the season, that the two characters never had a proper goodbye, or resolution, in [Nemesis] … We took almost the entire day, not quite, as I recall, [to shoot the scene], but it was a very, very intense experience."
Star Trek: Picard is available to stream for free on CBS All Access with promo code "GIFT".