Steven Universe uses music in a special way to tell magnificent animated stories, and that is being celebrated with a new vinyl release of the shows music thanks to iam8bit. Thirty-seven tracks in all, spread across four gorgeous translucent records featuring fan-favorite and standout songs from the show. This is a must-own. We got our hands on one thanks to iam8bit, and I have been listening to it non-stop.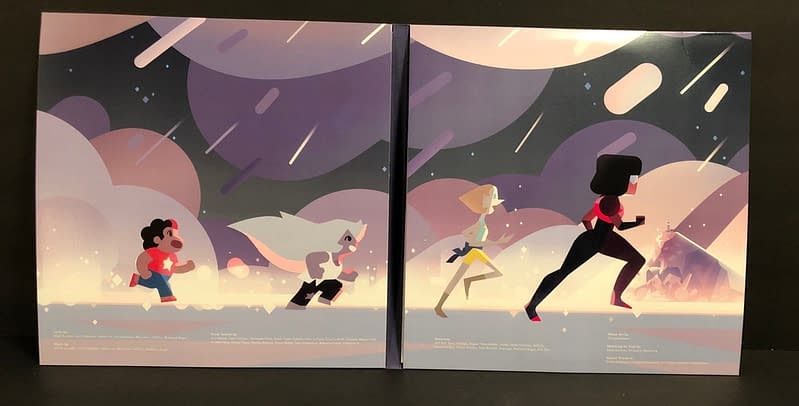 Steven Universe is a one-of-a-kind animated opus, fusing musical celebration with storytelling in a way that inspires nothing short of spectacular smiling. Its songs are lively, jubilant and often emotional works of aural art, spreading a sensation of total glee to all ears within listening distance. This set of 4 x 10" vinyl represents our favorite Crystal Gems (Garnet, Amethyst, Pearl and Steven) via colorful translucent discs and center labels, all housed in gatefold jacket adorned with a shimmery warp & ornate embossments. Designed in close collaboration with series creator, Rebecca Sugar, and illustration auteurs Chromosphere, this is a vinyl package made with true love.
The packaging on this release is amazing. With artwork from Chromosphere, the simple yet detailed art really grabs your attention and makes you take notice. While the gems on the back jacket are cool, they press in and are a little annoying — but other than that, from an artistic standpoint it is a home run. The discs themselves are very cool as well, with four gems represented: Amethyst, Pearl, Steven/Rose, and Garnet. Making them translucent was an excellent design choice — all four would look amazing framed if you wanted to go that route.
We buy vinyl to listen to, though (right? RIGHT?), and this release features clear, crisp versions of all kinds of music from the show. Standouts for myself include of course 'We Are the Crystal Gems', 'Strong in the Real Way', 'Be Wherever You Are', 'It's Over Isn't It', 'Full Disclosure', and 'Here Comes a Thought'. I have had such a good time just throwing this on in my house, singing along and such. I was a late-comer to the show, but I am so glad I started watching.
This is a wonderful release for fans of the show and collectors alike. If you would like your own copy, you can order one now right here.
Enjoyed this article? Share it!