Anderson Cooper's salacious interview with Stormy Daniels has given 60 Minutes it's best ratings night since since Steve Kroft interviewed Barack and Michelle Obama in November of 2008, just after they learned that he was elected president. All three segments back then were dedicated to the interview and brought in 24.5 million viewers. The Daniels interview ran for only two-segments and brought in more than 20 million viewers and a 16.3/27 in metered markets, which is way up from the previous Sunday's numbers of 7.6/13. These numbers were slightly skewed on the East Coast due to the NCAA March Madness games pushing the show back 35 minutes.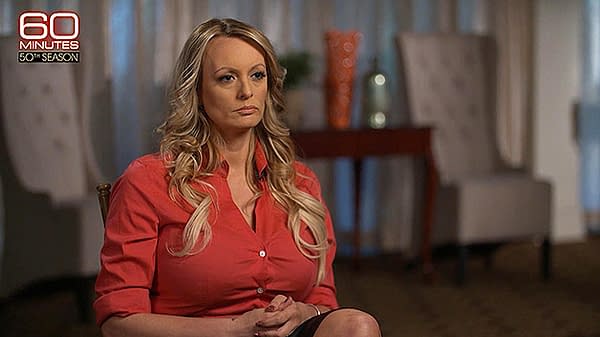 The story has been building for weeks with Daniels appearing on multiple talk shows and her lawyer, Michael Avenatti, appearing on just about every news show that he could get on. This is the second interview of the week for Cooper involving an adult-industry star talking about an affair with Donald Trump before he became president. The Daniels' interview was pre-recorded while on Wednesday we heard from former Playboy Playmate of the Year Karen McDougal. Neither woman would have had the opportunity to listen to the other's interview. Both affairs were said to have taken place around 2006/2007 shortly after Melania Trump gave birth. Daniels claims to have had one sexual encounter with the former reality star while McDougal claims to have a 10-month relationship with many dozens of nights of intimacy. Both women have contracts that are issues, Daniels has an NDA that she claims is invalid while McDougal's life story was bought by a magazine but never run.
Presidential scandals have historically done well ratings wise. Back when Barbara Walters interview Monica Lewinsky on 20/20 in March of 1999, the interview pulled in 48.5 million viewers with 70 million people watching for at least 6 minutes of the two-hour interview. Lewinsky opened up about her affair with Bill Clinton in an effort to push sales for her book, Monica's Story.
Source: Deadline
Enjoyed this article? Share it!