Stranger Things 4: Marvel's Agents of S.H.I.E.L.D. Star Reveals Role
As the world's television productions begin to scratch and claw their way back to work with new COVID-19 policies in place, fans of Netflix's Stranger Things have had some positive vibes coming their way lately. That meant a look at all of the season 4 scripts as well as some more intel on the season's themes and focuses from David Harbour (Jim Hopper) and series creators Matt Duffer and Ross Duffer. Now we're learning the name of someone else who will be a part of the series' return, someone who's a familiar face to fans of Marvel's Agents of S.H.I.E.L.D. During an interview with ComicBook.com, actor Joel Stoffer (Chronicom fan-fav Enoch) revealed that he will be heading out to Atlanta once production resumes.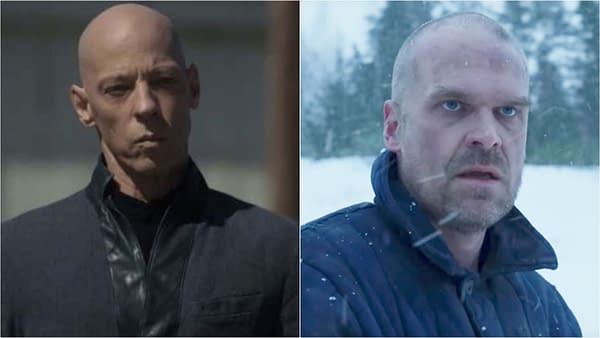 "I've got a role that we haven't shot yet on Stranger Things. I don't expect it to become anything like long term, but it'll be coming up. They contact me and I'll go to Georgia, to Atlanta, and shoot it when they get back up and running. 'Cause they've been obviously shut down for a while," revealed Stoffer. Unfortunately, the combination of the Duffer Bros' dedication to spoiler-free secrecy and the timing of the pandemic means the actor knows very little about his role's "bigger picture," explaining, "I literally do not know anything. It was cast during quarantine a couple of months ago and I was sent the pages of my scene and that was it. And I didn't know any of the actors or… I didn't recognize any names in my scene. So, I don't even know if I have additional scenes beyond that one scene. I expect that I do, but I really don't know. You know as much as I do, they're really secretive."
In early March, the cast of Stranger Things took us inside the show's fourth season "secret" table read, which had more of a family reunion/return to summer camp vibe to it (if there with Demogorgons in the woods, that is) than a "going back to work" one. Noah Schnapp (Will Byers) revealed earlier that he had gotten his hands on the first four scripts when asked about starting production on the fourth season (which explains his good vibes heading into the table read): "I look forward to this so much. It's my favorite thing in the world, and I love working with these people. It's like a family. I read the first four scripts, and they are amazing. I can't wait to see where they go with the rest of the season."