You might call this a spoiler for the Netflix's hit series Stranger Things, but it's more of a confirmation of what is NOT going to happen in season 3. If history tells us anything, then we know that there should be at least one heartbreaking death in the new season. And while it would be hard to guess who it is going to be, the recently single Steve (Joe Keery) seems like a pretty likely candidate.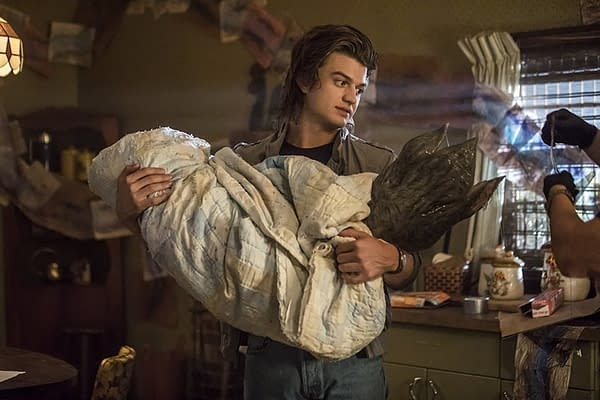 TVline hit up executive producer Shawn Levy about that very topic at PaleyFest over the weekend and the were told that the character isn't going anywhere:
Honestly, the day Steve Harrington dies is the day I walk off this show. I just can't live in a world without Steve Harrington. And I think a lot of us feel that way. Steve is safe — at least for now. And you need to say like, 'Shawn's voice dropped an octave sounding weirdly spooky about it.'
Why is he so adamant about the characters continued survival? It turns out he and his fellow executive producers really seem to like the new dynamic in season 2 when Nancy's ex became sort of the caretaker/babysitter for the kids. He told THR.com:
I literally feel that we were walking along and we stumbled onto a gold mine with Dad Steve.
Production of the third season of Stranger Things begins this month.
Enjoyed this article? Share it!