Good news, Stranger Things fans: it looks like some positive light on the fourth season is starting to shine. While it might not be on The Mandalorian level (damn that show's been bleeding good news lately), getting a look at the season's scripts and learning more about the season's themes and focuses from David Harbour (Jim Hopper) and series creators Matt Duffer and Ross Duffer isn't too shabby of a start. But just because our thoughts are thinking ahead doesn't mean we can't take a moment and appreciate the past.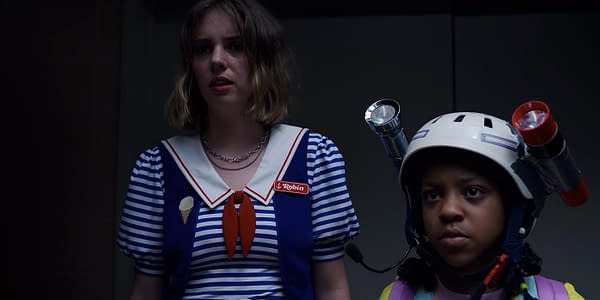 In the first behind-the-scenes featurette (with both vibing as "For Your Consideration" award nomination clips), the Duffer Bros, production designer Chris Trujillo, cinematographer Lachlan Milne, and visual effects supervisor Paul Graff take viewers into how the "monster-in-the-mall" sequence came together. Following that, the series creators are joined by producer Shawn Levy and the cast to discuss how the characters have changed over the course of three seasons and how the addition of Maya Hawke and Priah Ferguson changed the series' dynamic.
In early March, the cast of Stranger Things took us inside the show's fourth season "secret" table read, which had more of a family reunion/return to summer camp vibe to it (if there with Demogorgons in the woods, that is) than a "going back to work" one. Noah Schnapp (Will Byers) revealed earlier that he had gotten his hands on the first four scripts when asked about starting production on the fourth season (which explains his good vibes heading into the table read): "I look forward to this so much. It's my favorite thing in the world, and I love working with these people. It's like a family. I read the first four scripts, and they are amazing. I can't wait to see where they go with the rest of the season."
To celebrate last year's "Stranger Things Day," the writers revealed the title of the first episode of the fourth season (written by the series' creators) that appears to be a friendly nod to 80's X-Men comics. Confirmation of the series' return came more than three months after the show's third season debut, with the Duffer Bros. signing an overall multi-year deal with the streamer. "We are absolutely thrilled to continue our relationship with Netflix. Back in early 2015, Ted Sarandos, Cindy Holland, Brian Wright, and Matt Thunell took a huge chance on us and our show — and forever changed our lives," the Duffer Bros. said in a statement. "From that first pitch meeting to the release of Stranger Things 3, the entire Netflix team has been nothing short of sensational, providing us with the kind of support, guidance, and creative freedom we always dreamed about. We can't wait to tell many more stories together — beginning, of course, with a return trip to the Upside Down!"
Enjoyed this article? Share it!