Succession Final Season Trailer: Will It Be a Bitter End for The Roys?
With the award-winning series returning for its final season on March 26th, here's a look at the final season trailer for HBO's Succession.
---
It's not like the prospect of watching Logan Roy (Brian Cox) & his family go nuclear on one another during the upcoming fourth season of HBO & Jesse Armstrong's award-winning Succession wasn't more than enough reason to tune in. But after learning last week that the series would also be wrapping up its run with the new season, that sense of urgency & tension has only grown. But just in case you need a reminder of what's at stake and where the show's universe could be heading in the future (more on that below), we have the final official trailer & key art for the HBO series' return. And if you think you can figure out who's on whose side? Good luck… and let us know your theories in the comments section below.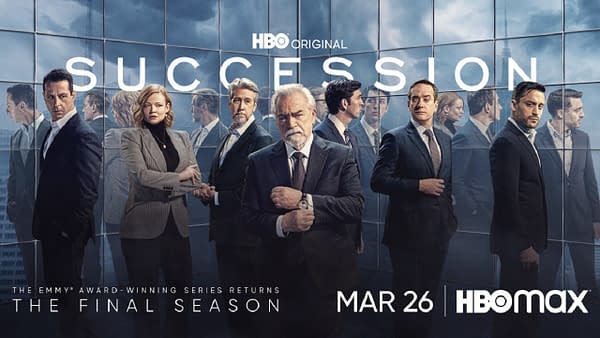 The fourth season cast for HBO's Succession includes Brian Cox, Jeremy Strong, Sarah Snook, Kieran Culkin, Alan Ruck, Matthew Macfadyen, Nicholas Braun, J. Smith-Cameron, Peter Friedman, David Rasche, Fisher Stevens, Hiam Abbass, Justine Lupe, Scott Nicholson, Zoë Winters, and Jeannie Berlin. The newest additions to the cast this season are Annabeth Gish, Adam Godley, Eili Harboe, and Jóhannes Haukur Jóhannesson. With the series set to kick off its final run on March 26th, here's a look at the final trailer (in more ways than one) for HBO's Succession Season 4:
Returning cast includes Dagmara Domińczyk (Karolina Novotney), Alexander Skarsgård (Lukas Mattson), Arian Moayed (Stewy Hosseini), Juliana Canfield (Jess Jordan), Annabelle Dexter-Jones (Naomi Pierce), Hope Davis (Sandi Furness), Cherry Jones (Nan Pierce), Justin Kirk (Congressman Jeryd Mencken), Stephen Root (Future Freedom Summit Organizer Ron Petkus), Harriet Walter (Lady Caroline Collingwood), James Cromwell (Ewan Roy), Natalie Gold (Rava Roy), Caitlin Fitzgerald (Tabitha), Ashley Zukerman (Nate Sofrelli), Larry Pine (Sandy Furness), Mark-Linn Baker (Maxim Pierce), and Pip Torrens (Peter Munion). Created by showrunner Jesse Armstrong, the series is executive produced by Armstrong, Adam McKay, Frank Rich, Kevin Messick, Jane Tranter, Mark Mylod, Tony Roche, Scott Ferguson, Jon Brown, Lucy Prebble, Will Tracy, and Will Ferrell.
Jesse Armstrong Not Done with Succession Universe Yet?
It's safe to say that it's been a rollercoaster ride for Succession over the past few weeks. It started with co-stars Cox and Strong having a public back-and-forth over Strong's style of acting, followed by HBO and HBO Max content boss Casey Bloys not sounding super thrilled about the prospect of spinoffs when the series ends, and ended with Armstrong revealing to The New Yorker that the series would, in fact, be ending with the upcoming fourth season. See what we mean? That's a lot to process… and we still might not be done. In the same interview where he confirmed the series end, Armstrong didn't close the door on revisiting the show's universe from some different perspectives.
"I do think that this 'Succession' story that we were telling is complete. This is the muscular season to exhaust all our reserves of interest, and I think there's some pain in all these characters that's really strong. But the feeling that there could be something else in an allied world, or allied characters, or some of the same characters—that's also strong in me," Armstrong shared during his interview. "I have caveated the end of the show, when I've talked to some of my collaborators, like: Maybe there's another part of this world we could come back to, if there was an appetite? Maybe there's something else that could be done, that harnessed what's been good about the way we've worked on this. So that is another true feeling." Considering Bloys said that the cabler is more than open to anything that Armstrong's looking to pitch, this is definitely a good sign.