Supergirl Season 3: Alex Tries to Figure Out What's Wrong with Samantha
The main story on tonight's Supergirl moves back to focusing on Lena Luthor (Katie McGrath) and Morgan Edge (Adrian Pasdar) as Edge accuses Lena of trying to have him killed and Supergirl (Melissa Benoist) gets involved. And now that they seem to be an item, you can be sure that Jimmy Olsen (Mehcad Brooks) will get involved as well. And clips have shown him suiting up as Guardian again.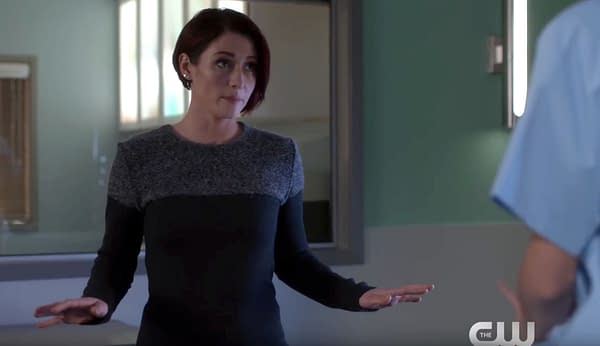 But the 'B' story of For Good may be the one to pay close attention to as the clip below sets up. Alex (Chlyer Leigh), who used to be a doctor/researcher before joining the DEO, is going to help Samantha (Odette Annable) figure out the memory blackouts she's been having. We see the two of them about to use an MRI machine at Lexcorp Labs. But we know that the blackouts are caused by her turning into Reign, and the possibility is there that something Alex does might trigger that transformation, which could put Alex in extreme danger. Also interesting to note that Alex seems to be walking pretty well — guess her leg has healed up since the last time she met Reign.
Supergirl airs tonight at 8 p.m. ET in the CW.