Supergirl Season 3: The Bad of the Season Was the Disjointed Narrative
Supergirl season 3 had a lot of great things in it. The introduction of the Legion of Super Heroes including Saturn Girl (Amy Jackson) and Brainiac 5 (Jesse Rath). A strong villain storyline in Reign (Odette Annable), the introduction of Argo City, Mon-El (Chris Wood) becoming a true hero, an exploration of Martian history with the introduction of M'yrrn J'onzz (Carl Lumbly). They also introduced a new foil for Lena (Katie McGrath) with Morgan Edge (Adrian Pasdar) and had her connect romantically with James (Mehcad Brooks). We took a trip back to Midvale to see young versions of Kara and Alex solve their first crime, saw a cult that worshiped Supergirl, and we got to check in on what was up with Livewire (Brit Morgan). All of these things are good components, but the problem was they didn't create a cohesive picture when put together, creating a disjointed narrative.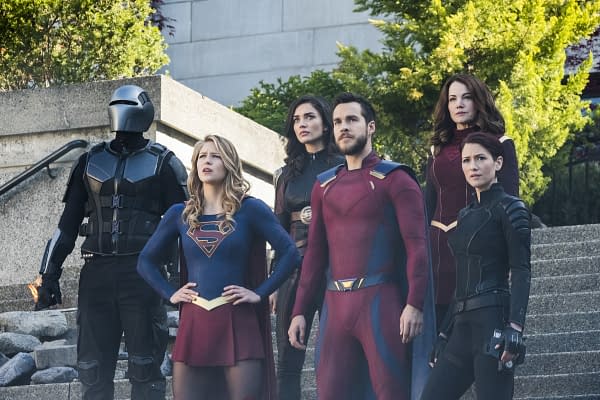 Now, there are times a disjointed narrative is a good thing, like in the movie Memento. But in this case what we got was an onslaught of ideas that never really formed into a solid story.
We had one titanic battle between Supergirl and Reign at the mid-season point and every battle after was short and rather uninteresting. Her fellow Worldkillers were barely around before being defeated, and we suddenly got a group of Kryptonian witches that didn't really feel like it was part of the story. And I think they got their big plan — terraforming the Earth to be like Krypton — from watching Man of Steel. And I never got what the terraforming was going to do. Kryptonians seem to have no problem at all living on Earth the way it is.
The problem likely came from the firing of Andrew Kreisberg. He was one of the founders of the Arrowverse and the driving force behind Supergirl with Jessica Queller and Robert Rovner. Perhaps they had to scrap the plans they had because of his firing to get his name off the show, and in doing so the attempt to make a different story out of the same puzzle pieces didn't quite work. Things were dropped, like the Morgan Edge story, the other Legion members in the tubes, and likely what they really had planed for the Worldkillers. It was a season with a lot of great parts, but they just couldn't get them all together into a satisfying final picture.