Supergirl fans have to wait until January 15th for the series to return, but that doesn't mean we can't get a glimpse at the next member of the Legion of Superheroes that will be making his debut when the show returns. Jesse Rath (Defiance) joins the cast as Brainiac 5, who in the comics is a green-skinned, blond-haired native of the planet Colu, and claimed to be descended from the original Brainiac, one of Superman's most famous foes. As you can see from the image below, he is neither green-skinned, nor blond and has gained three lights in his forehead.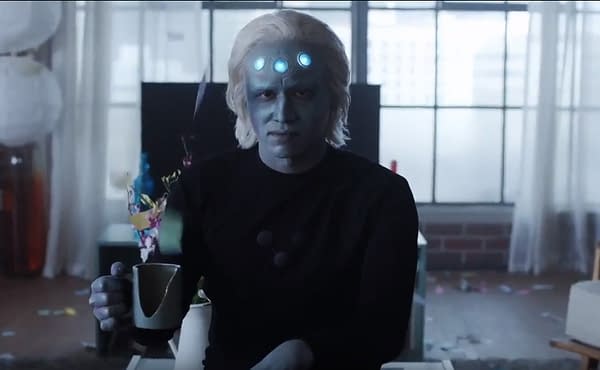 Actually, he reminds me more of Exeter from This Island Earth than he does of Brainiac 5. I'm sure the look of the character will grow on me the more I see him. I'd be very curious as to why the change in skin tone and hair color. Maybe it has to do with already having a green-skinned alien in J'onn J'onzz (David Harewood).
In the series, it looks like Brainiac 5 is one of the people still in the tubes on the ship that they found Mon-El (Chris Wood) on. When Kara (Melissa Benoist) won't regain consciousness after her beating by Reign (Odette Annable), it's decided to wake Brainiac 5 to see if he can help her escape her mind prison. And while she is out, Mon-El, Brainiac 5, and Saturn Girl (Amy Jackson) will be helping out against Reign. The extended trailer below includes Wynn (Jeremy Jordan) name-checking the team.
Supergirl returns January 15th at 8 p.m. ET on the CW.
Enjoyed this article? Share it!