Posted in: Arrow, Batwoman, Black Lightning, CW, Preview, Trailer, TV | Tagged: arrow, Batman, batwoman, black lightning, bleeding cool, cable, comic books, Comics, crisis, dc, dc comics, Episode 2, Kara, Legends of Tomorrow, leviathan, lex luthor, preview, season 5, stranger beside me, streaming, supergirl, superman, television, The Flash, tv, wonder woman
---
"Supergirl" Season 5 "Stranger Beside Me" Finds Tech Turning on Team Kara [PREVIEW]
On this week's new episode of The CW's Supergirl: with Kara (Melissa Benoist) now a Pulitzer Prize winner, Catco Media making a hard left turn to become the world's best clickbait site, and Lana Luthor (Katie McGrath) plotting revenge against Supergirl, we're on a collision course between several freight trains. This week's episode "Stranger Beside Me" is going to double-down on the theme of evil and evil technology – cementing some of our new characters in their roles as foils to their existing counterparts.
Let's start with the following episode promo, which seems to give us more heat (vision) than light on what's happening in the episode:
"Supergirl" season 5, episode 2 "Stranger Beside Me": TECHNOLOGY BECOMES THE NEW THREAT- Supergirl (Melissa Benoist), Alex (Chyler Leigh), and Brainiac (Jesse Rath) thwart an alien attack while William (Staz Nair) investigates Kara (Melissa Benoist). J'onn J'onzz (David Harewood) and Kelly (Azie Tesfai) use Obsidian tech to solve a problem.
First of all, give me more of Andrea Rojas (Julie Gonzalo). The tech billionaire as supervillain certainly fits the moment of 2019. And the VR-meets-traditional-news-outlet with aims to be more like Buzzfeed certainly feels very now as well.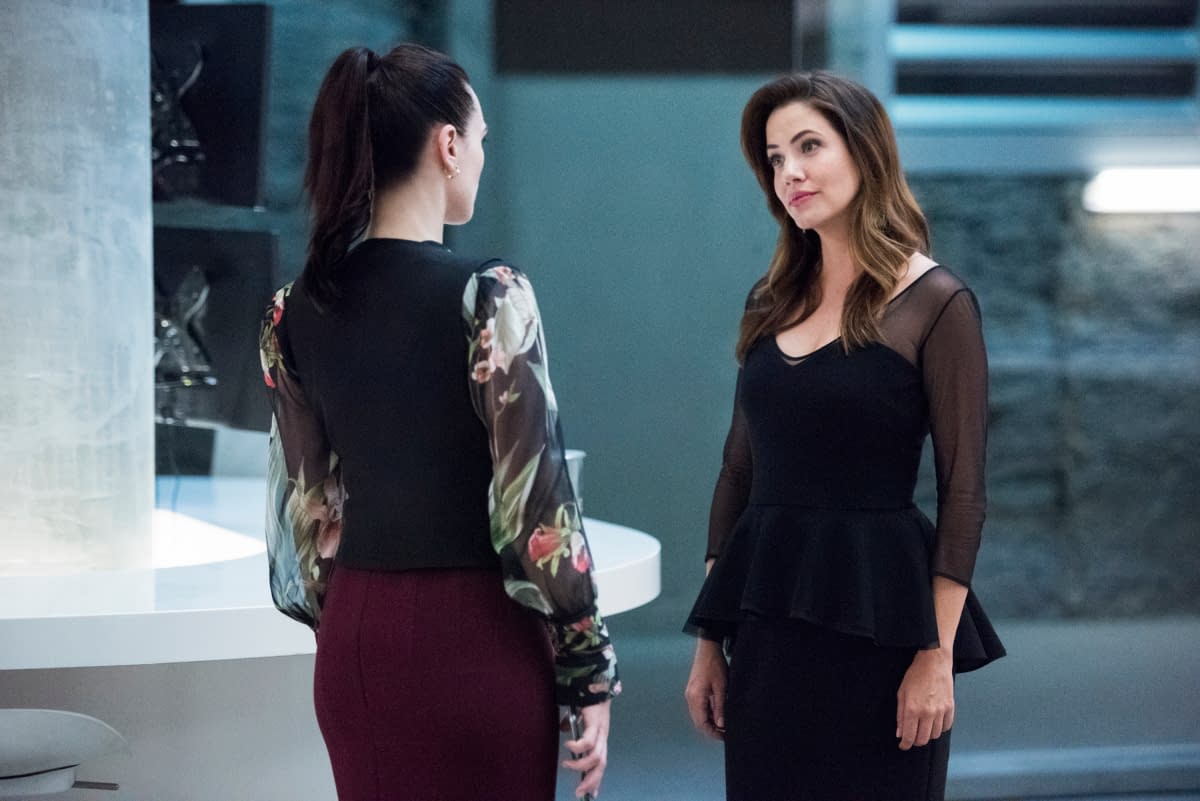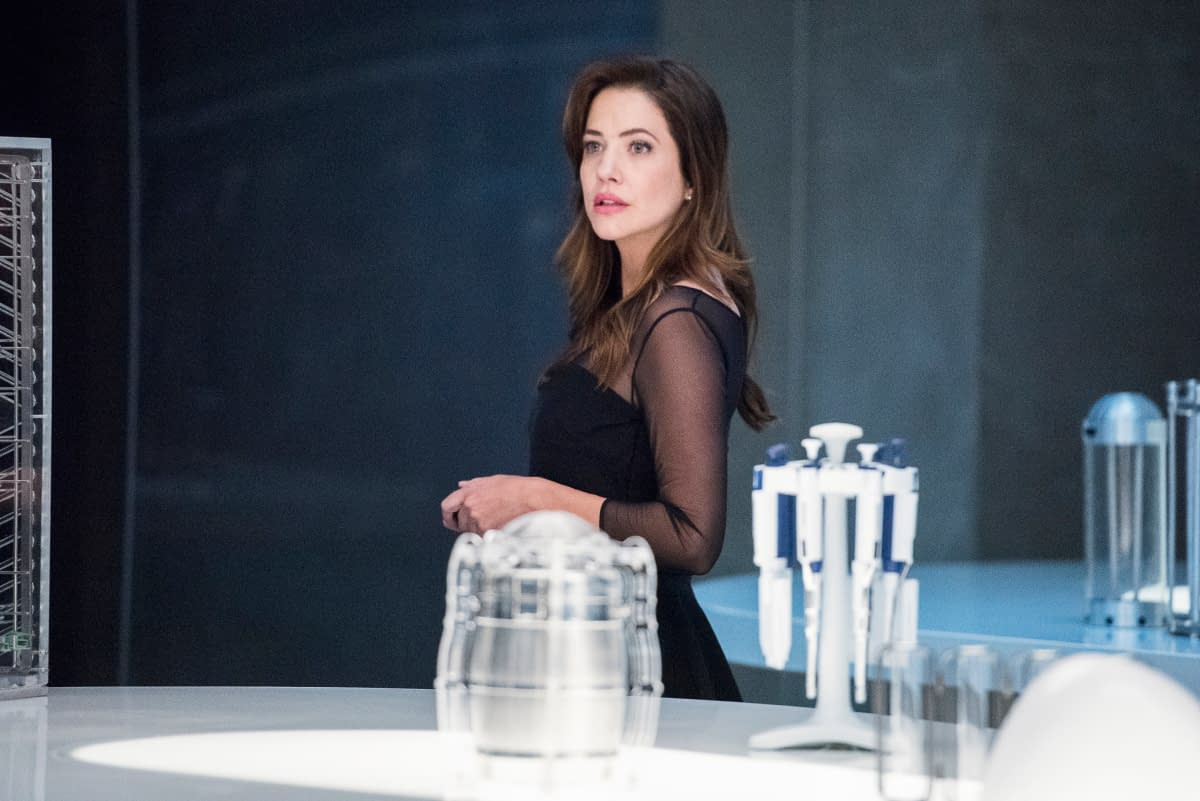 I also really like the chummy rapport between Andrea and Lena. The "we went to boarding school together" is normally such a male-only trope. Their relationship turns a lot of those expectations on their head. Not only that, but you get the idea that Lena, now angry with Kara for deceiving her, is looking to an old friend to replace some of that. But even moreso, she's taking the advice of the old Machines of Loving Grace song and not placing faith in people. And that's why she's looking at technology. Here's some pictures of Lena doing science: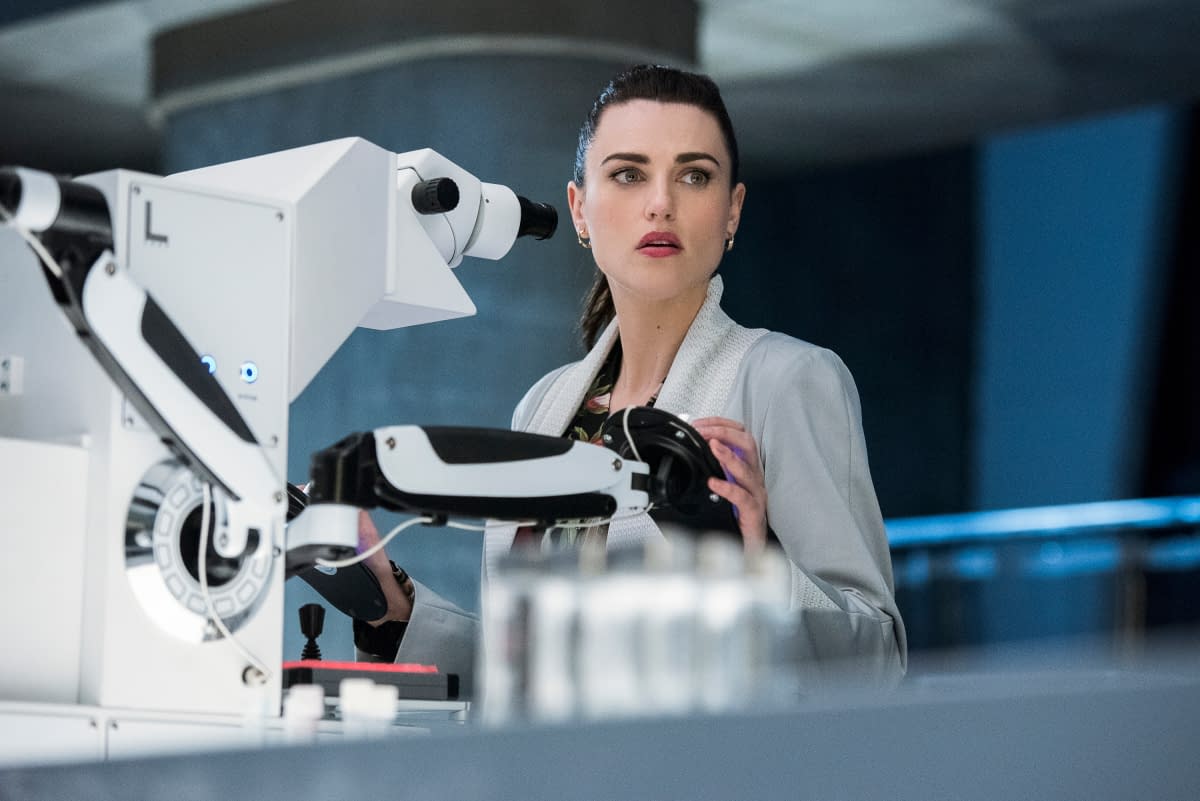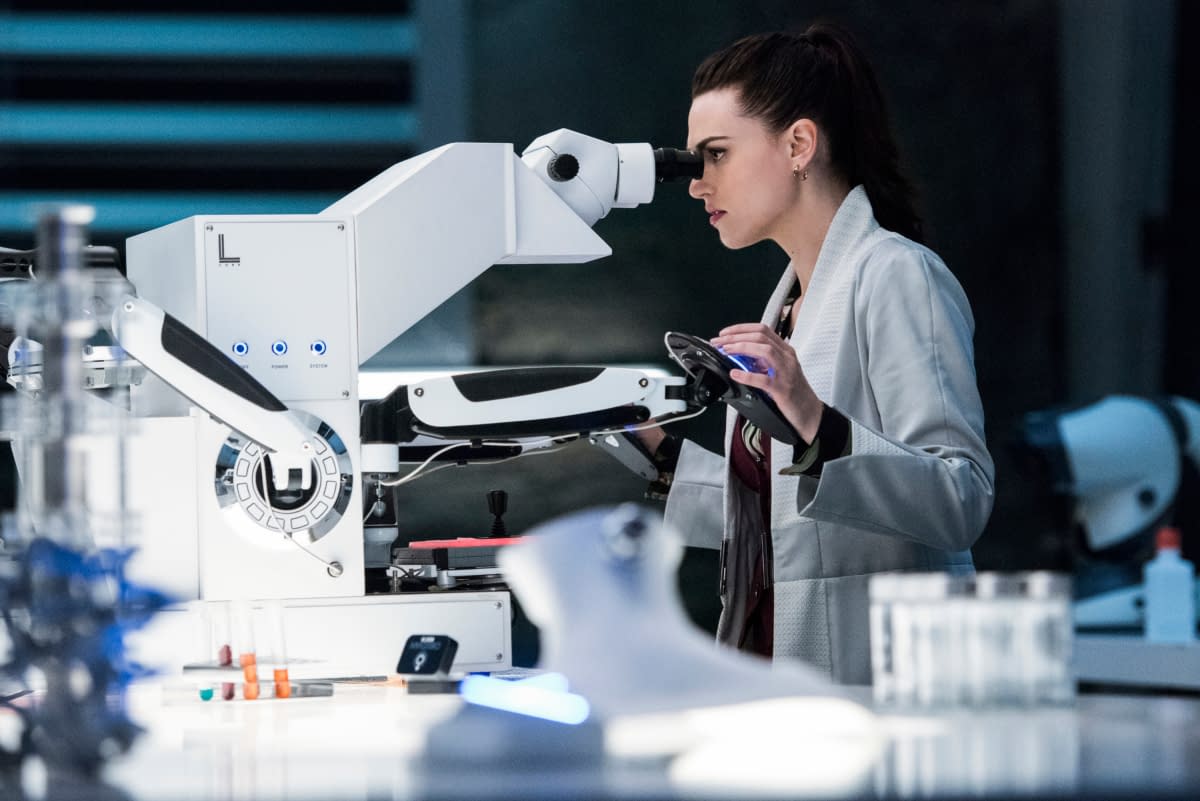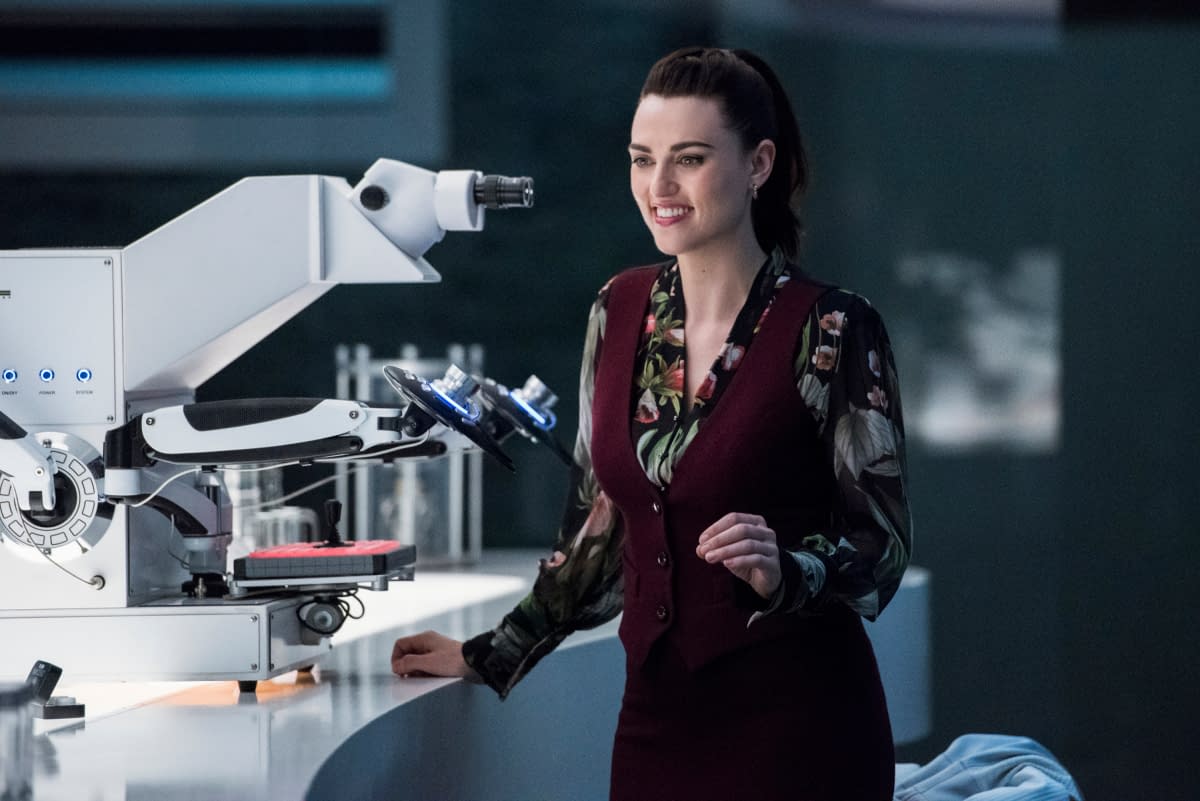 That must be some breakthrough for Lena to be smiling like that. Hopefully we figure out what she's up to. And speaking of science, it looks like J'onn is enlisting the help of the Olsen Twins Siblings in some sort of science experiment. With Kelly's background in psychotherapy, and J'onn wearing those contact lenses that let you into the Obsisian VR experience, my bet is this is some attempt to jog his memories of his forgotten brother.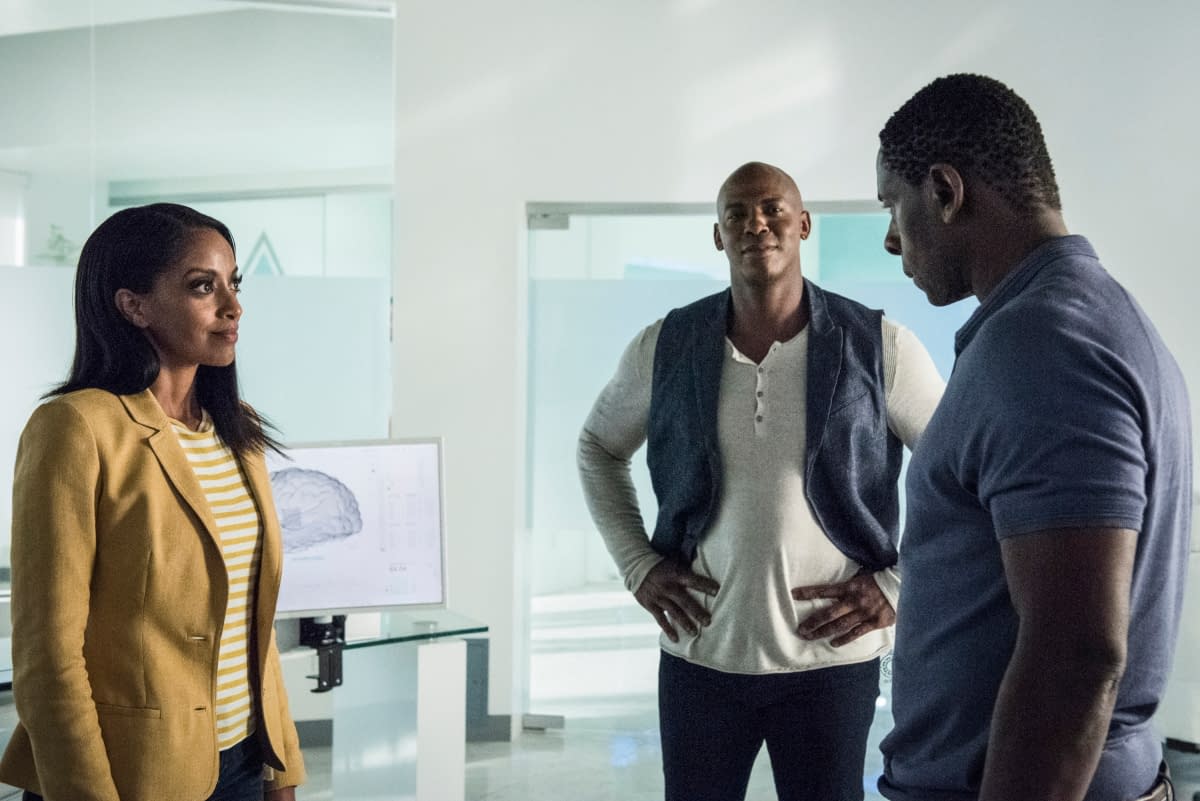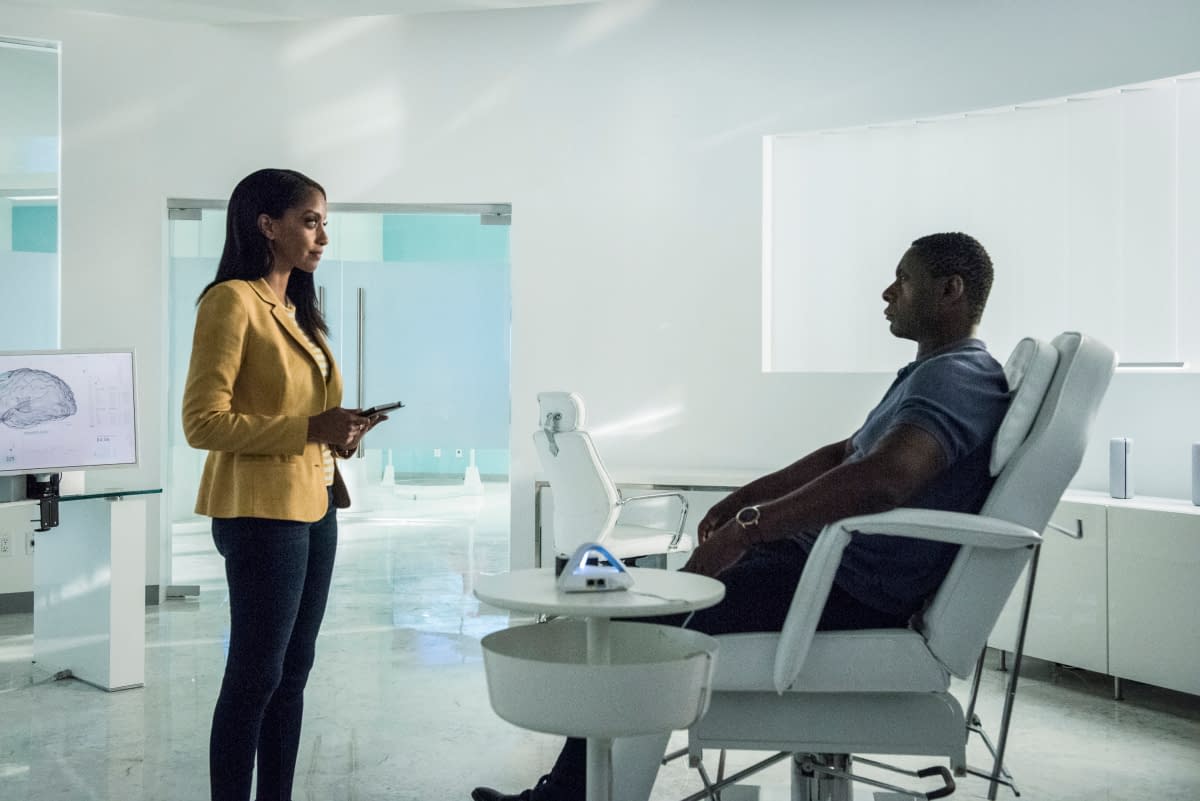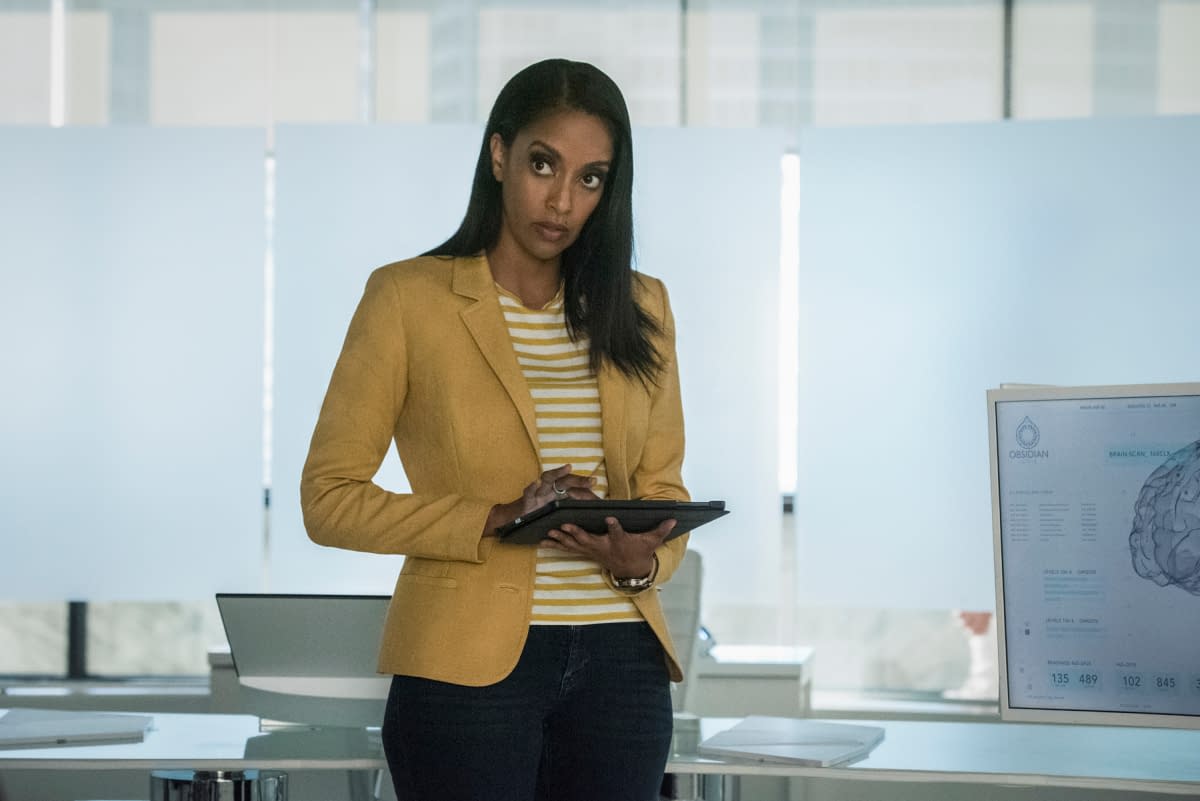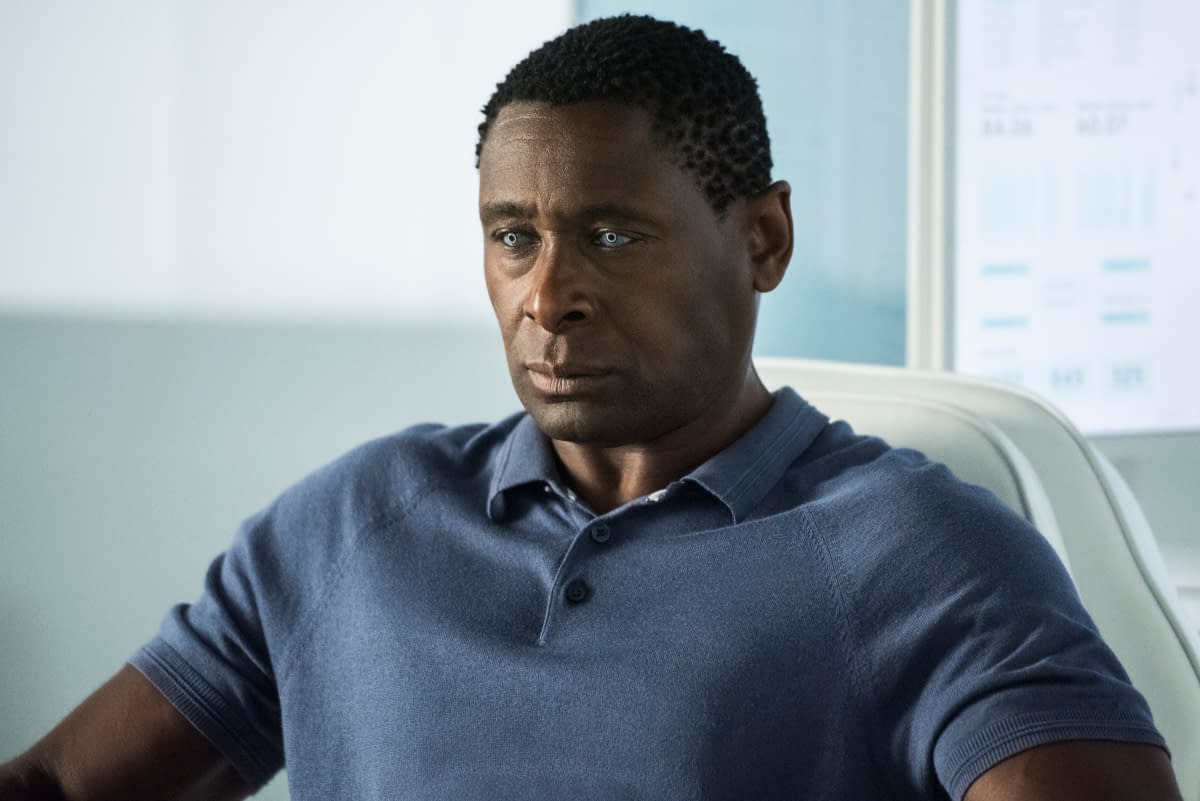 Next up we have Team Supergirl very intently talking about. . . something? That looks like some sort of science/medical kit, and with J'onn's sleeve rolled up like that and the band on his upper arm, it looks like they're taking blood samples?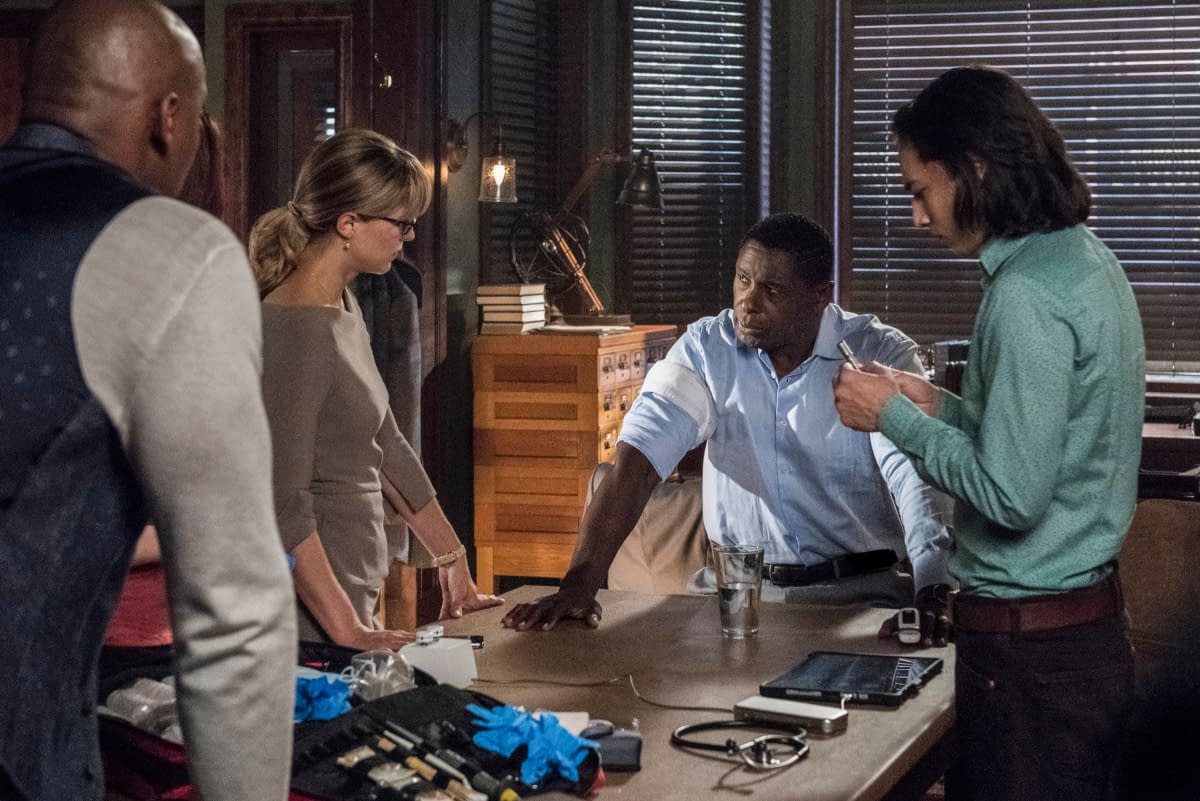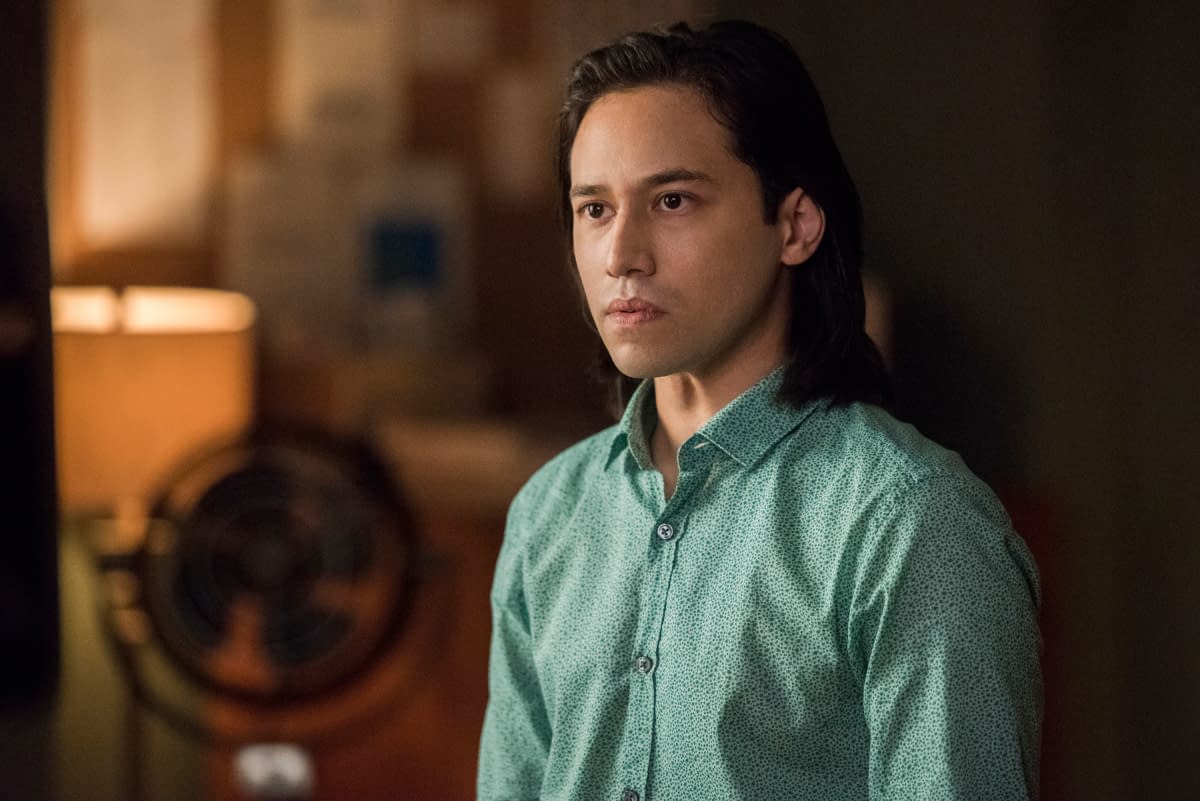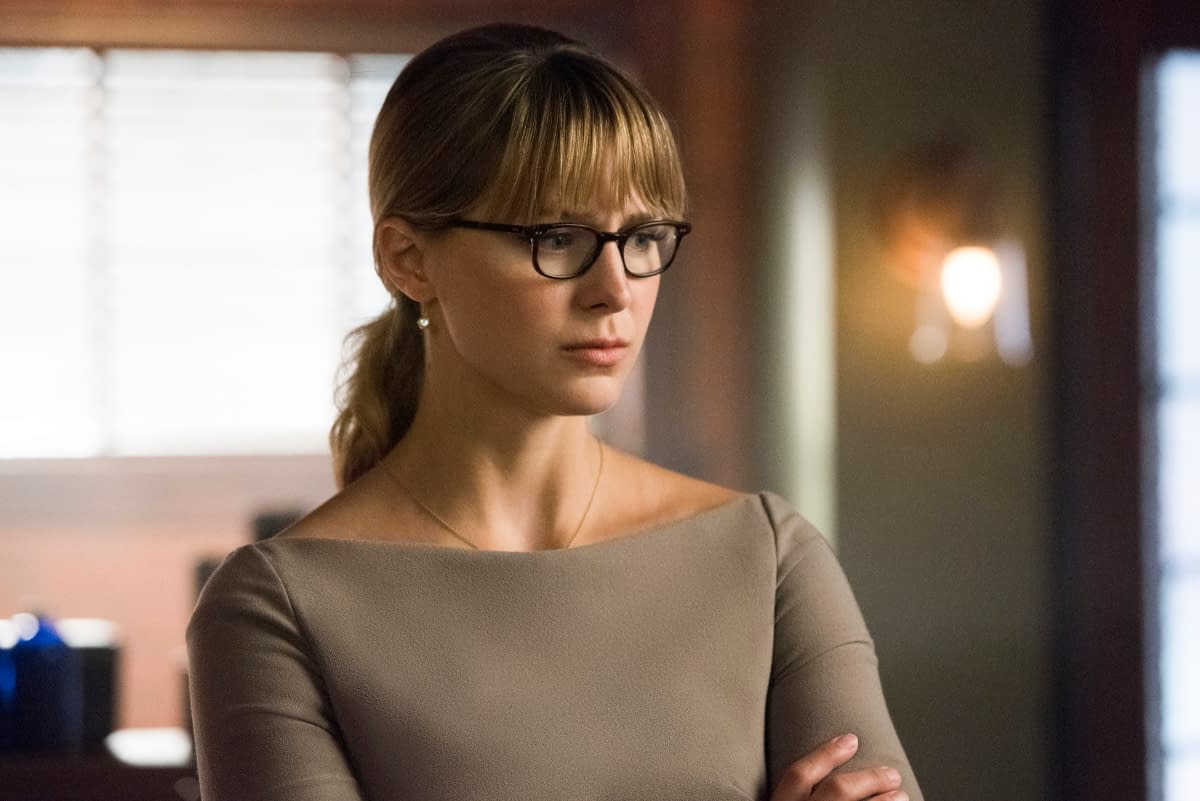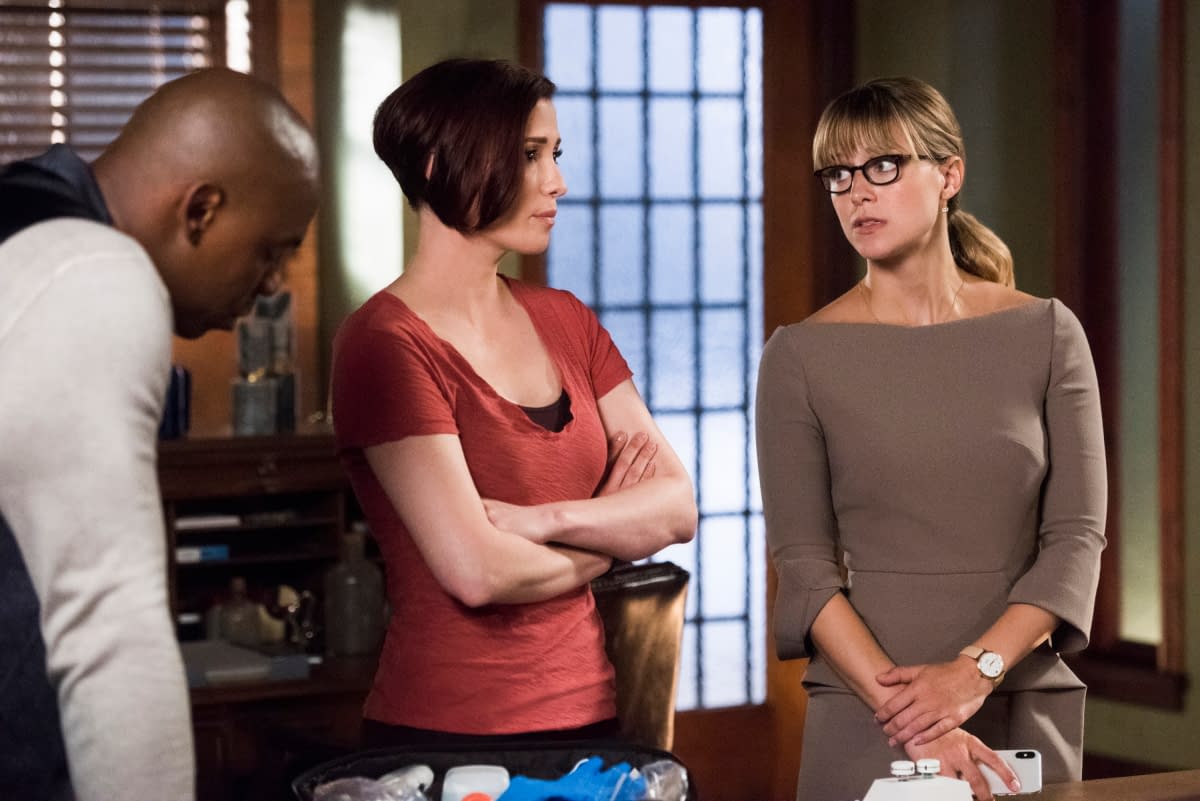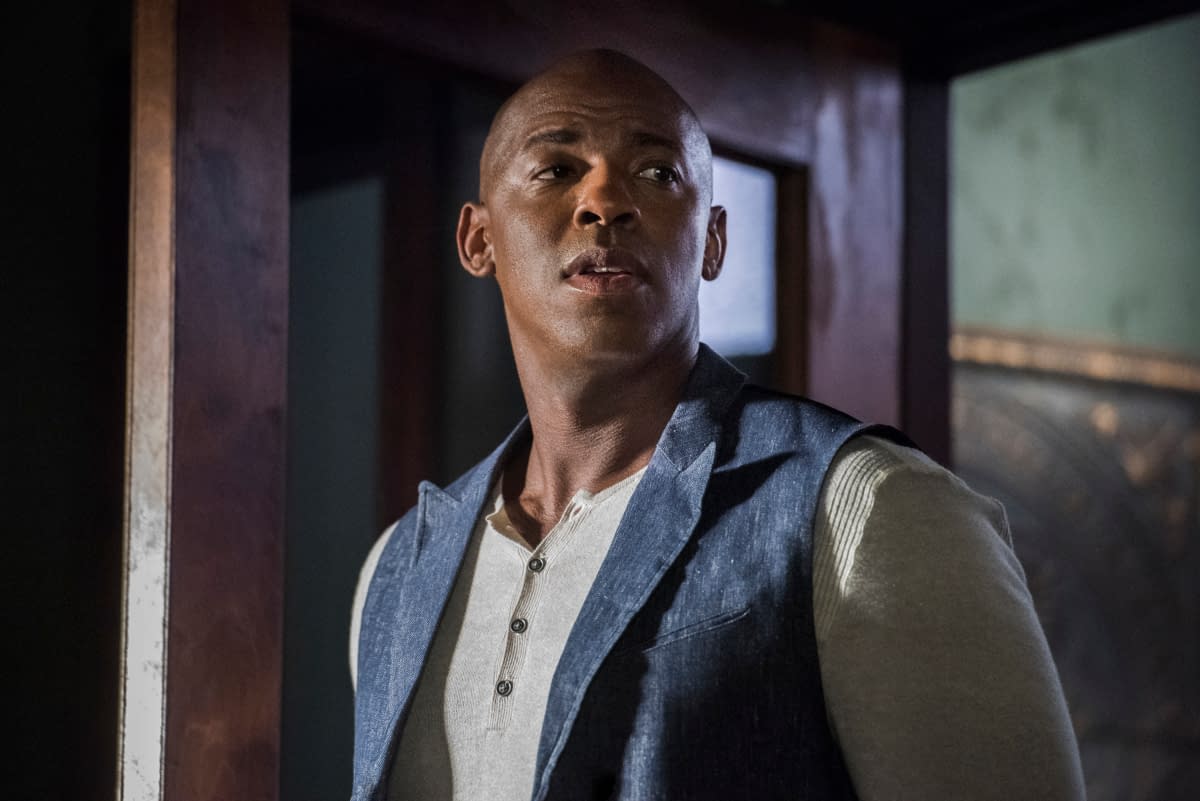 Here's betting this is the inciting incident. That's either some really bad coffee, or some sort of psychic attack on our Martian Manhunter.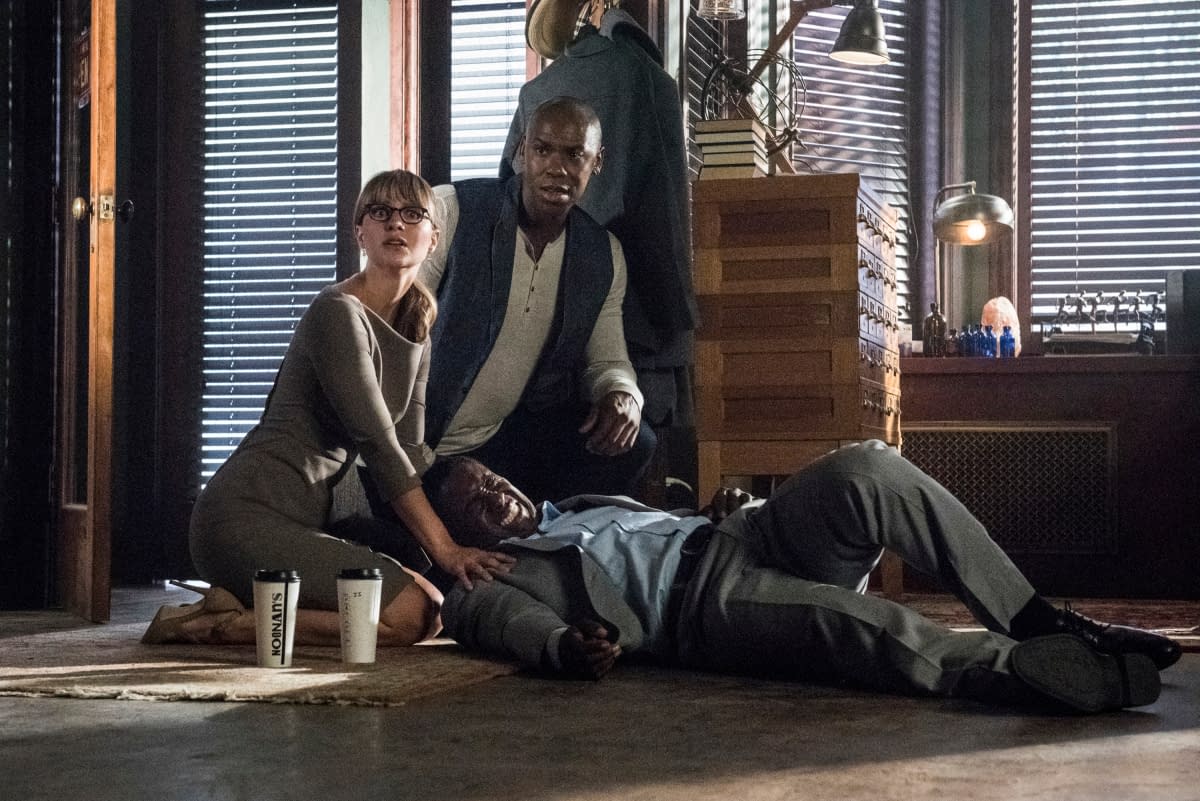 And finally, this looks like J'onn trying to reclaim his zen. This is some serious Martian feng shui . . . and how I want to design my next office.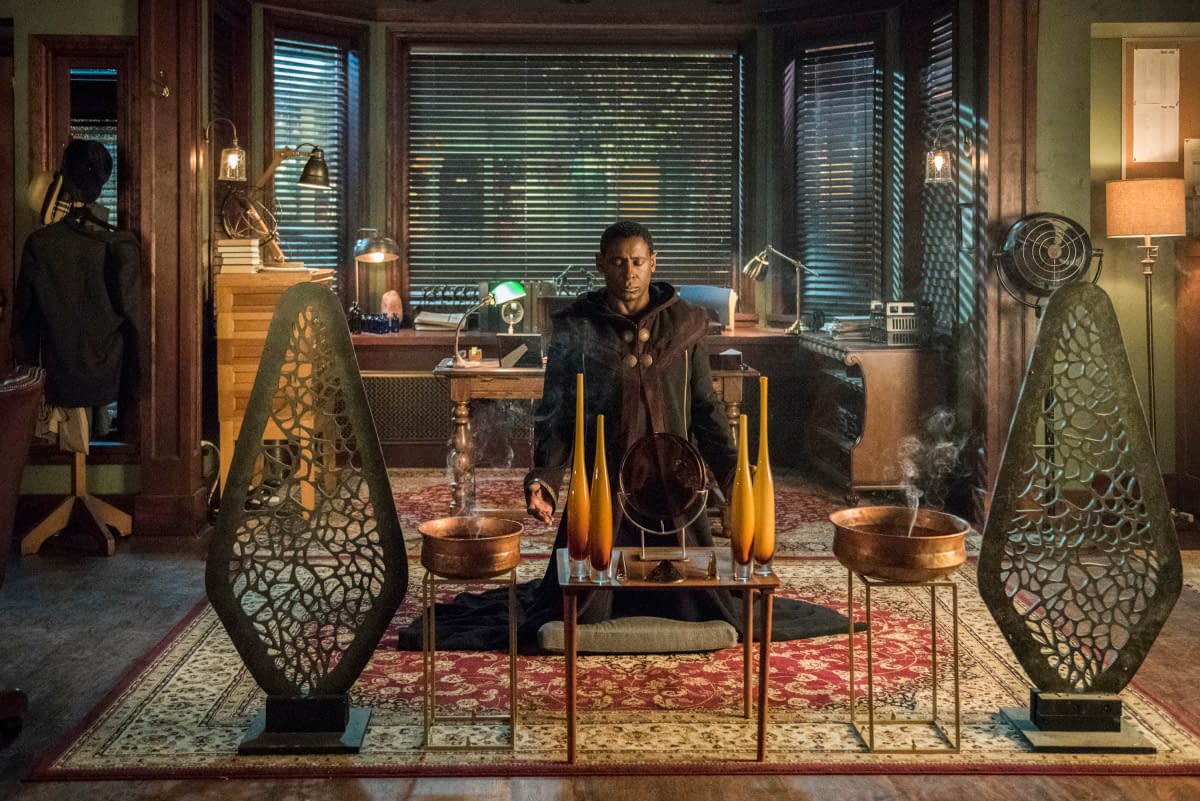 Seems we'll have to tune in Supergirl this Sunday at 8 p.m. ET / 7 p.m. CT to find out more – and for more thoughts on what happened in the season opener, check out our review here.
---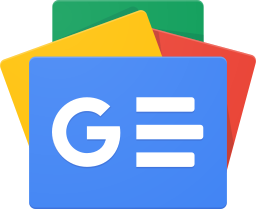 Stay up-to-date and support the site by following Bleeding Cool on Google News today!