The SPN Family is flooded with feels as we countdown the minutes until tonight's Season 15 premiere. Everything regarding The CW's Supernatural has been tainted with a sense of finality since Jared Padalecki, Jensen Ackles, and Misha Collins announced the series would be taking its "last ride." Now Baby's engine is revving and we can't put off the inevitable any longer. The time has come to carry on – whether we like it or not.
We know Team Free Will is fighting an uphill battle again Chuck Almighty (Rob Benedict), but the odds really seem stacked against them in this unnerving clip from "Back and to the Future":
A few things in this sneak peek have me percolated:
The souls of vanquished evil entities are possessing nearby bodies. Given all the talk of seeing familiar faces again, I simply assumed all monsters, demons, etc. would rise in their form – granted they'd be 15 or so years older. Hey man, Hell ages you.
Ghosts can be warded off with iron, but the same rule doesn't apply to possessed beings. So that door will bust down – soon.
Castiel is no longer the supernatural savior of the gang. He isn't powerful enough to take on an angry army from Hell. We shouldn't expect him to do so either. So why would Dean even suggest it?
There's a whole lotta tension in the air. Castiel's quips are usually amusing. Dean seriously fears they will starve to death. Cass jokes that he won't starve, and it isn't funny. His bone burning suggestion isn't even plausible – all the souls are not linked to bones and even if they were, there is no way to find them all.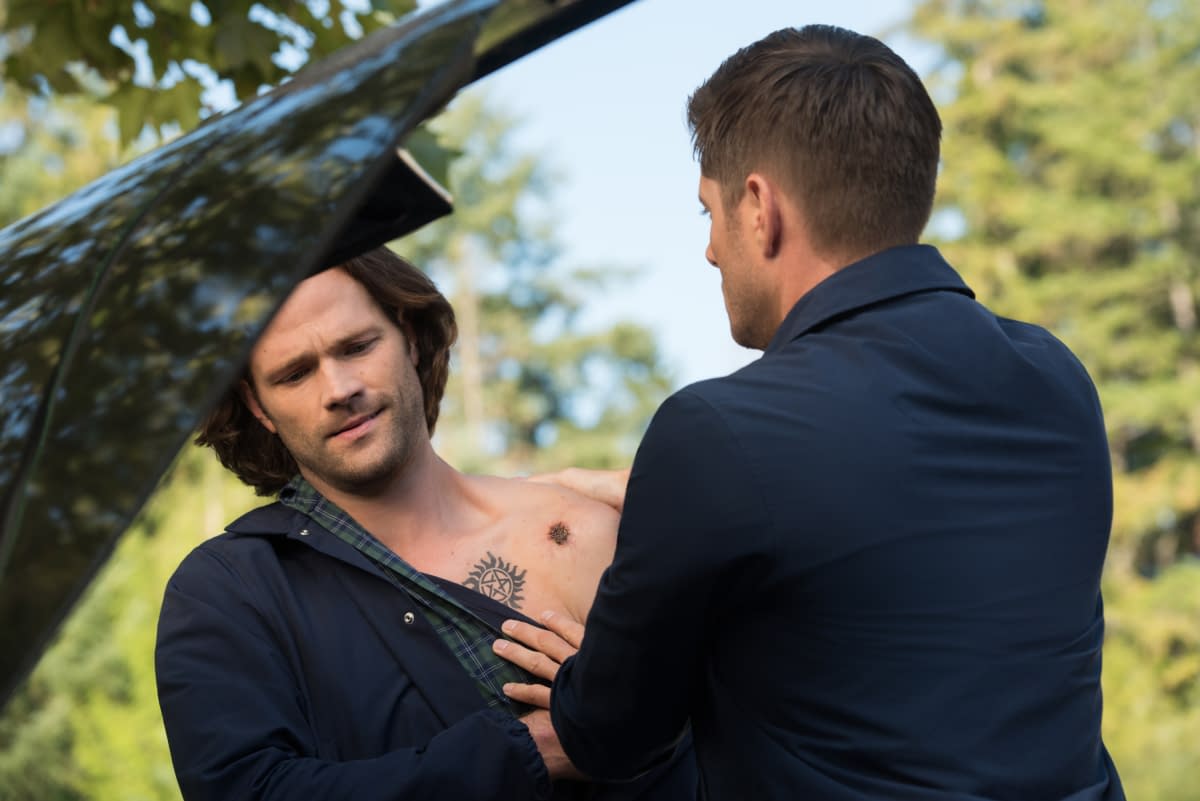 There is nothing light or humorous about this scenario. The boys are trapped and even the angel in their corner can't do a damn thing about it. Sam is obviously fretting and trying to come up with something, while the others argue.
As if being depressed over this season being the last isn't sad enough, our first taste of premiere makes us feel hopeless. In a way, it capture the way fans feel. We have to face the harsh fact that the end is closing in on us. So – what are we going to do about it?
I plan on making the most every last moment. I'm going to celebrate this dearly beloved series with my Supernatural Family and enjoy the Last Ride together. I also hope our final destination lives up to expectations and leaves the door open for more journeys together.
Enjoyed this article? Share it!