"Supernatural" Season 15 "Raising Hell" Was Far From Heaven [SPOILER REVIEW]
I'm going to be real with you, SPN Family. I LOVED Supernatural's Season 15 premiere, "Back and to the Future," and assumed every episode would bring me to tears this season – even the funny ones. Unfortunately, I did not shed one single signature Dean-esque (Jensen Ackles) tear during "Raising Hell."
Although familiar faces returned, they did not live up to the hype. Tensions did not thrill and cheeky banter fell short of tickling my funny bone. If you think I'm being hyper-critical – you're damn right, I am.
After fifteen years, viewers earned the right to raise expectations for #TheLastRide. The cast and crew aims to deliver their best work and that applies to all 20 episodes this season. I respect that and appreciate it. Although I may not love every episode.
With that said – This is a safe space, so speak up if you feel unsatisfied with an episode, storyline or character's development. But no bullying, shaming or hateful trash talk…Cool?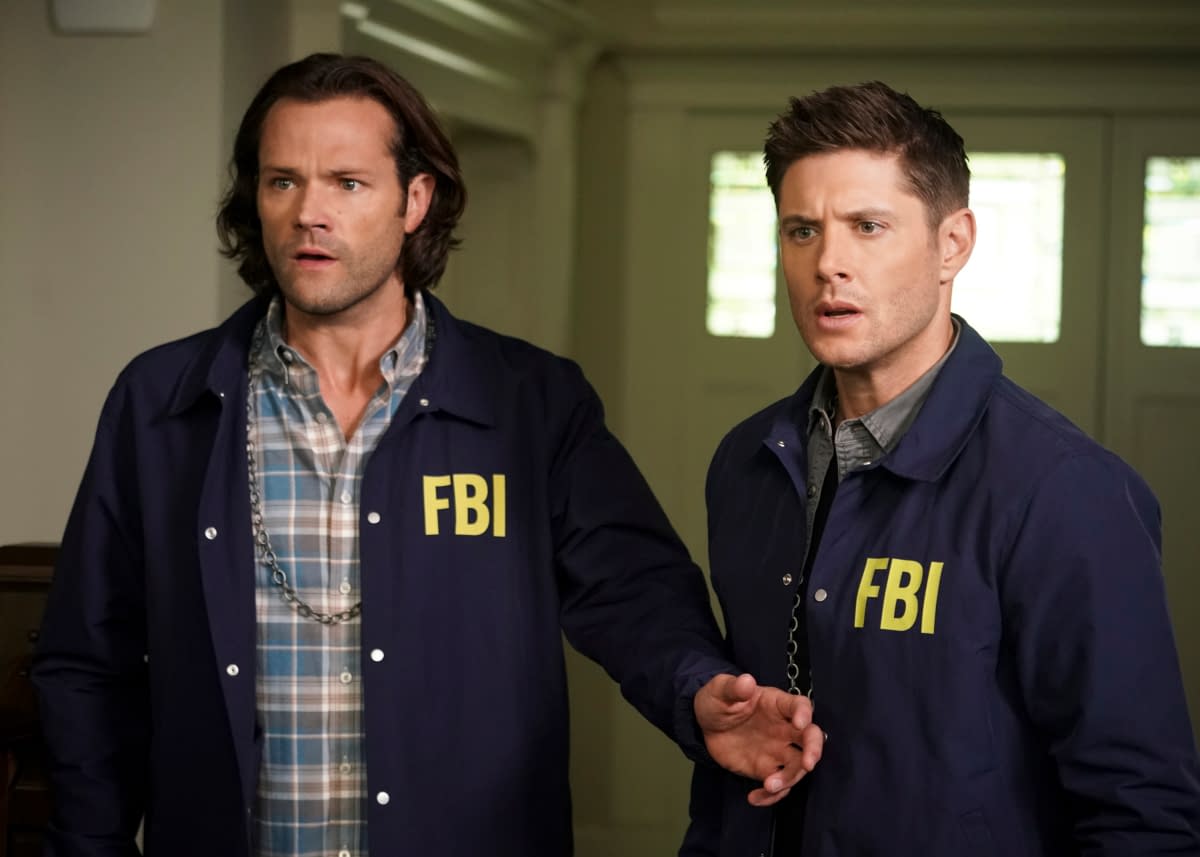 As the episode opens, we meet some new bad spirits, including Jack the Ripper – come on, we knew it was him at "disembowel." Hunters have arrived on scene to assist the Winchester with this hellish mess – phew! And we see Sam (Jared Padalecki) take on a leadership role as he puts the townspeople at ease. He always has compassion for civilians who are caught in the middle of this chaos and we love him for it.
Meanwhile, Dean scoffs at Belthegor-in-Jack's (Alexander Calvert) excessive chumminess and snark. He quips about teaming-up with a demon again. Been there, done that, nope. Plus, some of his quips cross the line – like getting "under his skin." Seriously, dude? TOO SOON.
I will give the writers credit for throwing in a meta shout-out to basically being Crowley 2.0. On that note, we better see Mark Sheppard this season since he's been a crucial part of this series.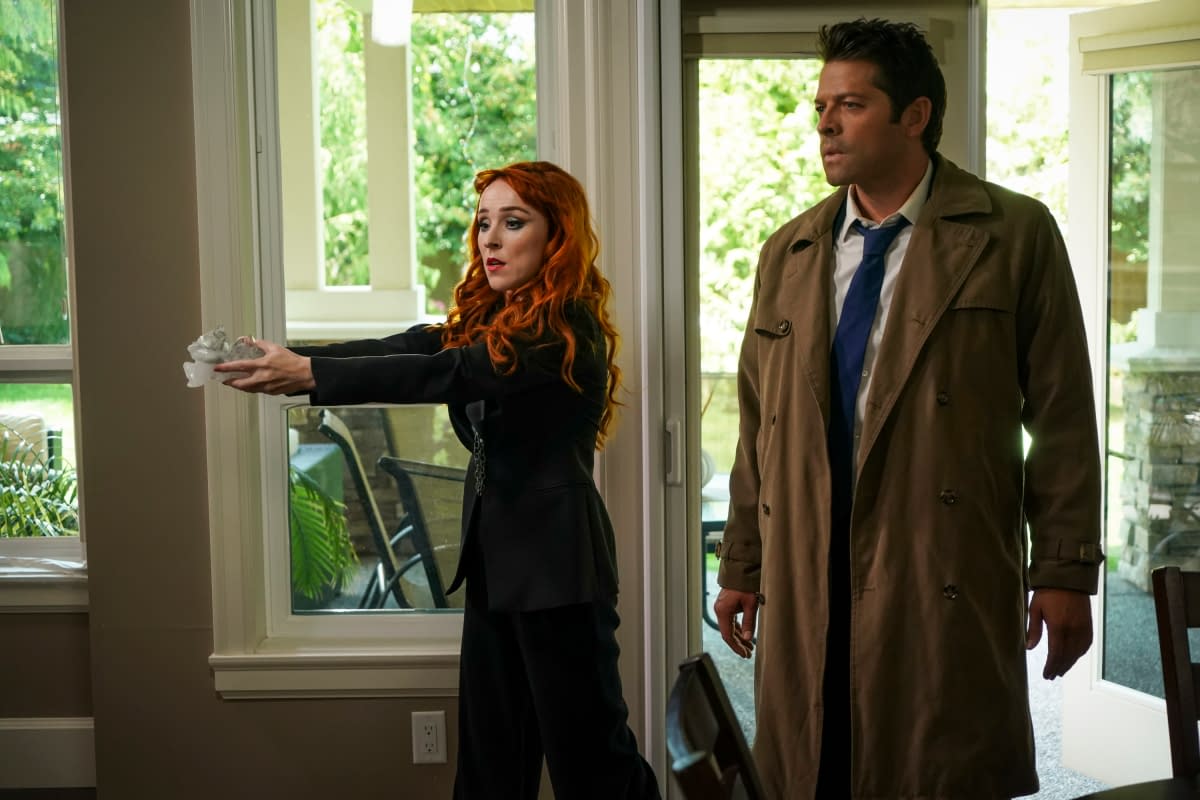 The Winchesters have also matured over the years and ask for help when they need it. Rowena (Ruth Connell), like Crowley, went from foe to friend. She's used to being their go-to gal: "Can you boys do nothing on your own?" I missed her.
In the midst of a classic Winchesters v. Ghosts battle, Ketch (David Haydn-Jones) makes a very Ketchy entrance, blasting off a confetti gun to make the ghosts disperse. I do geek out over the kinds of weapons they create on this show, so I'll admit that gun is cool.
Despite my general sense of underwhelming, this episode had it's heart-wrenching moments. Dean is angry and in despair. His conversation with Castiel (Misha Collins) just plain hurts.
https://youtu.be/_eOuVDN82xw
Really Dean? None of this was real? Not even the love between brothers? If this was a chick flick Castiel would have gently reached out to Dean saying, "I love you, man." Speaking of chick flicks…
Rowena and Ketch's shameless flirtation sounds like a Danielle Steele novel. Is this supposed to be sexy? Literal sparks. Hot? I think not. Also – Is Ketch banging his way through all of the women in the Boys' lives?!? I'm still pissed over his fling with Mary.
https://youtu.be/vD1QsEhmKIM
*rolls eyes*
Let's get to the moment we've all been waiting for: KEVIN (Osric Chau) is back. Like the Winchesters, we're shocked to learn that Chuck (Rob Benedict) sent Kevin to Hell. He's a prophet who sacrificed himself for the greater good, he belongs in Heaven – with Bobby (Jim Beaver), John (Jeffery Dean Morgan) and Mary (Samantha Smith). What gives?!?
https://youtu.be/XAJlQk3ubFs
Turns out Chuck can do whatever he pleases. People who deserve to be in Heaven don't always end up there. As far as we know, Chuck sent Kevin to Hell just because he can. There's no reason for it, which makes this extra annoying.
I know I've mentioned this before and I do separate fiction from faith, bit I really don't like the way Supernatural paints God as the bad guy. I laughed of "dick angels" and Chuck writing the Gospel of Winchester was fun. But making God the ultimate Big Bad is upsetting to me – and I don't think I'm alone in this.
Chuck and Amara's (Emily Swallow) sordid sibling rivalry already was a disappointing discovery. I never liked The Darkness and seeing how that all lead up to down-time in Reno is so lame. Ugh.
Actually, this episode was chalk-full of crappy news. On the bright side, Rowena's soul-catcher got the ghosts. On the bad side, Belthegor's protective dome is fading. So they need to come up with a better and bigger plan to contain and vanquish these evil spirits.
On the super sad side, Kevin is going to sulk around as a depressed ghost because there's no way to get him into Heaven without Chuck and wandering Earth is better than staying in Hell. Poor Kevin!
However, what we really need to worry about is Sam's connections to Chuck. Their shared bullet wound serves as a link and that freaks me out.
https://youtu.be/J_wSXaTFjtk
What did you think of "Raising Hell"? Were you disappointed? Did you love it? Share your thoughts and feelings below. Here's hoping "The Ruptures" dazzles us a bit more.