"The 100": The CW Ending Long-Running Sci-Fi Series with Season 7
Looks like fans of The CW can add The 100 to their list of show's shuffling off their programming coil in 2019/2020 (along with Crazy Ex-Girlfriend, iZombie, Jane the Virgin, Arrow, and Supernatural), with the long-running sci-fi drama wraping up its series run with its previously-announced seventh season – renewed by the network in April 2019.
Series creator Jason Rothenberg took to Twitter on Sunday to break the news officially:
"With #The100 Season 6 finale just days away, I have some bittersweet news to share: Season 7 will be our last We are eternally grateful to WB & CW for always allowing us to tell our story the way we want to & to wrap the show on our terms. What an incredible ride this has been!"
https://www.youtube.com/watch?v=neAxqk0WYtc
For five seasons our heroes did whatever it took to survive on Earth…and nothing worked. Earth was unsurvivable, lost to them forever. What was not lost: hope. After 125 years in cryosleep, traveling through the stars, our heroes woke up to a new home, a final gift from dearly-departed friends. A place where they can try again. They're given one simple task: do better. Be the good guys. With this credo in mind Clarke (Eliza Taylor) and Bellamy (Bob Morley) lead a group down to this mysterious world, hoping to start anew, to finally find peace. But old habits die hard and when they stumble across an idyllic society, it quickly becomes clear that not everything on Sanctum is as perfect as it seems. Despite their determination to do better, threats both seen and unseen will once again force our heroes to fight for their lives and the future of humanity.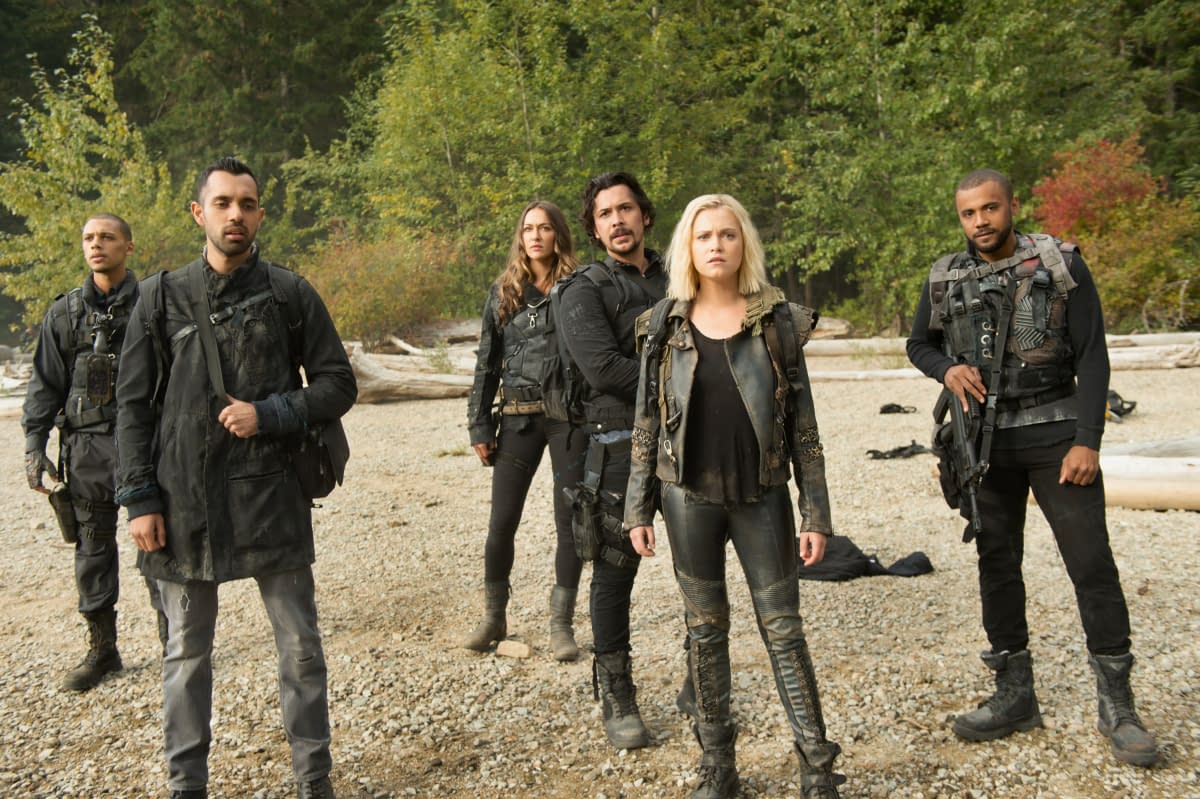 The CW's The 100 stars Eliza Taylor as Clarke, Paige Turco as Dr. Abby Griffin, Bob Morley as Bellamy, Marie Avgeropoulos as Octavia, Lindsey Morgan as Raven, Richard Harmon as Murphy, Tasya Teles as Echo, and Shannon Kook as Jordan.
Based on the young adult book series from Kass Morgan, The 100 is from Bonanza Productions Inc. in association with Alloy Entertainment, Warner Bros. Television and CBS Television Studios with executive producers Rothenberg, Leslie Morgenstein (The Vampire Diaries, The Originals), Gina Girolamo (Legacies, The Originals), Kim Shumway (Wisdom of the Crowd), Ed Fraiman (Impulse), and Jeff Vlaming (Hannibal, Outcast).