The Baby-Sitters Club Is Open for Business Starting This July
It's almost time to say hello to your friends! Netflix just made our summer better by dropping a trailer for their reboot of the classic book-television-movie series, The Baby-Sitters Club. At least July 3 is not far off, thank goodness, because it feels like we've waited an eternity already! Their official synopsis of the show is included with the trailer below, but it looks like there's so much more to it than that.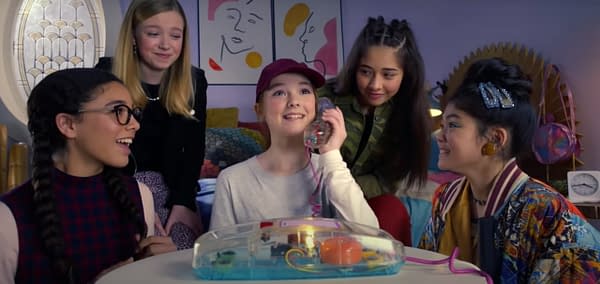 Come for the nostalgia, stay for the wholesome stories, or at least, that's what it looks like. There seems to be a nod to the 80s/90s flavor of the original, but it seems that that's where they cap it, thank goodness. If there's one thing that's annoying in a revival/reboot, it's letting the nods to the original get out of hand and take over entirely. Fortunately, that doesn't appear to be the case and the show has a wholesome personality that both matches the spirit of the original series while making it something new and their own.
The new show based on the best-selling book series by the same name follows the friendships and adventures of Kristy Thomas (Sophie Grace), Mary-Anne Spier (Malia Baker), Claudia Kishi (Momona Tamada), Stacey McGill (Shay Rudolph), and Dawn Schafer (Xochitl Gomez) as they start their babysitting business and all while navigating middle school and growing up.
It looks like the series delivers on the same wholesome, adolescent content and stories that are appealing to both children and adults. Could this be a Netflix show made and marketed for children that is actually appropriate and appealing to all ages? I'll be eagerly awaiting July 3 to get confirmation, but this looks very promising from the trailer. The Baby-Sitters Club is open for new members starting July 3.